The fact that I'm a summer girl should n't be dismissed out of hand due to my unmistakable love for the Caribbean and the dream beaches of this world. Lately, surprisingly, I find myself repeatedly finding myself enthusiastic about the absolute contrast program, namely a thick, fat winter with a lot of snow. And that although I don't even do winter sports (strap things under my feet and I … not a good combination).
I don't know exactly how it happened and why, but somehow I ended up in Norway in the Lofoten Islands to take pictures of the northern lights in deep winter , I froze my ass off at -25 ° C in Swedish Lapland and Iceland's south coast in winter rattled off in storms and ice.
So it seemed like a pretty good idea to go to the snowy Allgäu for a long weekend in winter. One of the most famous places in the Allgäu is Oberstaufen. Yes … the cosmopolitan city of Oberstaufen. New York, Rio, Oberstaufen. You all know the song, right?
Joking aside – Oberstaufen is actually a well-known holiday destination in the Allgäu, and not without reason. Why Oberstaufen is also ideal for a short weekend break for non-winter sports enthusiasts and how you can find the perfect mix of rest, relaxation and activities – I will give you a few tips in this article.
Oberstaufen in winter: activities & highlights
Oberstaufen (not to be confused with Oberstdorf, which is not that far away and is known for the annual ski jumping) is a small place in the Oberallgäu on the border with the Alps. The first really thick snowfalls there are mostly from mid / end of December, but I was really lucky and landed in an absolute winter wonderland with meter-high snow at the beginning of December.
Wellness, wellness, wellness
First things first: relaxation. If there is one thing in abundance in Oberstaufen, it is fantastic wellness hotels. And not those that are somehow so stiff and "over" that you never really feel at home, but rather rustic, family-run but still modern hotels. None of them are really cheap, but believe me – after several hours outside in the cold, simply being able to warm up in absolute peace in the sauna or a heated whirlpool is worth gold.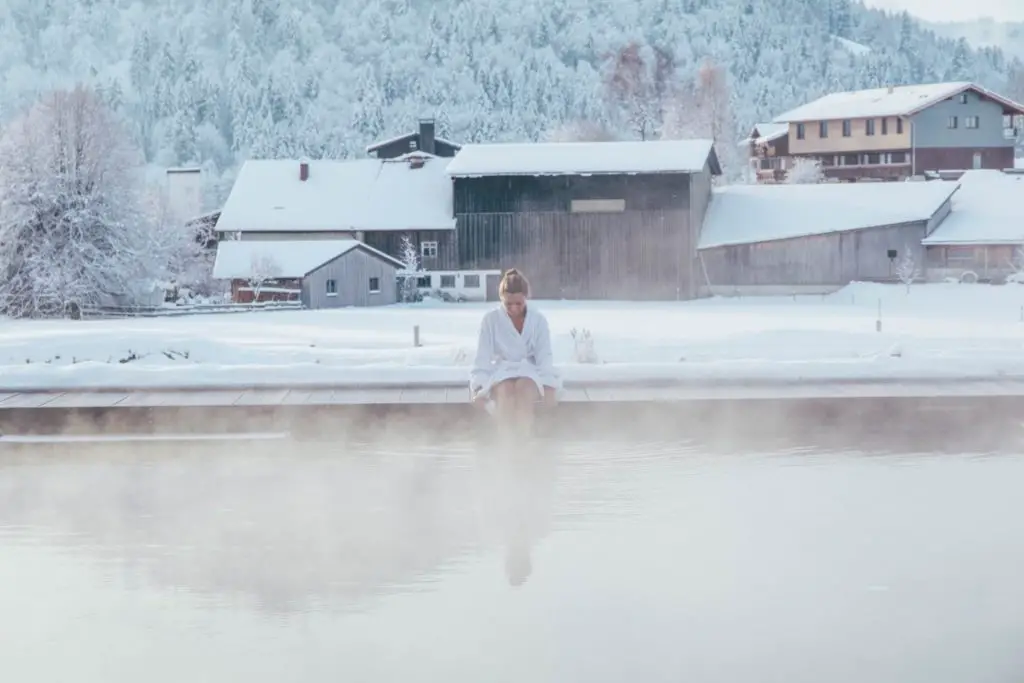 Even if I'm usually more into action, wellness and relaxation are absolutely part of a short trip in winter for me. I even heard that there should be people who go on real wellness vacations 😉 Oberstaufen is perfect for this, especially in winter the white backdrop in the middle of the mountains is soothing. Personally, with all my love for sitting in hot whirlpools until my fingers are wrinkled, I still have to have a bit of action in my daily routine. Just go out, explore the area, see something. Admittedly, there is not that much time left for a long weekend. Fortunately, Oberstaufen itself has a few pretty nice highlights to offer, so that you can experience a lot right in the village or nearby.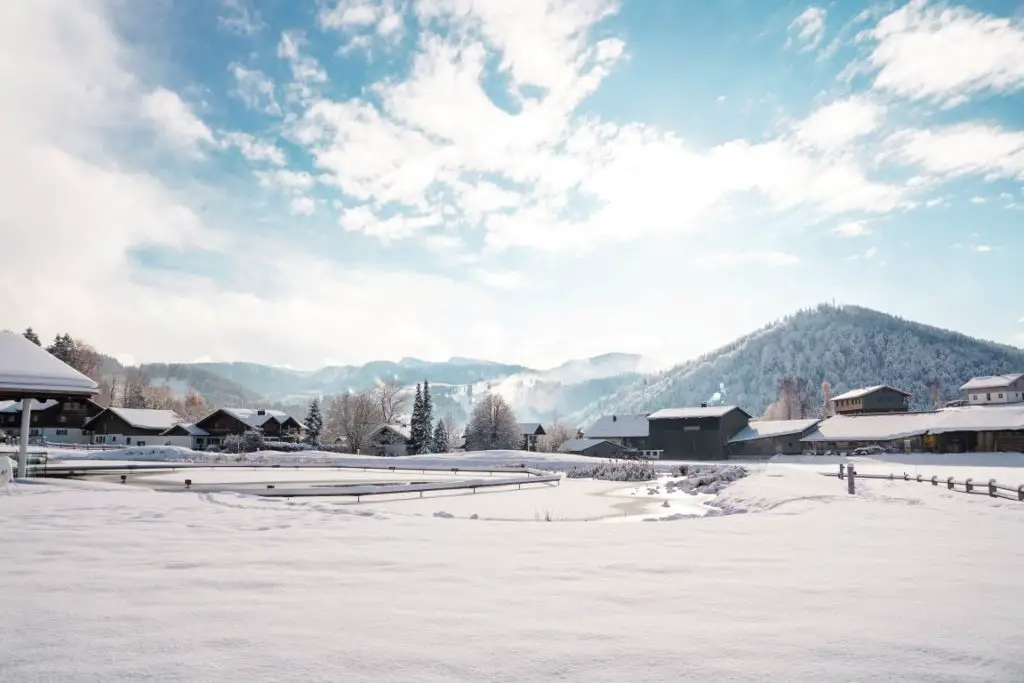 A snowshoe hike at night
My absolute recommendation is a snowshoe hike, preferably when it gets dark. For the winter sports dyslexics among you who, like me, don't like slippery equipment strapped under your feet: snowshoes are ok. Nothing can happen there. The best thing to do is ask in your hotel about snowshoes to rent or a guided hike, some hotels also offer snowshoe hikes free of charge for their guests.
You hike to one of the surrounding mountains or a hill, from where you have a fantastic view of Oberstaufen, which is illuminated at night. Beautiful, isn't it?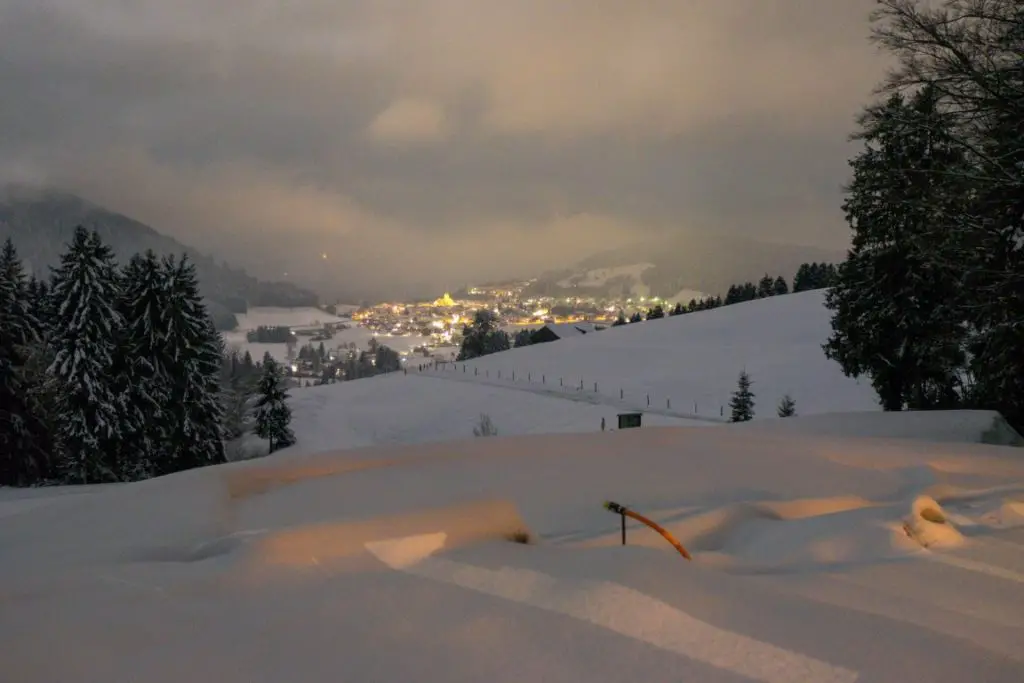 Buchenegger waterfalls
The Buchenegger waterfalls are only a few kilometers outside of the city center of Oberstaufen. The best way is to drive to the 'Berghütte Alpe Ober-Hündle', from there it is about 2km on foot to the Buchenegger waterfalls. Depending on the weather, the path is cleared even further and you can drive to the 'Buchenegg waterfall car park' . When there is snow, the path is a bit tricky to go, as it goes downhill into a gorge, just follow the signs. Once you have reached the waterfalls below, you have a wonderful picture – unfortunately only for the camera in winter, but you can also swim here in summer.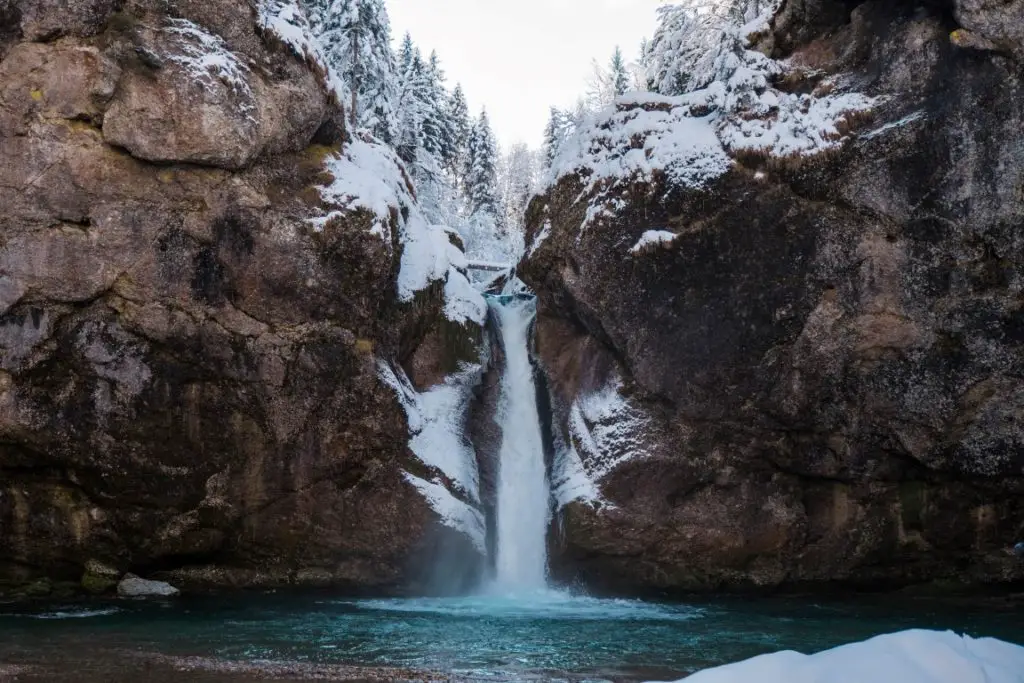 Oberstaufen from above: Take the mountain railway to the winter paradise
Oberstaufen is located in a valley and is surrounded by mountains and even as a non-winter sports enthusiast you will get your money's worth here. There are a total of three railways that also take you up (and back down) as a pedestrian: the Hochgratbahn, the Imbergbahn and the Hündlebahn.
Once at the top, just enjoy the view of Oberstaufen, breathe in the clear, cold air, and get yourself a hot mulled wine. If you feel like it and the weather cooperates, you can also go hiking in the winter wonderland.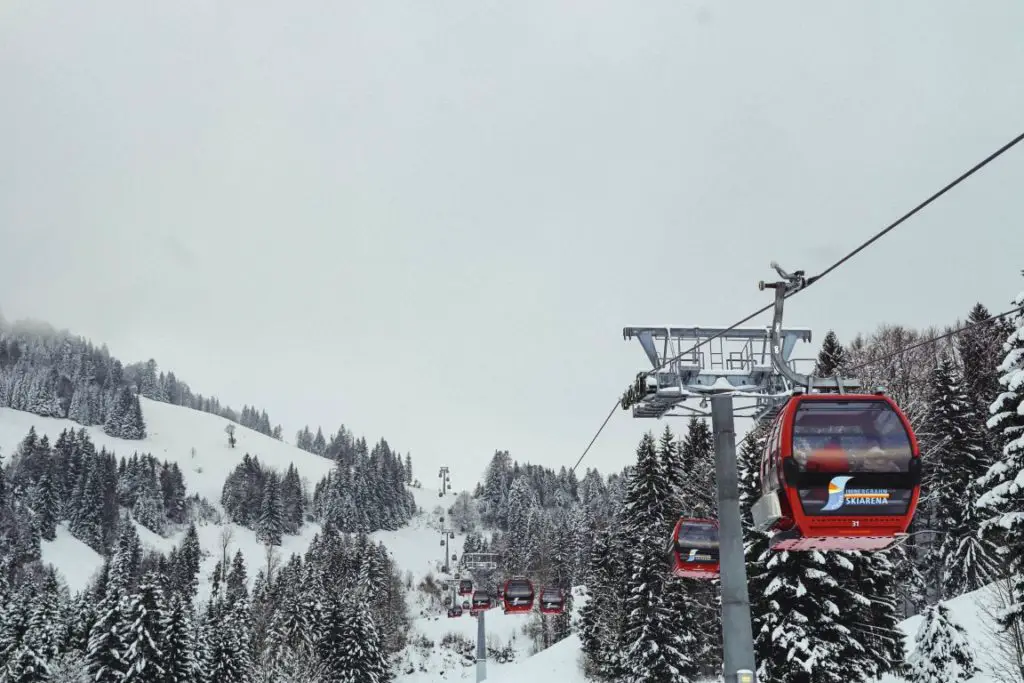 At the beginning of December the onset of winter came as a relative surprise for Oberstaufen, so that when I was there only the Imbergbahn was already open. The view didn't mean it well to me that day either, but the unbelievable masses of snow on top of the mountain ridge were really adventure enough.
You can find out the exact opening times of the Oberstaufen mountain railways here .
Travel, accommodation, excursions & Co .: Further tips for Oberstaufen
Last but not least: How do you actually get to Oberstaufen? The easiest way is with your own car, but it also works by train, as Oberstaufen has a train station and is well connected. As I said, Oberstaufen is located in the Allgäu, in the very south of Germany on the border with Austria and Switzerland. For a short trip over the weekend the arrival time should of course not be too long, ie how useful the Allgäu is for you as a travel destination depends of course on where you come from. My "rule" for short trips is always that the arrival and departure should take less than 5 hours, otherwise it will be too stressful.
My absolute hotel recommendation for Oberstaufen: The Haubers Nature Resort * . I was invited by the Hauber family to Oberstaufen for a long weekend and it was honestly one of the nicest hotels I've stayed in so far. If you want to find out more about the hotel, take a look at my report on Haubers Alpenresort .
Oberstaufen certainly also has many other great accommodations, you can find an overview here * . I would recommend you to look for a place to stay on the outskirts of Oberstaufen, as it is easier to walk out into nature from there.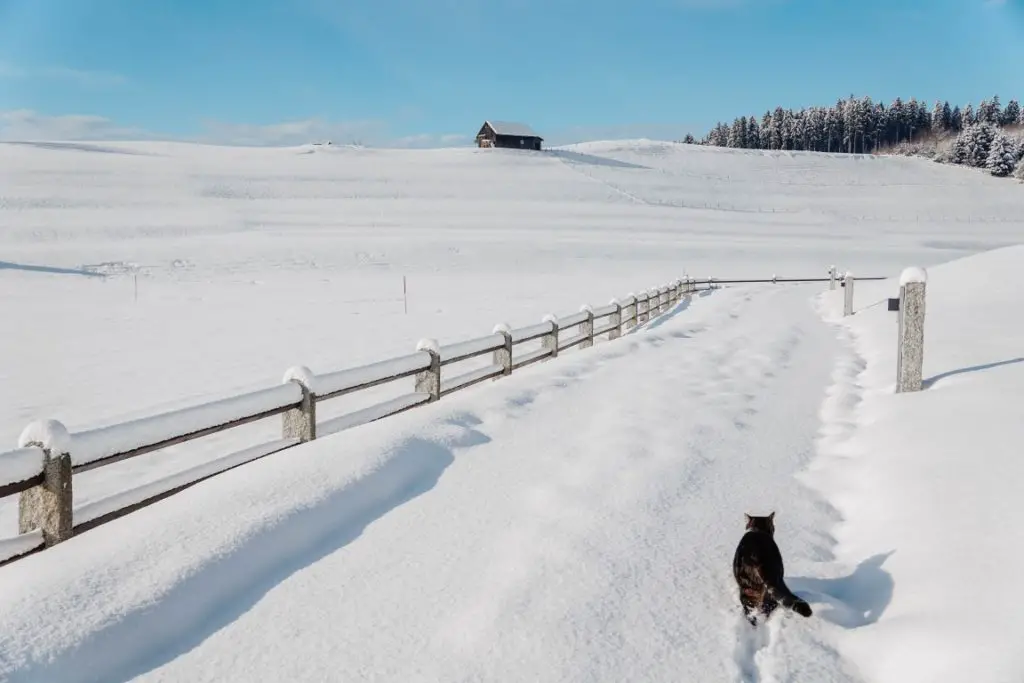 Excursions to the surrounding area: Neuschwanstein Castle and Hohenzollern Castle
Ok ok … that's not Oberstaufen right now. But if you're ever in the corner and still have a little time and air, then be sure to check out one of these two absolute highlights.
Neuschwanstein Castle is THE German fairy tale castle and you can reach it after just 1.5 hours from Oberstaufen. A stone's throw, right? Plan your arrival at Neuschwanstein Castle so that you arrive by 9:30 a.m. at the latest. Why? Around 10:30 am, the sun slowly disappears behind the mountain and the castle is first partially, then at some point completely in the shade. Of course, that doesn't detract from the beauty, but this lighting situation is a little difficult for photos. So if you want good photos, be there in time.

My tip for light photo equipment when traveling
Would you like to take great photos on the go without having to carry too much with you? It doesn't take much for that! The heart of my equipment are:
My camera: 

Sony Alpha 6500 *

An 

all-round lens from Sigma 17-70mm *

 (connected via 

adapter *

 )

A 

30mm prime lens with 1.4 aperture from Sigma *

 (this prime lens will revolutionize your pictures, I promise!)

A 

light, stable travel tripod *

 (for long exposures and if you want to take photos of yourself)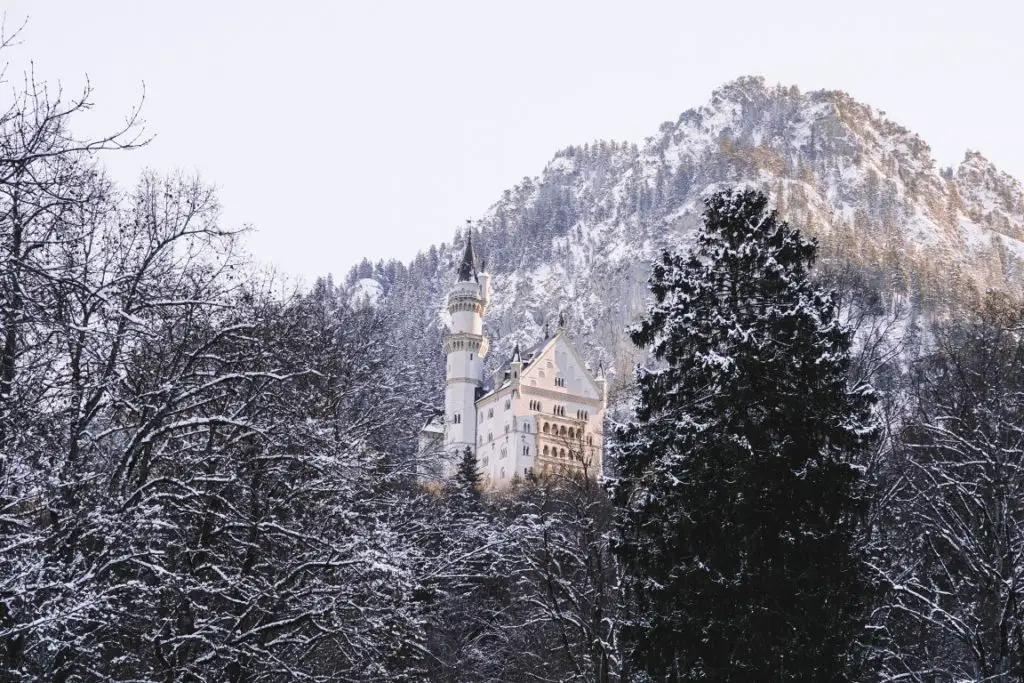 By the way, the best photo spot for Neuschwanstein Castle is the Marienbrücke. This is above the castle and you have the typical unobstructed view of the castle from there. The way there is signposted and takes about 30 minutes on foot (be careful, it's uphill). Since the Marienbrücke is well known as a vantage point, it gets relatively crowded there late at night. So: be there early 😉
I saved myself a guided tour through Neuschwanstein Castle, because the queue around 12 noon was unfortunately very long. Here you can find all information about Neuschwanstein Castle .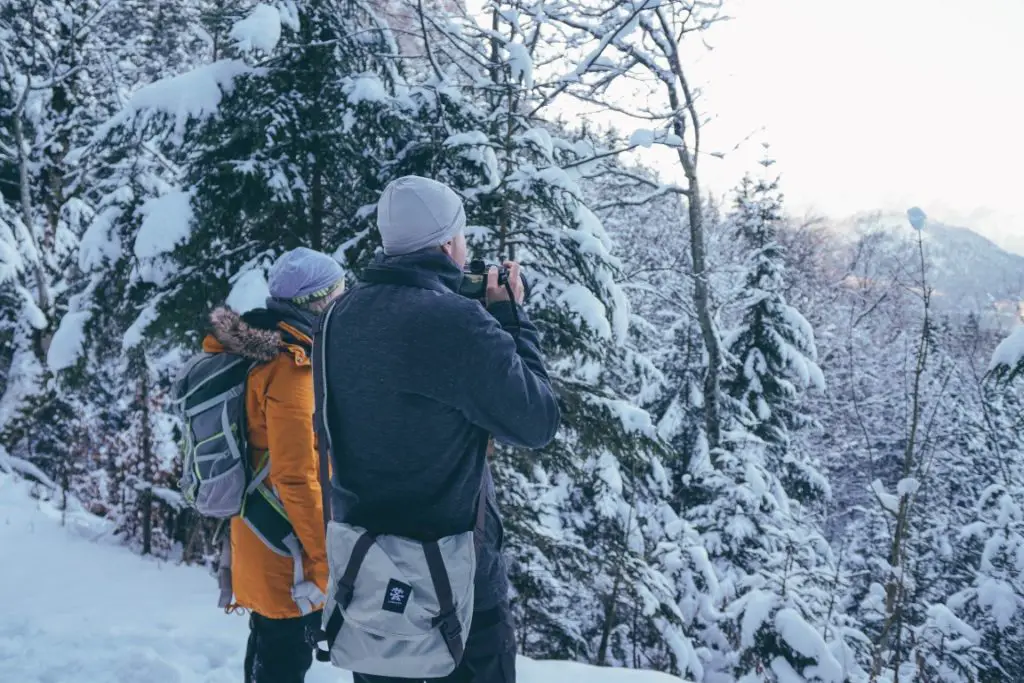 Hohenzollern Castle is now not necessarily in direct reach of Oberstaufen (2.5 hours drive away), but if you are on the way to or from Stuttgart on your arrival or departure, then you should think about a detour to Hohenzollern Castle. You have the magnificent view of Hohenzollern Castle, which you know from many photos, from the 900m high Zeller Horn. The Zeller Horn can only be reached on foot, it is best to park in the parking lot at Zollersteighof. From there it is about 1.5 km not too steep a walk.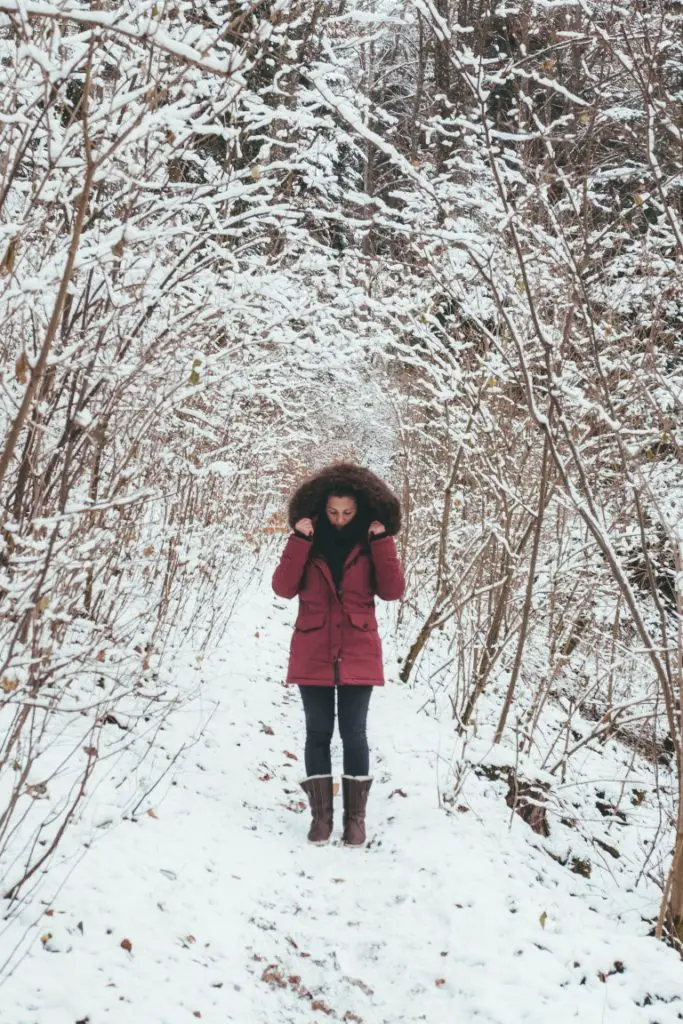 My tip: bring a telephoto lens. You can see it in my poor pictures … you won't get very far without a telephoto lens. The Hohenzollern Castle is certainly 1.5 km as the crow flies from the Zeller Horn. If you're after the famous photo in which the castle peeks out of a cloud or fog blanket and you cannot see the landscape below – these photos can only be taken in an inversion weather situation. Such an inversion weather situation tends to be found in the morning and it always takes a good deal of luck. Unfortunately, I wasn't lucky and the castle sank in the hazy weather, but it doesn't matter, I Depp didn't have a telephoto lens with me anyway.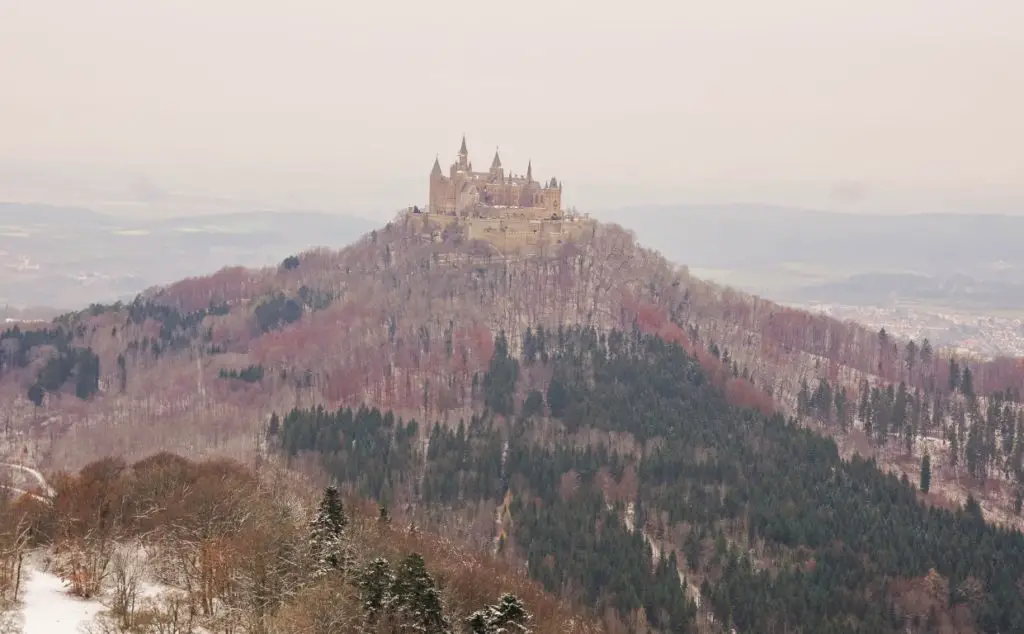 Otherwise, my weekend in Oberstaufen was wonderful and took me to the very beautiful white winter wonderland that I long for every winter in the emotional pre-Christmas period. Well done, Allgäu! 🙂