Traveling with hand luggage is unfortunately often the only way to keep the costs of a short vacation from getting too far in times of reduced services by many airlines. We already did this when we were studying and saved a lot of money and running systems shouldn't be changed, right … that's why we still practice traveling with hand luggage today, both for reasons of cost and time. We're already going to Prague for a few days tonight and we're definitely not going to take anything more than hand luggage there! , then you 'll be there live.
We have put together the most important points for you, with which you can get the most out of your hand luggage without getting into the wool with your airline or the people from the security check.
Liquids in hand luggage
First things first: The point that causes most problems for many travelers is the hand luggage regulations regarding the amount and size of liquids or the liquid containers that can be carried in hand luggage. It is actually quite simple, because there is only one rule worldwide: You are allowed to carry a maximum of 1L of liquids with you, divided into containers with a maximum capacity of 100ml, packed in a single transparent, sealable bag.
The number of containers does not matter as long as they all fit in the bag and do not exceed 100ml in size. The filling level of the container is also irrelevant, a shampoo bottle with 200ml may not be in hand luggage, even if it is almost empty.
So what do you need?
1. A transparent, sealable bag with 1L capacity: It is available in an uncomplicated and inexpensive way as a freezer bag with a zipper. If you want it to be more sustainable, you can get this transparent cosmetic bag * , for example .
2. Containers / vials with a maximum capacity of 100ml each: In the drugstore ( e.g. at DM) you can buy ready-made sets with vials and containers as well as individual bottles, which, however, rarely have the maximum allowed 100ml. If you really want to almost max out the permissible maximum size and it is important to you that nothing leaks, then these bottles are for you .
Your products / liquids do NOT have to be transferred to the transparent bottles. You can just throw everything as it is in the transparent bag, as long as it doesn't contain more than 100ml and everything fits into the bag.
Incidentally, medicines are generally excluded from the hand luggage regulations! All you need is a certificate from your doctor stating that you have to carry the medication (s) with you in your hand luggage. At the ADAC there is a form for taking medication with you .
Make the most of airlines' hand luggage regulations
This point is a little more complicated, because the hand luggage regulations of the airlines differ considerably. There are basically 3 aspects that must be taken into account:
1. Dimensions of hand luggage:
The airlines' regulations are largely very similar here; the maximum permitted dimensions are usually around 55x40x23cm, including handles and castors. You can find a good overview of the maximum dimensions allowed by many airlines here or here, but please check back with the airline itself, the conditions change frequently. The search for the piece of hand luggage in the optimal size and shape is a little tricky and requires some perseverance, as you should, for example, depend on which airlines you fly with frequently. Wizzair, for example, has completely different regulations than Ryanair, but since Wizzair does not fly from our home airport at all, we don't care. Here you will find a good pre-sorting of luggage in hand luggage size, unfortunately Amazon does not do that well.
2. Weight of hand luggage:
The regulations on the maximum permitted weight differ considerably, sometimes you can only take 6kg with you, sometimes a whole 12kg. Therefore: When buying the piece of luggage, pay attention to the weight, less is more. In any case, do your research and take advantage of the airline's regulations! A luggage scale * is really worth gold , even when it comes to normal luggage. At the end of our vacation we often stood at the check-in and joked to see if everything was going through. With a mobile luggage scale you no longer have this stress.
3. Number of pieces of luggage:
With some airlines you are only allowed to take a single piece of hand baggage with you, but with most of them a large and a smaller handbag (there are also maximum dimensions for this handbag, please be smart!). Some even allow you to take a laptop bag and / or a garment bag with you.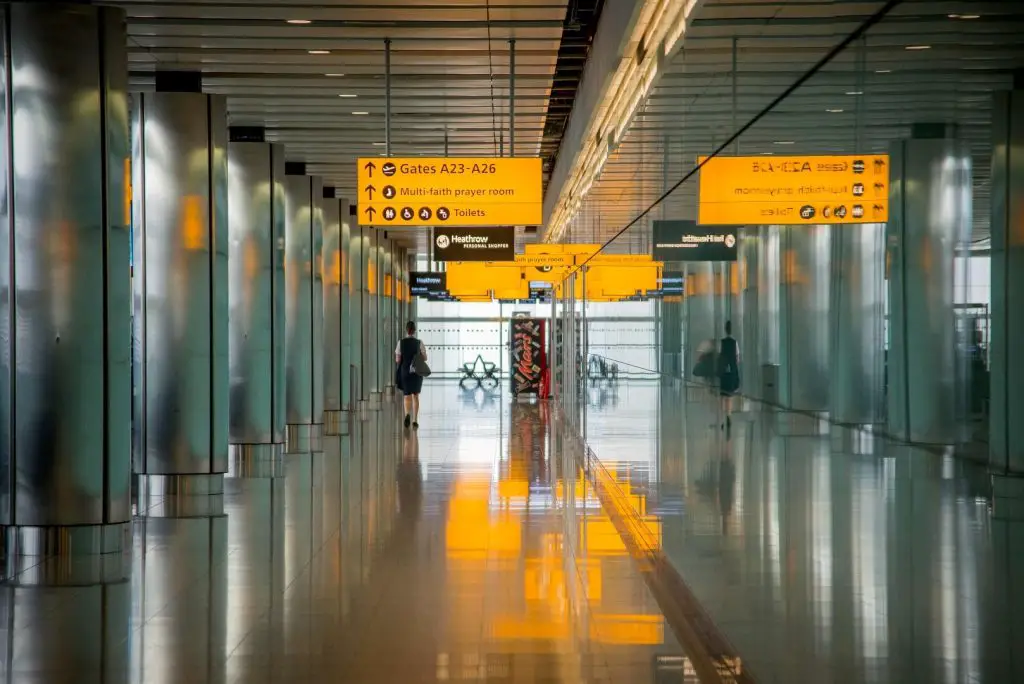 Inception: Bag in Bag (in Bag)
Point 3 leads us to this trick, which is more of interest to the ladies among us: Inception! Ha! Traveling for several days with just one handbag is stupid. After all, you need a large bag for the daytime, a small one for the evening and it's not so easy in terms of color, but there's no more space in your luggage … you know that. My trick: Take a large handbag as a second piece of hand luggage and then the smaller bag stuff in. If the small bag is just big enough, your liquid bag can fit in here and you can use every millimeter. Not elegant, but efficient.
Roll it up!
You probably all know the roll trick by now, right? At the beginning we neither believed nor understood why you should get more clothes in your suitcase this way. Somehow doesn't make sense. But trying is better than studying and lo and behold: it really works! The vulture knows why. We've only packed like that since then. What is not true, however, is that the rolling technique means that the clothes remain wrinkle-free.
Rethink your cosmetic routine
This appeal is directed again at the ladies: If you are not one of the lucky women who can simply walk around without make-up in everyday life, you always have to carry at least a basic stock of cosmetic products with you. And yes, there is also a little bit of chick behavior at the start. The liquid regulations in hand luggage regularly present me with a tough challenge and the total amount is simply a problem. This is exactly why it is worth rethinking your personal cosmetic routines. Here are a few tricks that work well for me, at least for a few days over the years, that will reduce the number of products I carry with me:
– A brown eyebrow pencil can also be used as a kohl / eyeliner. The other way around, however, does not work well, since an eyeliner is too greasy and soft for the eyebrows
– Eyebrow powder also works as a matt eyeshadow and vice versa (use your eyeshadow as an eyebrow powder, please make sure that it is really matt and without shimmer!)
– Mineral powder = foundation + powder. The best mineral foundation is and will remain Bare Minerals *
– Concealer also works as a foundation, dose carefully!
– Buy a Cheeks & Lips Stick and you have blush and lip color in one
– Straighteners in hand luggage? Oh dear … if you can't do without it, there are also mini straighteners *
– Hand cream = face cream. But make sure that it is not greasy and that it absorbs well, otherwise the make-up will slip away. It is also the other way around, but it is the worse option for reasons of cost
– Buy all cheap products locally: shampoo, conditioner and shower gel are cheap everywhere. Most of the time the products are also available in the hotel and you don't need to take them with you