I usually know pretty much what to write about in a blog article. I come up with a title, think about what could be of interest to you on this topic and try to give as much information and experience as possible along the way. The article about Swedish Lapland will be a little different. Or rather, it is actually wrong to call it an article about Swedish Lapland, because we were only there for one day. And collecting valuable information about a place in just 24 hours – that is not possible. So I argued with myself for a while whether I should write about Swedish Lapland at all … added value and such. But hey, this is my internetwork here, if not here then where. And for this reason I will very well write about Swedish Lapland, because the impressions have to go somewhere. The first time on the ice made a lasting impression on me.
You expect a lot of information and specific travel tips about what you can do in Swedish Lapland and why you absolutely have to go there? Sorry, nothing. You have to google it again. But if you are in the mood for a little disorderly narration and icy pictures and always wanted to know whether sled dogs actually stop to poop – a warm welcome!
Stopover in Kiruna (Sweden): arrival in the ice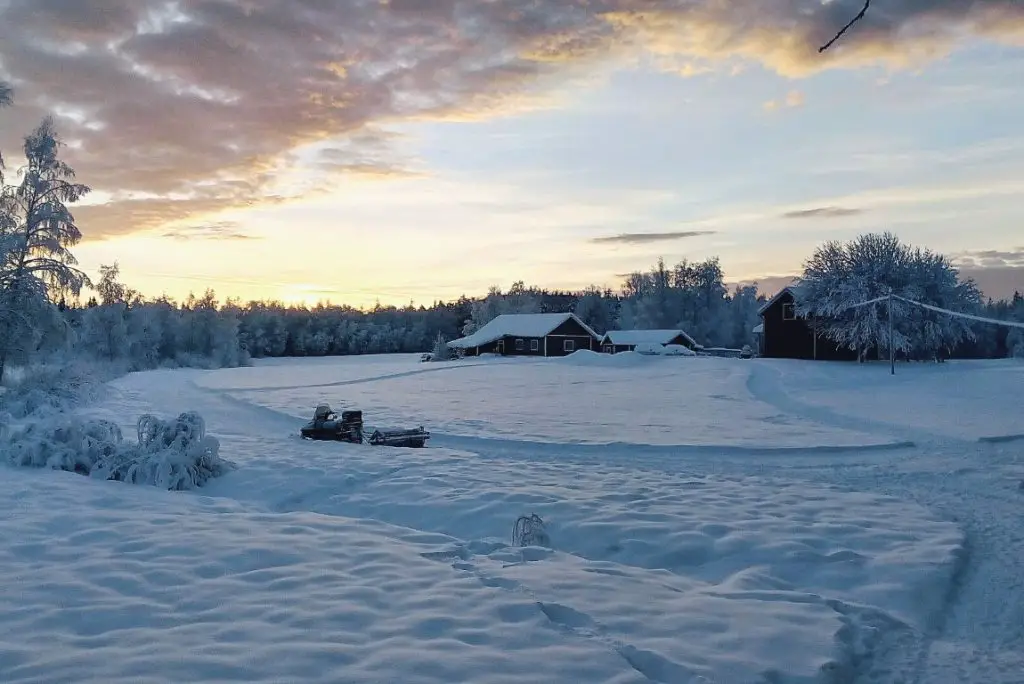 How we ended up in Swedish Lapland in the first place is relatively simple to explain: We wanted to go to Lofoten in Norwayand the little town of Kiruna in Sweden looked like a useful starting point for us (cheap flights, cheap rental car). We had never heard of the place before, the airport looked tiny and accordingly we expected it to be completely wasted. So we were really pissed off when we actually sat in the tourist bomber heading for Swedish Lapland. With us on the plane: only Germans, perfectly equipped from top to bottom with professional functional clothing, because it is definitely minus twelve degrees. And Asians, loads of Asians. Those who take photos in the dark with their smartphone with flash. Immediately after landing, still on the airplane stairs on the way down. I like.
The romantic illusion of having landed in a lonely winter wonderland has suddenly burst. Wikipedia tells us that the people in Kiruna in Swedish Lapland actually live primarily from tourism and that the whole city is built on an iron ore mine that is in danger of collapsing and will therefore have to be completely relocated in the next few decades. It will be fun for everyone. What exactly the tourists are doing here, however, only becomes semi-clear to us. We hear about the famous Ice Hotel in Jukkasjärvi , which is only 20km away … but come here especially for that? Really now? We can't really make friends with Kiruna on our first evening, but we don't have to, we're just passing through.
Swedish Lapland: About clinking waterfalls and lonely houses in the forest
The next morning, at breakfast in what is probably the worst hotel in all of Kiruna, we discover one thing that we find very nice: polar bread . Tastes very tasty and is therefore chosen on the spot as the main food for the next 8 days. We pick up our rental car, we are sad that it doesn't have such funny giant headlights on the front like apparently all other cars in Swedish Lapland and first drive it to buy tons of polar bread and Ost (a kind of cream cheese in tubes) in the supermarket. There are almost 200km ahead of us through the freezing cold north of Sweden on the way to Norway. The E10, which will later become a winding panoramic road in Lofoten, leads straight through the snow-covered landscape of Swedish Lapland.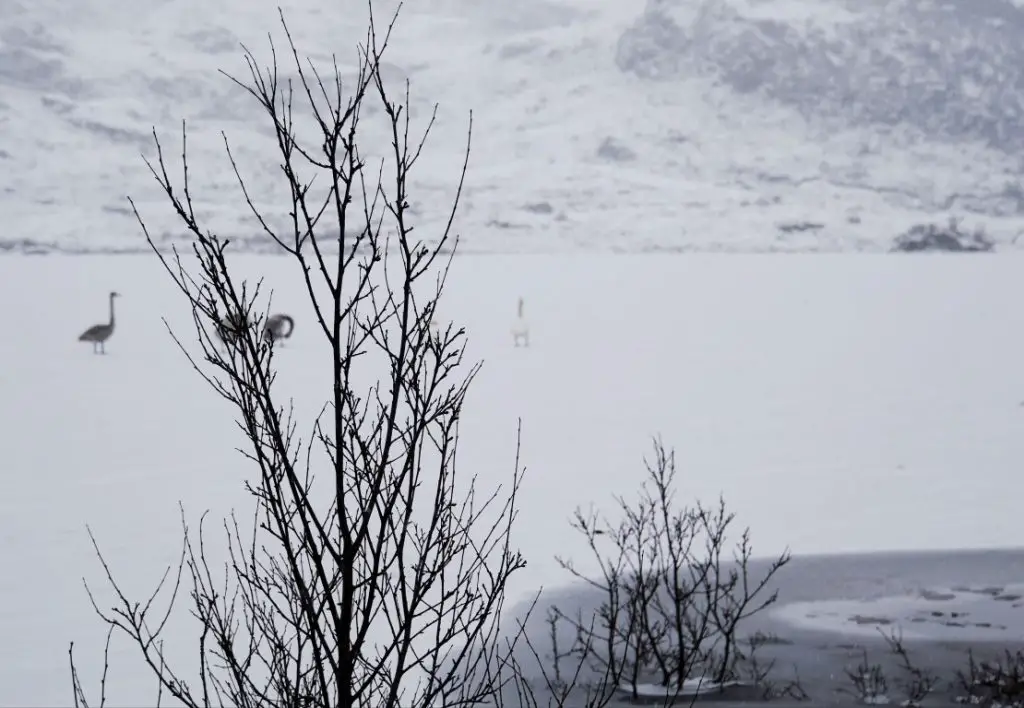 It leads us past trees and bushes, of which only the tips can be seen due to the meter-high snow, past small wooden houses buried under the roof in snow, past completely frozen rivers, from which the water is only dark in a few places flashes out. Again and again the white wasteland of trees and bushes is interrupted by huge snow-covered areas without any undergrowth – we can only guess that there must be huge lakes underneath. We stop at a completely frozen waterfall and have a spontaneous photo session at the roadside at about -18 ° C – the falling ice-blue water on the dark stones just looks too crazy. By the way, behind all the ice you could hear a loud rustling and clinking,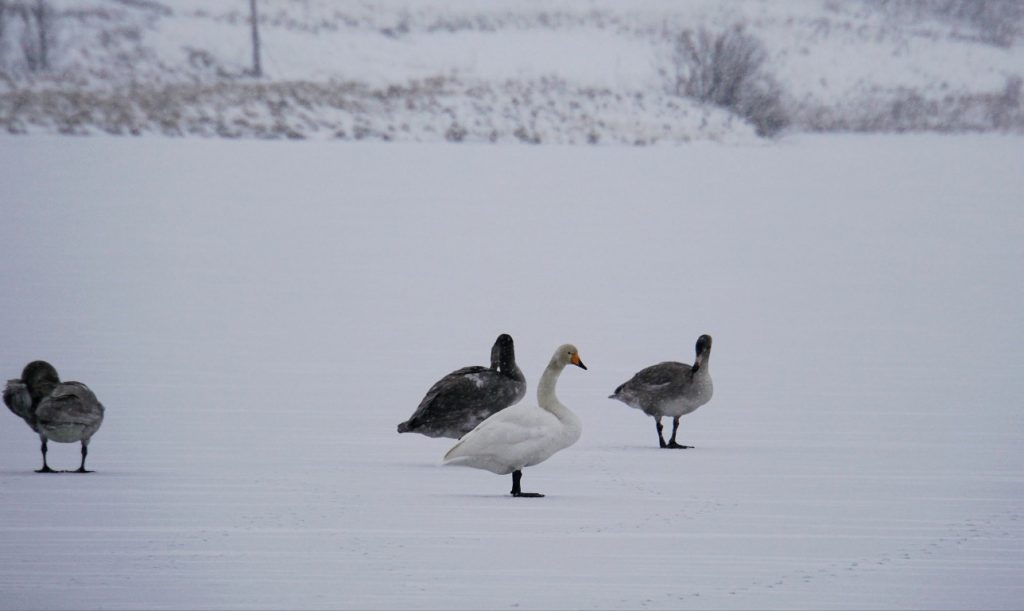 In search of the reindeer
Out of sheer amazement at frozen waterfalls and snow-covered houses, we also missed our first reindeer right away – it was actually quite chilled by the roadside. But because we thought that we would surely see hundreds of reindeer lying around the roadside, chilling (after all, we're in Swedish Lapland, aren't we), we didn't stop for the time being. Unfortunately, that was a stupid decision. I don't know what reindeer do all day and where they like to be, at least after that we haven't seen a single reindeer. No longer on our way through northern Sweden, not on the Norwegian mainland, not in Lofoten. In the first days I kept my eyes open and carefully scanned every gray-looking rock, But at some point the certainty came: it won't work here anymore. I would be lying if I said that the hope of a new reindeer sighting in Lapland did not contribute to our decision to leave Lofoten a day earlier than planned. Christian often just rolls his eyes, but unfortunately, when it comes to looking at animals, I can't be stopped. You have to stop in the middle of the streets for reindeer, geese and foxes or sometimes to the I am unfortunately not to be stopped. You have to stop in the middle of the streets for reindeer, geese and foxes or even to the I am unfortunately not to be stopped. You have to stop in the middle of the streets for reindeer, geese and foxes or even to theFlamingos being flown to the Caribbean . I can't do anything.
And what can I say: It was worth it! On the way back to Kiruna a reindeer had made itself comfortable at the roadside and willingly let me take a picture (don't worry, it wasn't the same place as the week before. So I assume it was a different reindeer was and he was fine). Reindeer photos in Sweden: Check!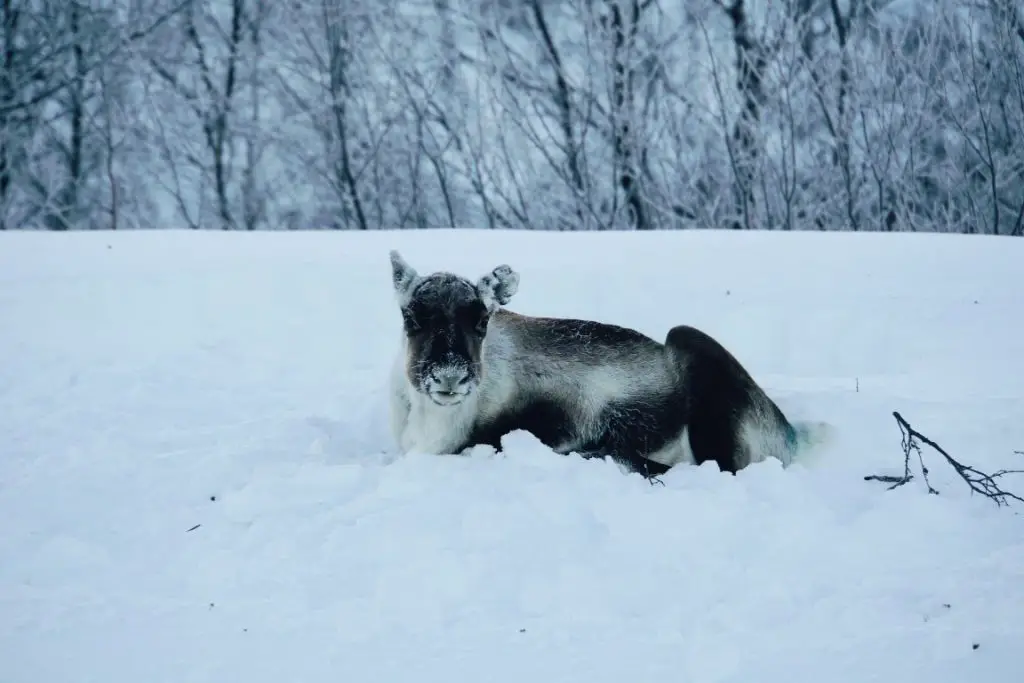 With the dog sled through the night
Since we traveled back to Kiruna a day earlier than planned, we still had a little time on site and decided to do a bit of touristic stuff: go dog sledding! In view of the prices of around 110 € per person, we gritted our teeth a lot, but booked it under Once in a lifetime and that's it. Our guide picks us up in Kiruna at the agreed meeting point and drives us out into the wasteland of Swedish Lapland. When we arrive at the property with the dogs, we are greeted by loud barks and excited yelps.
Funnily enough, the dogs are hard to hold and practically throw themselves into their harness. We are the only guests that evening and so we get a very private dog sled ride. The dogs pull our sledge through the powdered sugar landscape of Lapland at a very good pace and the barking from the beginning soon gives way to a steady panting. Our guide tells us that at the moment, at around -15 ° C, it is actually way too warm for the dogs and he is right: It doesn't take long for individual dogs to cool down a little sideways in the snow during the race throw or snout a load of it. Our goal is a small tipi in the forest, there we take a break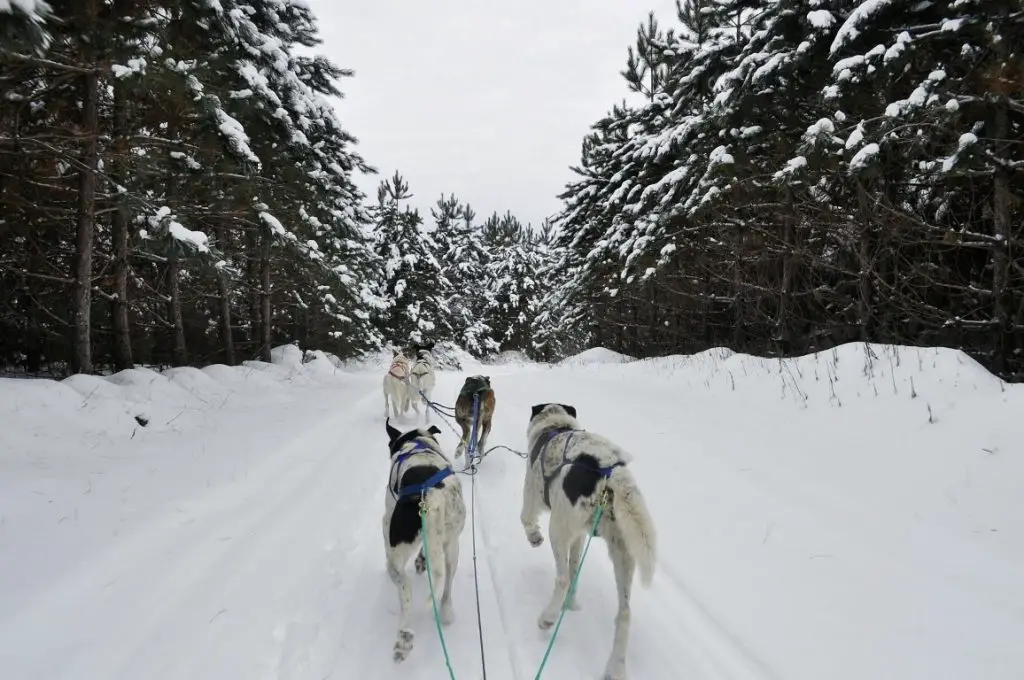 That was the cute part. The only half as cute part of a dog sledding tour (and the ugly truth) is that running around stimulates the dogs' digestion. Nuff said. Wrap the scarf around your nose as tightly as you can. You will most likely not hit anything (well, that might also depend a little on the speed), but just the smell … manager manager. Call me naive, but I wasn't aware of that before.
Therefore, my 5 ULTIMATE tips for the PERFECT dog sledding tour are (if I had written my own article about the tour, that would have been my clickbaiting headline):
Sit back on the slide as far back as possible

 Pull the scarf under the eyes. Wrap double. More scarf = less odor penetration

Don't look

Not breathing

You have to really like dogs
You can imagine: Nobody paid us for the dog sledding tour, otherwise I wouldn't write about flying shit here. Nevertheless I can recommend the tours of Huskytours in Kiruna , nobody can do anything for the digestion of the dogs. And digestion is always there, on every dog ​​sledding tour. By the way, we didn't see the northern lights on our evening sled tour, unfortunately the sky was too cloudy for that.
In contrast to this article, you can find much nicer impressions of a dog sledding tour in daylight and lots of useful information about Swedish Lapland at Paradisefound.de.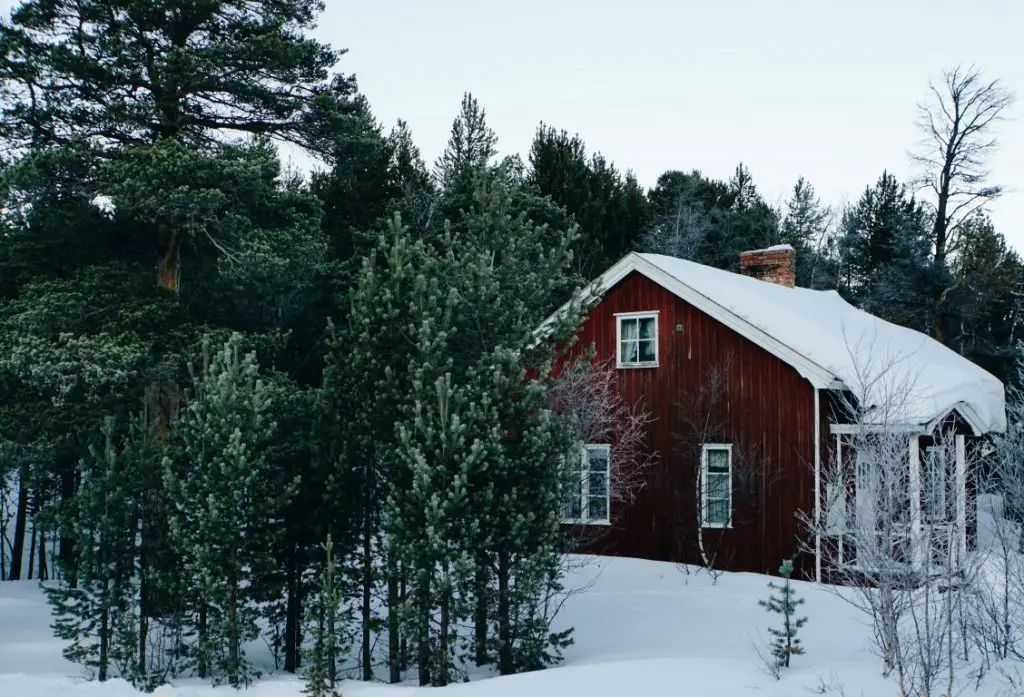 But as I said: Providing information was not my aim this time either. For once, I wanted to tell a little story and show a few pictures of an impressive landscape that for most of us in our latitudes is barely tangible with the mere imagination. The eternal white, the sun that never really comes out north of the Arctic Circle between December and January and makes the day linger in a blue haze, the months of shivering cold.