The swimming pigs in the Bahamas are such a thing that an outsider can hardly understand. I heard for the first time about 9 years ago (long before they got hit by the Expedia advertising) that somewhere on a lonely island in the middle of the Caribbean, a group of pigs were happy and contented and had a lovely long day Do nothing but eat, lie in the sun and swim in the turquoise-blue, crystal-clear water on a dream beach . So not only are these pigs living my personal dream, you can also confidently state that overall it's a pretty weird thing. Anyone who knows us knows that we are into exactly such adventures : Because of a few pink birds to theFlying to Flamingo Beach in Aruba ? Check. Going to St. Maarten to Maho Beach because of the supposedly most dangerous beach in the world?
You already guessed it: The swimming pigs in the Bahamas were mandatory . It took 9 long years until we could finally afford this fun and we can already tell you: It was worth every penny. Visiting Pig Island in the Bahamas Out Islands is one of the most impressive things we have experienced so far. Not even because of the pigs themselves, but rather because we have never, never, never seen such incredibly blue, crystal clear water as there in the middle of nowhere. The cute pigs were just the icing on the cake. Our heart beats for the Caribbean anyway , but THAT tops everything we've seen so far. In this article you will find out exactly where the pigs live and how you can get there.
Where in the Bahamas do the swimming pigs live?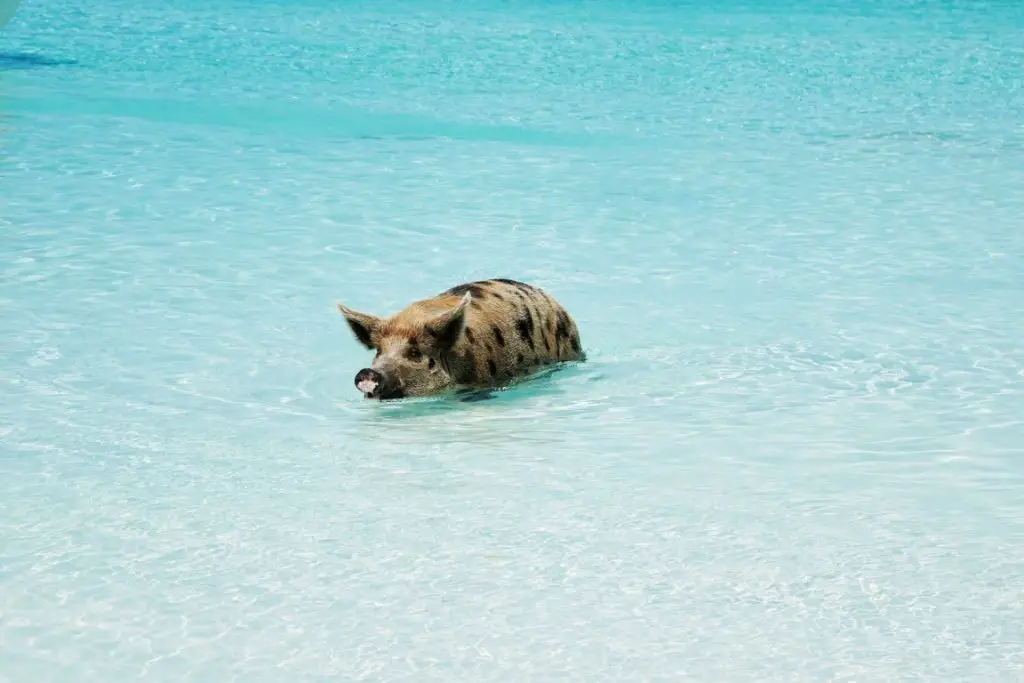 The swimming pigs live on an uninhabited island called Big Major Cay in the Out Islands of the Bahamas. Big Major Cay belongs to the group of Exuma Cays , which consists of a total of around 360 individual islands. Only a fraction of it is inhabited, the main island being Great Exuma . A manageable 1400 people live in Exuma's capital George Town. The uninhabited pig island Big Major Cay with the famous Pig Beach is located approx. 110km northwest of Great Exuma and can only be reached by boat (more on this below).
Did you swim …? Joking aside, nobody really knows that. Rumor has it that the great-great-great-grandfathers and grandmothers of today's pigs were abandoned by a group of pirates on Pig Island and then forgotten, another theory is that they were survivors of a shipwreck. Evil tongues claim that the pigs were brought there by resourceful business people as a tourist attraction. The truth is probably somewhere in between: at the end of the nineties, two men allegedly brought the pigs to the island in order to be able to take care of themselves after the apocalypse that was announced for the turn of the millennium. No apocalypse, pigs still there. They are still looked after by their owners today, read here .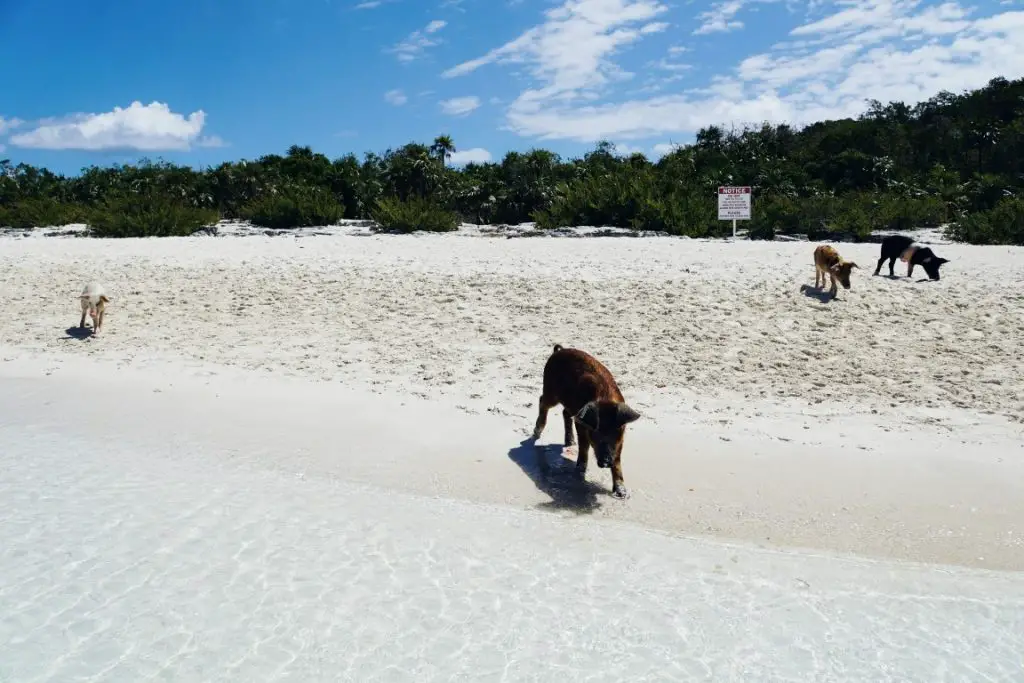 What do the pigs eat?
Well, they are pigs … so the answer is everything. And with pleasure! The pigs are totally greedy, but have an eye on what you are offering them. The pigs are well looked after and fed by the tourists and locals, there are a few troughs with food and water for them on the beach. You can guess what they leave in the troughs: Carrots. So don't bring them vegetables! The pigs, for example, really like apples and bread and literally pounce on them.
Our tip: Get 2-3 packs of toast where it is cheap. Unfortunately, this is not the case in the Bahamas. As everywhere in the Caribbean, food in supermarkets is very expensive and cereal products in particular are not available at all or only for a lot of money. In fact, we have already bought the bread in the supermarket in the USA because we knew that it would later become a problem on Exuma. The tour operators usually have a little bread with them to feed them, but it is not enough. Bring your own bread! And don't think you can kid the pigs. They see exactly when you have nothing to eat and are gone immediately. No food – no pig selfie 😉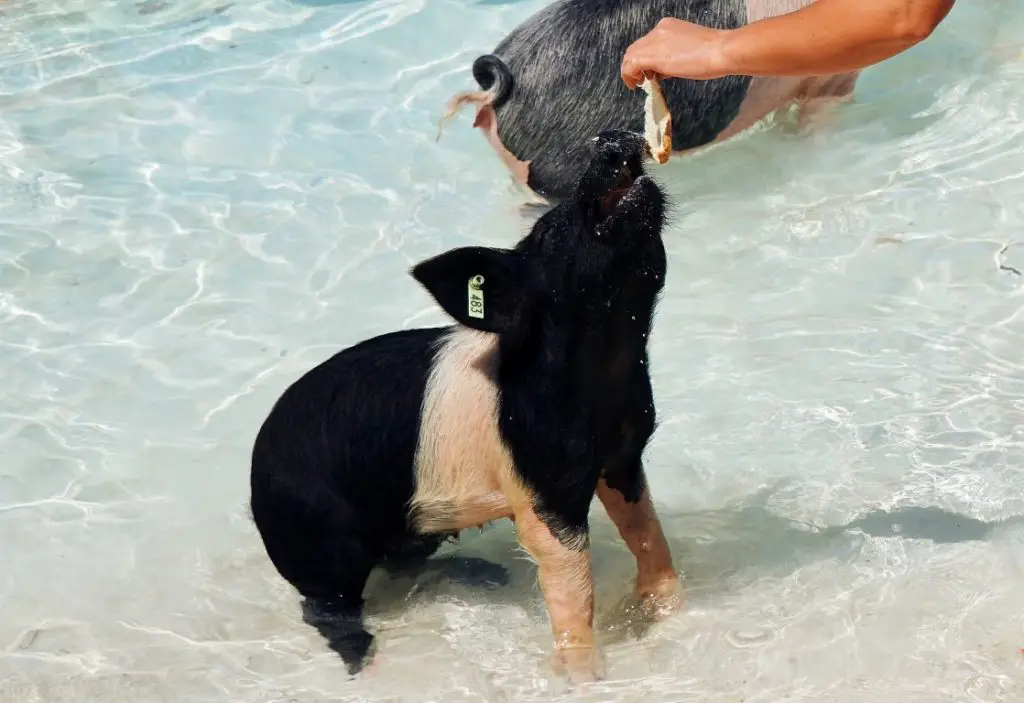 How to get to Pig Beach on Big Major Cay
That is the question that most of you are most interested in. We ourselves were busy planning the trip to Pig Beach for ages, because the information about it, especially on German websites, is really more than scant. A trip to see the swimming pigs still seems like a very exotic adventure and it is not easy to plan.
The short version: You have to get on a plane that will take you to a bus that will take you to a boat that will take you to the pigs. So we make every effort to present all options as compactly and comprehensively as possible. If you have any questions or need help afterwards, write to us in the comments!
Travel from Exuma to the swimming pigs
As already mentioned, Pig Island or Big Major Cay, the correct name for Pig Island, belongs to the Exuma Islands. The easiest way to get to Pig Beach is from the main island of the Exumas, Great Exuma. Great Exuma with the capital George Town is regularly served by several airlines, for example Bahamasair or Silver Airways . These fly from many airports in Florida (the easiest is from Miami) or from Nassau (Bahamas). Nassau is generally the hub in the Bahamas, so no matter where you are from, you will rarely find a direct flight to George Town on Exuma, but will likely change in Nassau.
We did it like this: We combined our road trip through Florida with a trip to the Bahamas. We found a cheap flight to Great Exuma (George Town) on our desired date from Fort Lauderdale with Bahamasair. We stayed on Exuma for 2 days (3 nights). We booked the return flight to Miami so that we had a 3-day stopover in Nassau.
Which option is best for you is best tested at Skyscanner * or momondo *by. We advise you to stay on Exuma for at least (!) 2 days. Not only is the island incredibly beautiful and, in our opinion, spared from mass tourism – you also need a little flexibility when planning. In the Bahamas everything runs a little slower and more chilled than here. We had booked our tour to the pigs in advance (more about the possible providers in a moment) and two days beforehand it was canceled due to too few participants. Not funny if you fly to Exuma especially because of the pigs and only have a time window of 2 days! So we panicked a lot and quickly organized a new tour with very rudimentary WiFi while we were out. In the end everything worked out, but that can also be different! In such a case it helps
Another alternative is: Take the ferry from Nassau to George Town on Exuma. Bahamas Ferries have regular connections. But watch out for the sometimes very long travel times! Depending on the ferry you are on the way for over 12 hours (and overnight), there are also not daily connections. Unfortunately, this option did not work for us due to lack of time.
Here you will find accommodations on Great Exuma * . Warning: There is no cheap here. Exuma has about 2-3 high rise hotel complexes and with the comparatively cheaper accommodations you have to reckon with Caribbean standards. We stayed at the Two Turtles Inn * .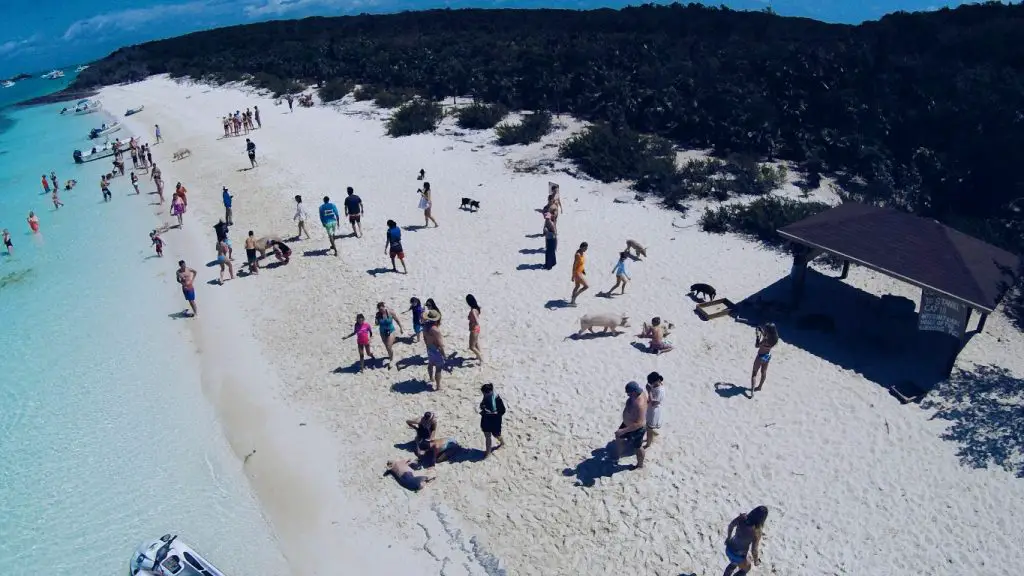 Arrival from Nassau
The journey from Nassau to the swimming pigs is rather unusual because the distance from Nassau is further than from Exuma – but it is possible. There are a few providers who offer a day trip by speedboat to the swimming pigs. But be careful – the prices are steep. For a day trip from Nassau you should expect around $ 400-500 .
Providers who offer day trips from Nassau:
Harbor safaris
Coastline Adventures: We were traveling with this provider, but from Exuma. You will receive offers and prices on request by email, the booking is also made by email. Here are the options and prices , option C is the day tour from Nassau.
Staniel Cay Vacations
We find a day trip to the pigs from Nassau not ideal . The reason for this is that on this trip it is often only possible to visit the pigs. Because of the long distance you are on the road for a very long time, you head for Big Major Cay without detours from the north and then you go back again. If you are touring from Exuma, you are from the south. In this way you can drive the entire breathtaking nature of the Exuma Cays, see the most incredible blue water that you can only imagine and besides the pigs have some other interesting stops such as Iguana Island, diving in the famous Thunderball Grotto or visiting one Sandbank on the program.
Arrival from Staniel Cay
Staniel Cay is the closest inhabited island to Big Major Cay. It has a small airport, which is mainly served by the airlines Flamingo Air and Watermaker's Air . So that we understand each other correctly: 8-seater machines land here, and not necessarily every day. Nevertheless: You can't get any closer to Pig Beach.
When you arrive at Staniel Cay, locals will offer you private tours to the pigs, prices of around $ 200 will be charged. It's too expensive for Staniel Cay to be right around the corner from Pig Beach. We heard that you can go to the tourist office on Staniel Cay and ask friendly questions there … usually someone there knows someone who knows someone who can take you to Pig Beach for around $ 50-100 per person .
The accommodations on Staniel Cay * can be counted on one hand, so the prices are accordingly. Have a look at the Staniel Cay Yacht Club . Theoretically, a One Day Trip with Flamingo Air can also be done without an overnight stay, but the planning was far too uncertain for us, so we finally decided on the classic, a tour to the pigs from Exuma.
These tour operators will take you to the Bahamas pigs
As already mentioned, the swimming pigs can only be reached by boat. Either coming from the north from Nassau or from the south from Great Exuma.
Day Tours to Pig Beach from Nassau:

As mentioned above, we are aware of Harbor Safaris (approx. 400 $) and Coastline Adventures (approx. 500 $) , which go to the swimming pigs from Nassau (Coastline's offer from Nassau is hidden here under Option C ).
Staniel Cay Vacations also offers a combo package ( around $ 500 ).
Day or half day tours from Exuma to Pig Beach:

Coastline Adventures : A full day tour including Pig Island, Thunderball Grotto, Iguana Island, Nurse Sharks on Compass Cay, lunch on a small island, preparation of a conch salad on a sandbank. Price: Approx. $ 220 plus landing fee at Compass Cay and lunch. We were traveling with this provider. Booking by email, you can see the price-performance overview here .
Four C's Adventures: You can book directly online with this provider. There are half-day and full-day tours ($ 110 and $ 180, respectively). The program is basically the same as with all providers, but Four C's Adventures is slightly cheaper than the rest. However, we did see the boats and they are bigger than the ones from Coastline. That means you are traveling in a larger group and have less storage space on the boat (which would have been a problem especially for us with drones).
Robert's Island Adventures: We booked here first because they had very good reviews on Tripadvisor. The tour was canceled at short notice because there weren't enough participants for the day. We don't know how well-known and heavily booked their tours are, but due to this uncertainty we would recommend that you book elsewhere if you have a tight schedule. Booking by mail, price about $ 185 for the full day tour.
Island Routes: Book directly on the website, but you pay almost $ 190 for the half-day tour . Not recommendable!
Exuma Sunrise Tour: We hadn't discovered this provider at the time during our research, but the price of just $ 100 for a full day tour sounds fantastic! The pick-up from your accommodation is unfortunately not included (and that can quickly cost money on Exuma, as taxis and rental cars are extremely expensive, there is no public transport). Make sure to calculate beforehand whether it's really worth it.
A note: if you live in a resort, do not book a tour to the pigs through the resort! We heard the resorts offer tours for $ 300-400, which is way too expensive! The Sandals Emerald Bay even brings tourists to a fake pig island , which is closer to Great Exuma than the real pig island. Yes, there are pigs there too, but they were brought there specially. The original Pig Beach is on Big Major Cay, don't be fooled. If, for whatever reason, you should be forced to book through your resort, ask beforehand exactly with which provider the tour is taking place and where you will be going.
Swimming with the sows: off on an adventure!
Before we continue to fill you with information, there is now finally a load of pictures of the pigs. Oink!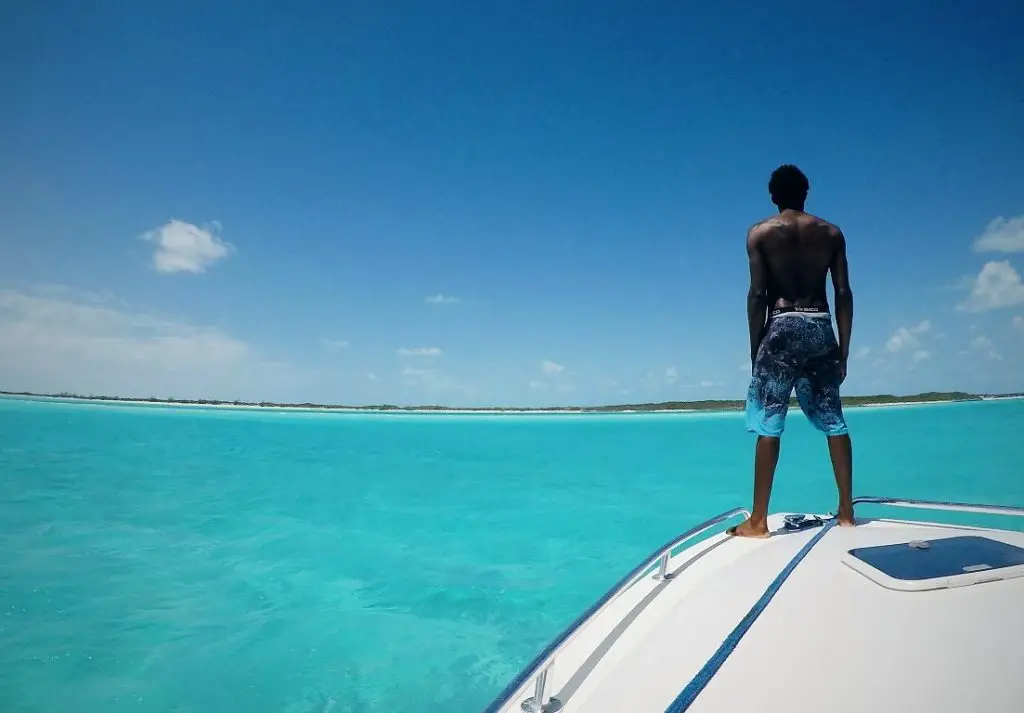 We started in Great Exuma by speedboat and Pig Island is the first stop on the full day tour. Unfortunately, the weather was really poor at the beginning and we even had to wear rain jackets on the boat.
Little by little it got better and when the sun came out, we finally got to see for the first time in which incredible paradise we actually ended up! When we finally headed for Pig Island after what felt like an endless 2 hours and the first pigs are already paddling towards us, a murmur goes through our group. Suddenly everyone is in a good mood, you only see smiling people and nobody can be kept on board.
Our guides give us bread for the pigs and off we go! They are totally greedy and like to be petted for food. We found it pretty funny that they stand in front of you with their mouths open and expect you to throw something into it – an image for the gods! By the way, there are pigs who are very calm and patient and those who demand their food and jump up on you. That's really cute – if it's not that big 200kg pig that is walking around there. Pig hooves on bare skin also hurt – you better give them your bread!
Most likely, you won't be the only boat anchored at Pig Beach. We were previously worried that the Bahamas pigs have become such a tourist magnet that you will trample yourself to death there – that was not the case. Although several boats were there at the same time, it went quite well and everyone had their time with the animals.
What bothered us, however, was that staying with the pigs only lasted about 30 minutes. We found it too short and would have liked to have stayed longer. On the other hand, you have to remain realistic and the reality is that there is no other way in terms of time. Big Major Cay is in the middle of nowhere (paradise, no doubt, but nowhere) and the drive to get there just takes a long time. Therefore, the times of stay are unfortunately limited, also at the other spots that you still visit.
Cost of the trip to Pig Island
Since the journey depends on where you come from, how long you want to stay and which route you choose is very individual, we can only give you a brief overview of what the adventure with the swimming pigs cost us.
For the flights from Fort Lauderdale to Exuma and back to Miami via Nassau (with a 3 day stopover in Nassau) we paid around $ 440 per person .
The Swimming Pig Tour with Coastline Adventures was approximately $ 220 per person . There is also a landing fee of $ 10 per person at Compass Cay. You have to pay this as soon as you disembark. Lunch during the excursion was $ 25 per person (and we are sure that this "restaurant" has no other guests apart from the daily tourists on the pig tours 😉) Total cost of the tour: Approx. $ 255 per person.
Three nights at the Two Turtles Inn in George Town * on Exuma cost $ 210 per person .
For food and drinks (self-catering) we spent about $ 40 per person during the 3 days (the Bahamas are extremely expensive!). As there is no public transport on Exuma, you have to take a taxi to and from the airport . The cost of this is a flat rate of $ 50 per trip. So we actually would have had another $ 100 taxi fare, but since we found someone who knows someone who knows someone … we only paid a total of $ 60 instead .
So the total cost of a trip to the swimming pigs for us was just under $ 1000 per person.
Ouch. We can only advise you: close your eyes and go through! It doesn't get much cheaper than that. We took the cheapest findable lodging on Exuma, didn't eat out, didn't rent a car, and only drank tap water. However, the price includes the complete sightseeing flight, which also gave us three more days in Nassau.
Rules of conduct for handling the animals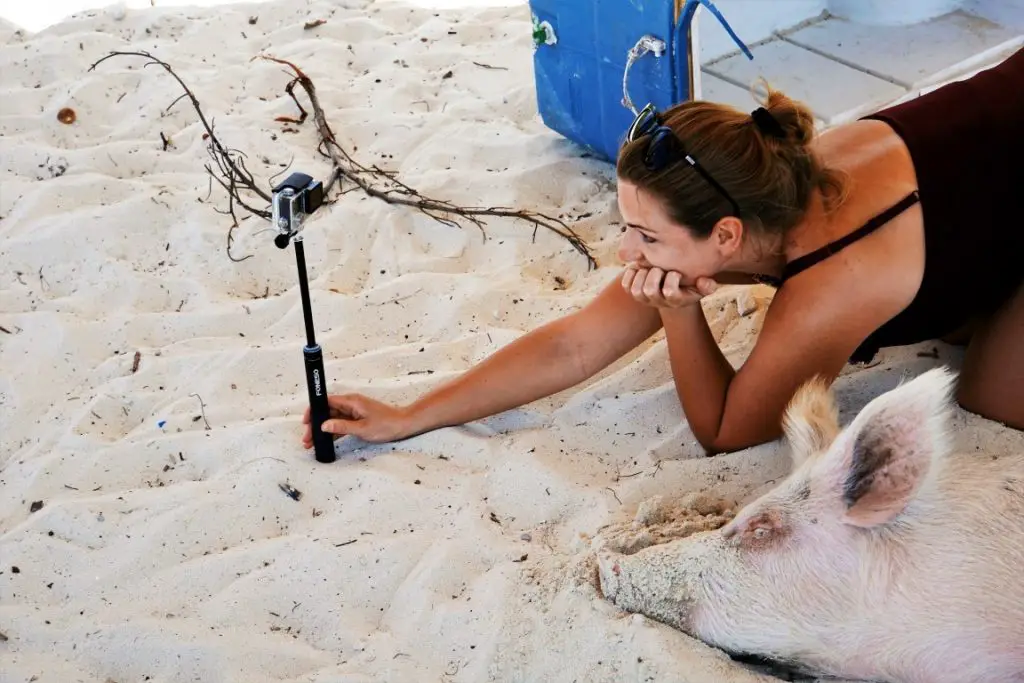 At the beginning of March 2017, just a few weeks before our trip to the swimming pigs, a horror report briefly went through the media: Approx. a third of the pigs on Big Major Cay have died.And it's true: Originally there was a group of around 20 pigs on Pig Island, now there are only around 13-14 animals (we didn't count them exactly). Sand in the stomachs of the pigs could be identified as the cause of death, so fortunately tourists are not directly involved in the death of the pigs through incorrect behavior. However, we have seen some people who did really stupid things, e.g. harassing the pigs for photos or feeding them beer (the pigs are thirsty and need fresh water, so they learned to drink from bottles. Give them water, but please no beer, cola or similar!)
No beer, soft drinks or other alcoholic beverages for the pigs. Drinking water only!
Please do not sit or ride on animals' backs (yes, really. People do that …)
If you ran out of bread: went stupid. We have seen people hide sand in the palm of their hands under small bits of bread so it looks like more. The pigs are smart and can quickly see through the trick, but they accidentally eat small amounts of sand.
Do not throw the feed in the sand or the water, but directly into the pigs' mouths. Even pigs don't feel like swallowing salt water and sand.
Ideally, you put the pigs' feed in the troughs instead of feeding them by hand.
When the animals go under the little hut to their troughs, don't bother them. This is their resting place. You can sit next to it, but otherwise leave them satisfied. Do not stroke or continue to feed.
Finally, one more thing that generally caught our attention negatively and that bothered us: Although so many pigs had died just a few weeks before, none of the local tour operators felt it was their duty to behave inappropriately during the visit to the Pig Beach tourist to prevent. On the beach itself there is a sign that the animals should not be ridden, hand-fed and not fed with alcohol – but nobody paid any attention to that. Don't get me wrong, the people mostly behaved and the tourists themselves alerted each other when someone went too far (probably because everyone heard about the death of the pigs and was therefore naturally sensitized to the subject). Nevertheless, we also see tour operators as having an absolute duty here. At no point did we get any information from our provider Coastline Adventures on how to behave towards the pigs.
We also see a need for clarification and action elsewhere: Many of the providers have Starfish Bay on their program for a day trip . What at first sounds pretty awesome (I mean, starfish galore, how awesome is that?), Has a bitter aftertaste on closer inspection: starfish … wasn't there something? You shouldn't even get them out of the water, should you? We didn't go to Starfish Bay with Coastline Adventures, but one of the employees found a starfish during the trip and gave it to us to photograph. These photos were taken: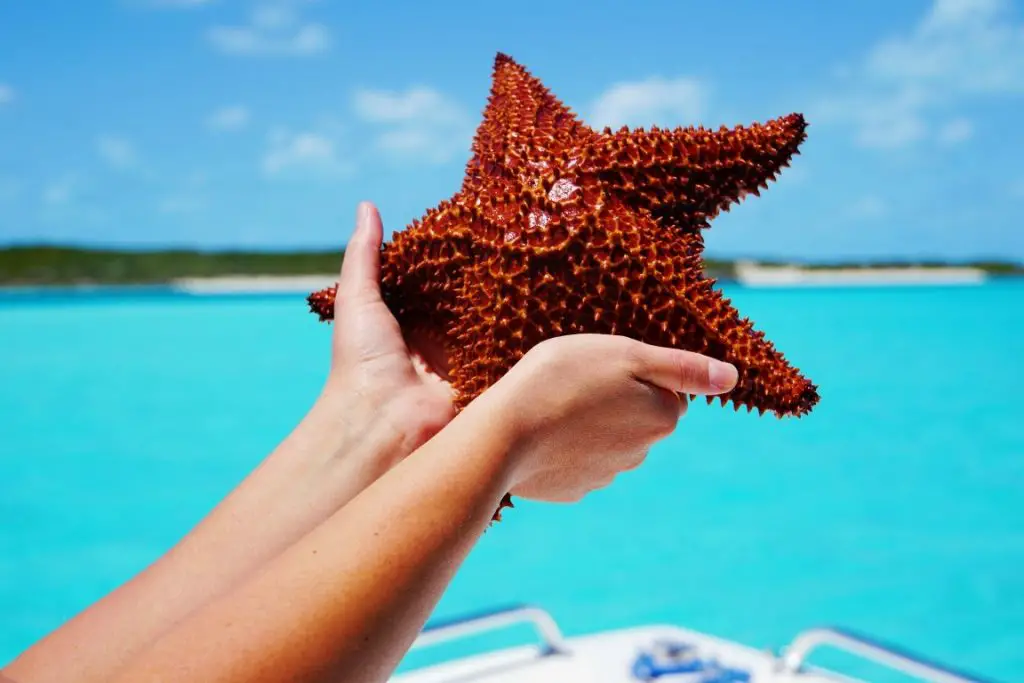 At that moment we did not really know how to assess the situation because we had never really dealt with the topic of starfish before. And we were simply flabbergasted by this huge, colorful, beautiful starfish that suddenly made the rounds over the boat. We asked how long the star can survive without water and were told that up to 24 hours would not be a problem. Starfish are exposed to the tides in the Bahamas and occasionally get stranded at low tide, which is why they are used to periods without water. That sounded conclusive to us. In the meantime we have done a little more research and are pretty sure that we have been told nonsense.