The small island of Aruba in the very south of the Caribbean has a lot to offer. Anyone who knows me a little knows that I unexpectedly fell head over heels in love with 'One happy island'. To be honest, I originally only came to Aruba because of Flamingo Beach (yes, totally plemplem …) and otherwise I hardly informed myself and preferred to be surprised. And that has definitely succeeded: Aruba completely knocked me out of my socks with its fantastic beaches and a landscape that couldn't be more contrasting! I already showed you that Aruba can do more than just beaches and real adventure with the Natural Pool , today the second trick follows:Snuba Diving in Aruba ! Snu … what ?! Doesn't that mean scuba diving and is it just normal diving? No not really. Here comes the explanation:
What is snuba diving?
Snuba Diving is a word creation from the two terms Scuba Diving (diving) and Snorkeling (snorkeling). And that's exactly what Snuba Diving is: a mix of both disciplines. I don't know about you, but I think snorkeling is only moderately exciting. In the sea, water constantly sloshes into the snorkel, the glasses fog up every few seconds, there is water in there anyway and … and oh, it just sucks. At least a little. Not to snorkel in the Caribbean is of course not an option. So I started looking for ways to get to see as much as possible of the colorful underwater world of Aruba without a diving license – and I came across Snuba Diving.
How exactly does Snuba Diving work? The principle is very simple: Instead of heavy diving equipment and oxygen bottles on your back, Snuba Diving has an approx. 20 m long hose that regulates the air supply. The oxygen source remains on top of the boat and you can dive down about 20m with the hose in your mouth. Without a diving license, without heavy equipment . The air is usually enough for a dive of about 30 minutes.
Snuba Diving in Aruba: Diving on the SS Antilla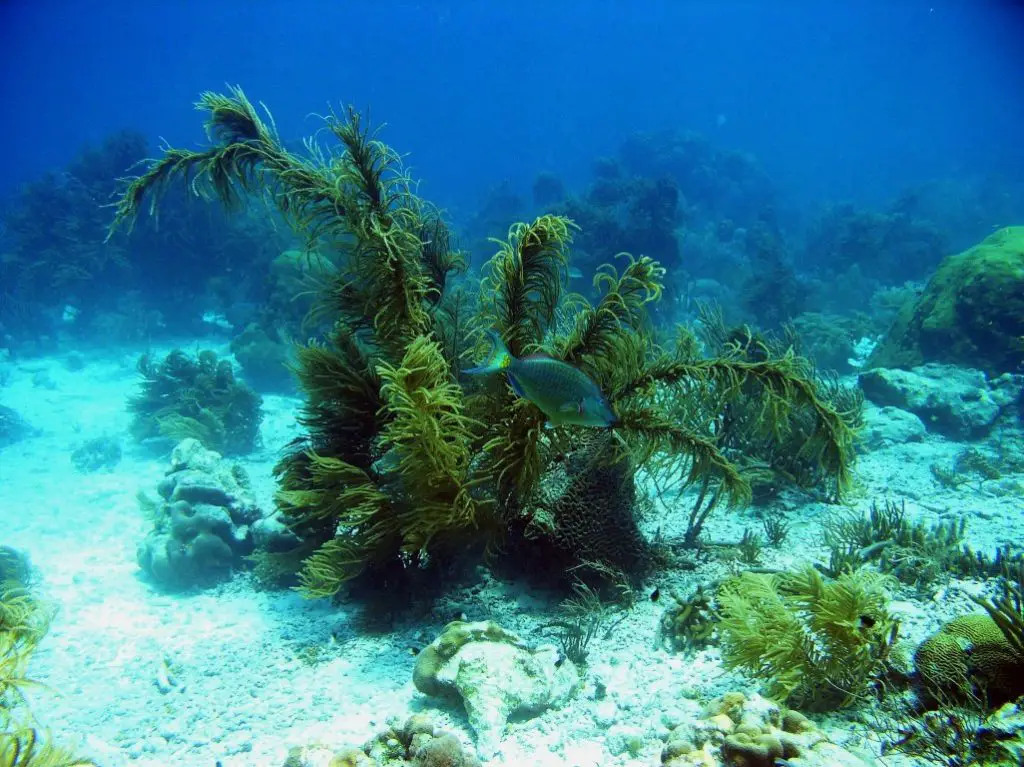 Aruba is known as one of the most beautiful diving areas in the world: In addition to the colorful Caribbean underwater world, there are also some shipwrecks to discover, the waters around Aruba are a true cemetery for ships among divers. The SS Antilla is a former German cargo ship, built in 1939 and sunk again in 1940 by a fire that it started. It is located about 700m off the coast of Aruba at the level of Arashi Beach at a depth of almost 20m – so just right to explore it by snuba diving. The SS Antilla is now considered one of the most beautiful wrecks in the Caribbean, even though it broke in the middle. To get it straight: the dive to the wreck of the SS Antilla was more than impressive!
This is how you book your diving adventure
Of course, you cannot do a Snuba Diving tour on your own. There are plenty of excursions tailored to the tastes of American tourists on Aruba, and a snorkeling tour on the SS Antilla * is one of the most popular tours in Aruba. As part of this tour, you can also book the Snuba Diving package. You will take a catamaran from Palm Beach (where all tours start at Palm Pier) out to the Caribbean Sea up to the height of the SS Antilla shipwreck. I strongly recommend booking in advance!Only a small group of people can be supervised at Snuba Diving per tour, places are limited to approx. 6 people. You can of course also book the snorkeling tour spontaneously, but the places for snuba diving are probably already occupied too soon.
Aruba Arriba! Course of the Snuba Diving Tour
As already mentioned: The contents of the snorkeling and diving tour are clearly tailored to American tourists. This not only includes sandwiches on board, but also a cocktail called Aruba Arriba, which is touted as the national drink. So far we were of the opinion that the island's own Balashi beer was Aruba's pride and joy, but be it – the Aruba Arriba tastes good! The Americans on the boat see it the same way and it doesn't take long before the pack of party-mad Americans, some with flippers on their feet, are doing a round of line dance on the catamaran (Yes. OMFG. I will probably never get rid of this picture … ) That this is actually about snorkeling seems to have moved into the background somehow.
With 1-2 Aruba Arriba in mind, we willingly let our Snuba Diving instructor Angelo strap on the equipment and show us a few tricks, for example how to get water that has run underwater out of the diving goggles. As a novice diver, I have to get used to breathing evenly with a mouthpiece, and in the first few moments underwater I feel panicked. But Angelo manages to get me on the right track and slowly we are sinking deeper and deeper.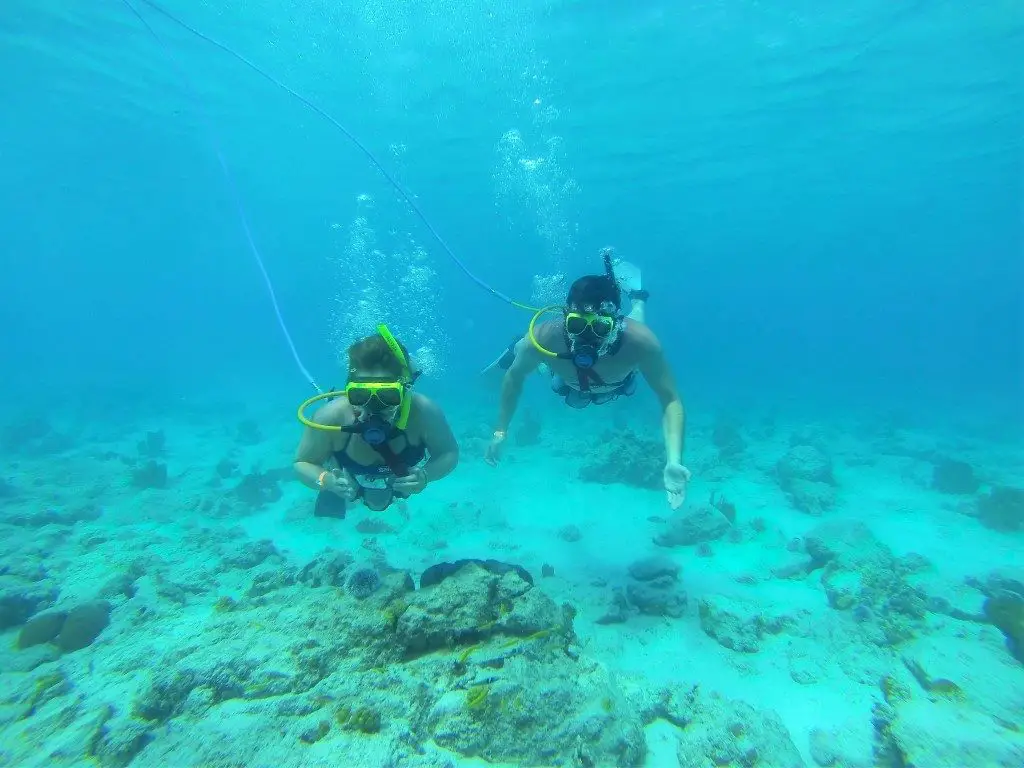 Aruba's underwater world: Colorful Caribbean fish and a sunken shipwreck
What awaits us down there just below the surface of the Caribbean Sea beats what we have seen so far while snorkeling in Aruba: Lots of colorful fish up close, corals, better-not-to-touch sea urchins and a lot of stuff , of which we still do not even begin to know what it is. Our teacher Angelo shows us what we can touch and what we should rather keep our hands off and watches us newbies very carefully so that we don't accidentally make nonsense. He also heroically uses a GoPro the whole time, thanks to which we can now delight you with wonderful underwater shots of our snuba diving excursion.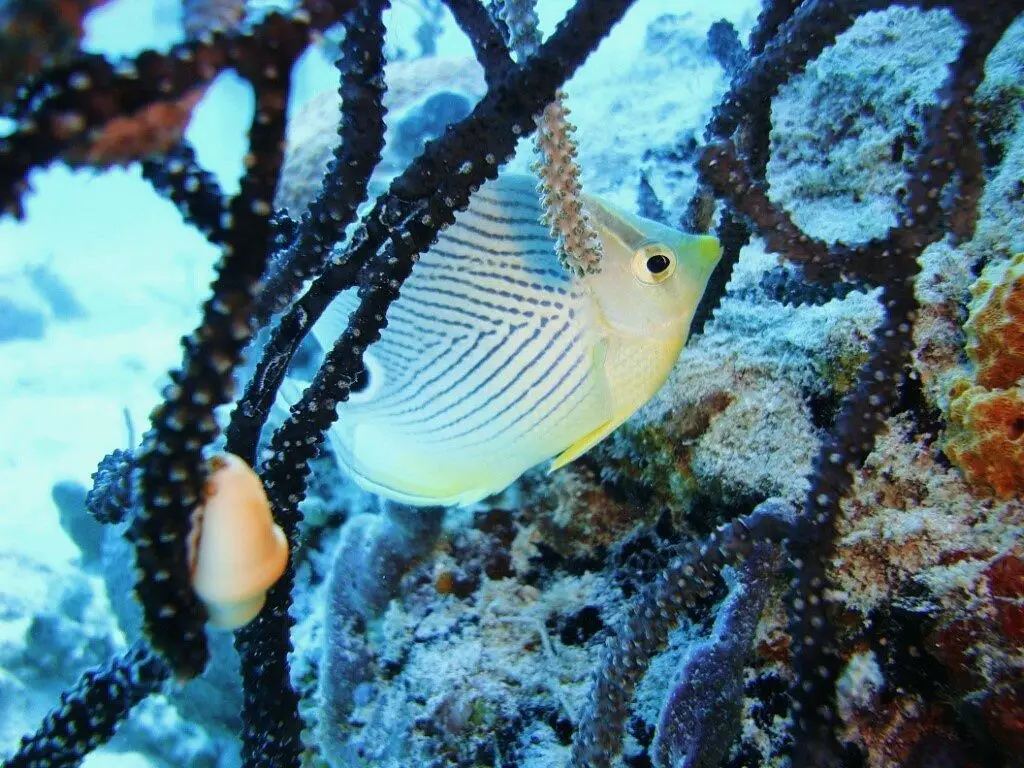 I hope you are as enthusiastic about these impressions as I am. For me, snuba diving in Aruba was my first time diving and it completely flashed me! So much so that since then I have definitely wanted to get a diving license in order to be able to discover a lot more of this crazy part of the world that has remained largely hidden from me so far. Until then, I'll definitely be back for a new Snuba Diving adventure right away!