Nothing could better describe what happened to us on our hike to Havasu Falls in the Grand Canyon. If the Havasu Falls (or Havasupai Falls) don't mean anything to you: Don't worry, that's no shame, because the Havasu Falls are actually not so much the focus of tourism, even if they are probably on every 
Places to See Before You Die
List at the top. This is mainly because this incredible place in Supai Village in the middle of the Grand Canyon can only be reached via a very long and strenuous hike – not for the average tourist. To make matters worse, getting a reservation for a Havasu Falls night is about as likely as seeing the northern lights near the equator. Forget it. So what to do Complete the entire hike in a single day? Day hiking to Havasu Falls has been banned for some time because it is too dangerous. If you turn up for a day hike at the Havasu Falls Trailhead, the Havasupai Indians are said to not let you down into the canyon in the first place.
So we had a really great plan of how everything could work without a reservation, we researched for months beforehand and planned everything through – and we failed terribly. None of this worked. In the end, the hike turned into an involuntary day hike. And that was by far the toughest challenge that Christian and I have ever had to master! There were moments when I wasn't sure whether we'd both make it out of the canyon safely. And the worst thing is: It wasn't even our fault, it was the internet. Much of the information about Havasu Falls is downright incorrect (or out of date).
With this post we would like to shed some light on the darkness and bring the information (if we have it) up to date, so that you can better plan your own hike to the Havasu Falls. Because we don't want you to just let this insane place slip away because you are unsure about the planning – do it! The Havasu Falls are amazing and are definitely one of those experiences that you will tell your grandchildren about!
Havasu Falls: waterfall paradise in the desert
If you landed here, you probably already know what the Havasu Waterfalls are all about. Hence the short version: Oh. My. God. The longer variant goes like this: The Havasu Falls are a waterfall of Havasu Creek, which flows through the Grand Canyon as a tributary of the Colorado River. That alone, a river in the middle of the Grand Canyon, is special enough, but it gets even better. Havasu means blue water and that is exactly what Havasu Creek is: blue. Caribbean-beach-turquoise-blue-I'm-twisting-because-it's-so-beautiful-blue! Fancy a little foretaste? You are welcome: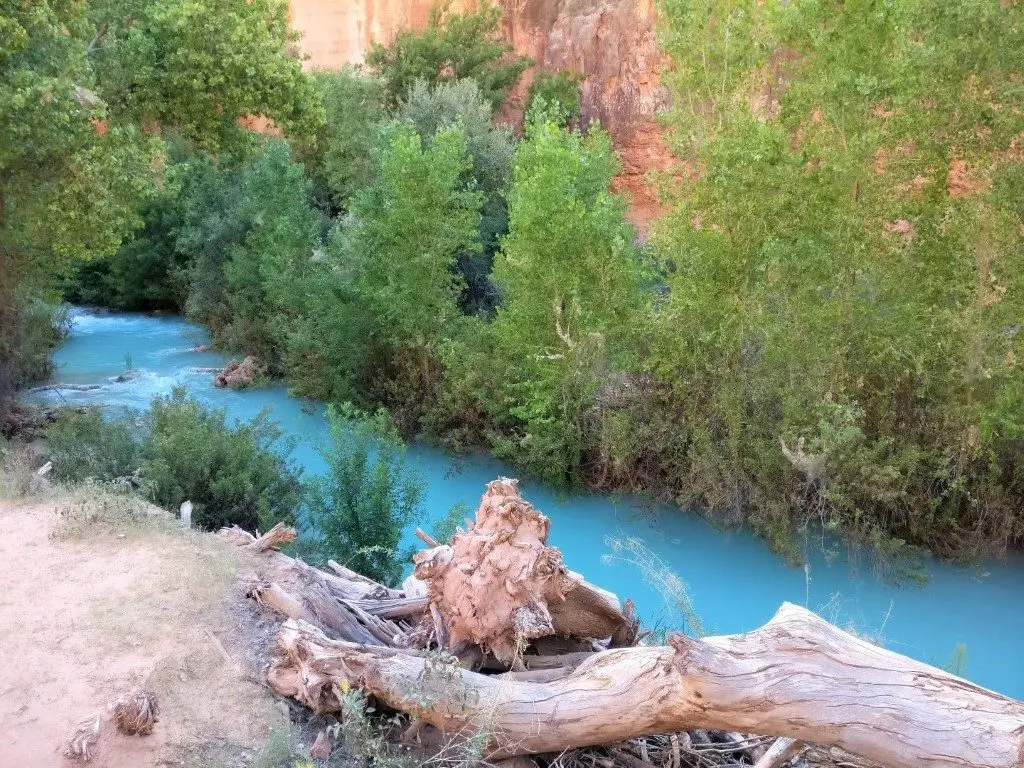 But why so blue, Havasu? Seen soberly, this incredible color is caused by a very high concentration of calcium carbonate in the water, the river bed consists of light limestone, which reflects the color of the river even more intensely. The Havasu Creek permanently deposits lime and thus creates new basins and rivers again and again – it does not look like the year before. It's crazy what nature can do. From its source to the mouth in the Colorado River, Havasu Creek not only forms Havasu Falls, but also more waterfalls:
Navajo Falls
If you hike along the Havasu Trail, the first stop after the Supai Village is the Navajo Falls, which by the way looked very different before the last big flood in 2008.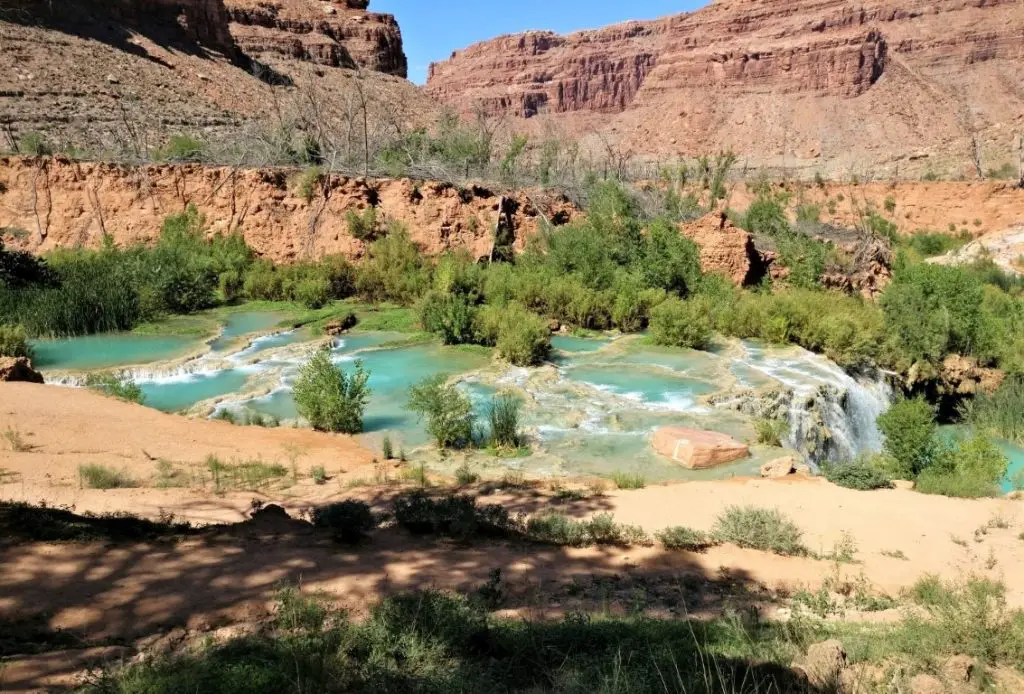 Havasu Falls
If you follow the trail further into the canyon you will reach the famous Havasu Falls, near which the campground is located. The Havasu Creek plunges about 30m into the depth and forms a series of impressive natural pools (I would like to withhold the pictures from you at this point 😉) The Havasu Falls are about 3.5 km behind the Supai Village.
Mooney Falls and Beaver Falls
The Mooney Falls and the Beaver Falls can be reached further along the Havasu Creek, they are again approx. 1 km (Mooney) and 5 km (Beaver) from the Havasu Falls. If you want to see these waterfalls, you have to plan an additional day with an overnight stay. Particularly impressive is Mooney Fall, which plunges over 60m into the depth, i.e. is more than twice as high as the Havasu Fall.
How to get to Havasu Falls: planning and accommodation
Alright! You are now probably maximally confused, but you really want to see this insane oasis in the middle of the Grand Canyon, right? How does that work now? Basically not many roads lead to Rome here, but exactly one. Namely the one from the Hualapai Hilltop down into the canyon in the Supai Village (13 km). From Supai Village we continue to Havasu Falls with the campsite (+3.5 km) and optionally further to Mooney Falls (+1 km) and Beaver Falls (+ 4 km). Here you can see an overview of the routes and the approximately required time, the distances are ONEWAY:
| | | |
| --- | --- | --- |
|   | distance | Duration |
| Hualapai Hilltop (Trailhead) to Supai Village | 13 km | Approx. 4 h |
| Supai Village to Havasu Falls / Campground | Approx. 3.5 km | Approx. 40 min. |
| Trailhead to Havasu Falls | Approx. 16.5 km | Approx. 5 h |
| Havasu Falls / Campground to Mooney Falls | 1 km | 15 minutes. |
| Mooney Falls to Beaver Falls | 4 km | ? |
So. Do you notice something? From the hilltop to Havasu Falls it is just under 17 km, easy. With walking back, a total distance of almost 34 km. Does that sound like it could be done in a day? No. That is why there are two overnight accommodations in the Supai Village :
Overnight in Havasupai: Havasu Falls Lodge and Havasu Falls Campground
A. You can stay at Havasupai Lodge . Reservations by phone only. Or
B. Get a place on the campground. Reservations also only by phone
Here you can find more information and a number of different phone numbers for reservations.
The internet says getting through the phone is like winning the lottery. Desired dates don't exist at all – which is a bit stupid when you unfortunately have a timeslot of 2-3 weeks. Since we have now seen the hut on site in which the reservations are accepted (that is also the hut where you have to report and pay the fee when you arrive at the Supai Village), we can say the following: A Constantly ringing phone and several rather sedate-looking ladies are perhaps not the best team. It took us about 15 minutes to register and pay. There was no line in front of us. Overall, we did not have the feeling that one would like tourists here, which is also reflected in the height of the Fee … but more on that below.
So what can you do if you haven't been able to get a reservation for an overnight stay? We researched our brains to death beforehand and came across the following options:
Havasu Falls in one day: take the helicopter or ride the mule
Option A. You can ride the mule , either into the canyon or from the bottom up. The mules / horses / donkeys transport, among other things, the luggage of the campground / lodge guests down to the Supai Village and back up again. If space is free, you ask nicely and pay around $ 80, they also transport exhausted hikers. However, there are no fixed times here, the mule columns are deployed as required.
Option B. The helicopter flying. For the Havasupai Indians, the helicopter is the only way to transport larger things down to the village. We found the only information about the flight times of the helicopter here and here , according to which it allegedly flies on certain days between 10 a.m. and 1 p.m. for about $ 90 (the allegedly official website of the Havasupai Indian tribe seems to be taken offline, we mean ourselves to remember but also to have found information here in advance)
So if the last flight leaves at 1 p.m., it doesn't take long to understand that under these circumstances a return flight is not an option. So we planned to fly down with the first helicopter at 10 a.m. and make the way back out of the Grand Canyon on foot. A good 17 km sounded tough, but doable. But it should turn out differently. Because we have learned: Even the helicopter only flies when needed!
Timing for the Havasu Falls Hike
At 9am we parked our car at the Hualapai Hilltop. How to get to the Hualapai Hilltop Here, too, there is exactly one way: Either coming from the west or from the east, you take the turn on Historic Route 66 onto Indian Road 18. This takes you straight for about 1.5 hours to the Hilltop, where the road ends in a dead end. The last place before turning towards Indian Road from the west is Peach Springs. There is the overpriced Hualapai Lodge * , which is why we have found cheaper accommodation in the next larger town of Kingman * . It is approximately a 2.5 hour drive from Kingman to Hualapei Hilltop. Coming from the east the next town is Seligman * (which is basically a Route 66 open-air museum, absolutely worth seeing!).
So we arrived at the hilltop at 9 o'clock, happily trudged over to the old Indian woman in the wooden hut and asked where and when the helicopter was flying.
"Do you have a reservation?"
"Ehm… no… we'd like to fly in and then hike back out, we don't need a reservation. Or do you mean a reservation for the helicopter? "
"No, there's no reservation for the helicopter. You need one for the campground or the lodge "
"Yeah, but we don't stay for the night, we read that there is a helicopter that could fly us in. So we'd like to take the first one and hike out in the afternoon"
"No, you can only fly out with the helicopter, you can't fly in. "
We like this: Hm. Why. Makes no sense. "Ok, so if we hike down now, is there a chance to catch the last helicopter to fly out? When is the last one? "
"Ohh… it's windy today. Not too late. Maybe around 5 or 6 if he's a good pilot. If you start right now, you can make it down in 3 hours, you look like you're in good condition. But you can also walk out if there is no helicopter. "
That means: The information about the helicopter and its flight times, which you can find here for example , are wrong! There are no fixed flight times for the helicopter! It depends largely on the weather and how strong the wind is on the day. Since the wind strength also changes during the day, it is decided spontaneously when the first or last flight will take place. Don't plan with the helicopter!
In addition, the lady sent us on a day hike without hesitation. We cannot confirm that day hiking to the Havasu Falls is prohibited by the Indians. It seems possible! In general, nobody will stop you at the hilltop, after all there are no barriers or similar there. We didn't get the impression that anyone cared about who went into or out of the canyon.
So we had to make a decision, and quickly. In retrospect, I can hardly describe how much I had set myself in mind to see Havasu Falls … to call off everything now was out of the question. We did not hesitate for a second and started the way down on foot, in good luck that we will somehow get the last helicopter if we accelerate.
Havasu Falls: The hike through the canyon
I don't want to waste a lot of words here, I want to let pictures speak for themselves. The first part down into the canyon (approx. 2.5 km) is quite steep. No problem on the way down, on the way back it will cost you your last strength. Be prepared for it. It's not going to be fun.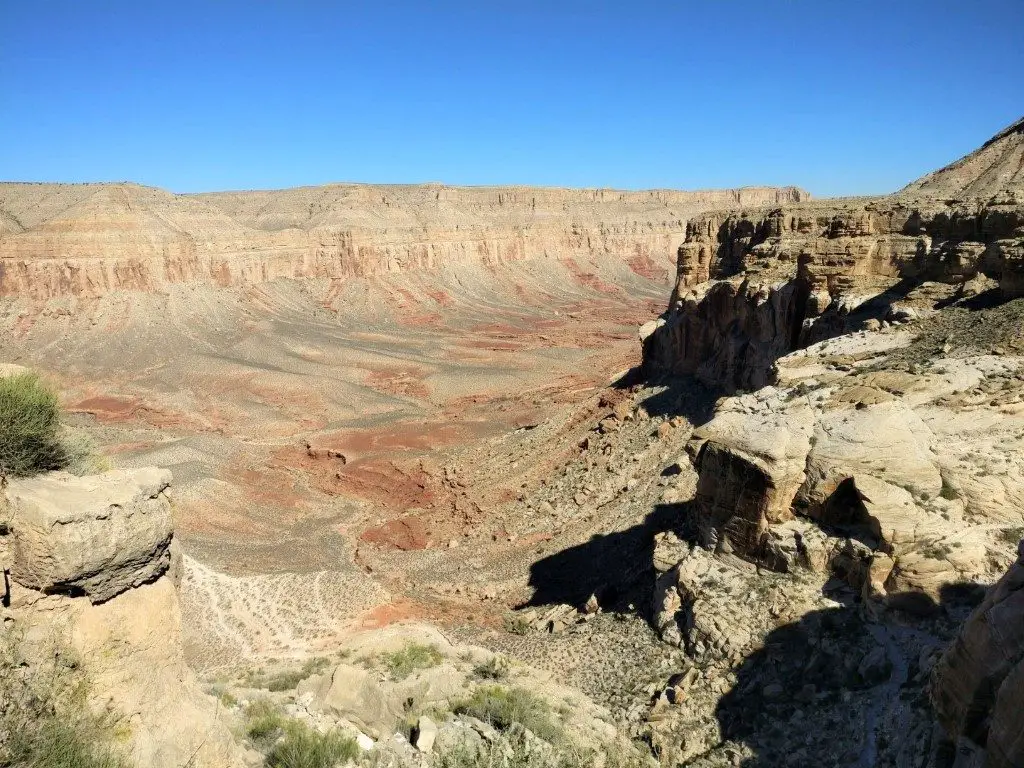 At some point you will reach something like a level, it is hardly noticeable that you go deeper and deeper into the canyon. Here you walk for hours over scree and now and then over a few stones, which is basically easy to do. You can't get lost either, there are no branches, the path is self-explanatory. On the way, you can always pause on a stone and briefly understand that you are in the Grand Canyon. Hell yeah! On the way you will meet mules and horses again and again, sometimes with luggage, sometimes without, sometimes with "master", sometimes without. Don't worry, they are harmless and know where to go.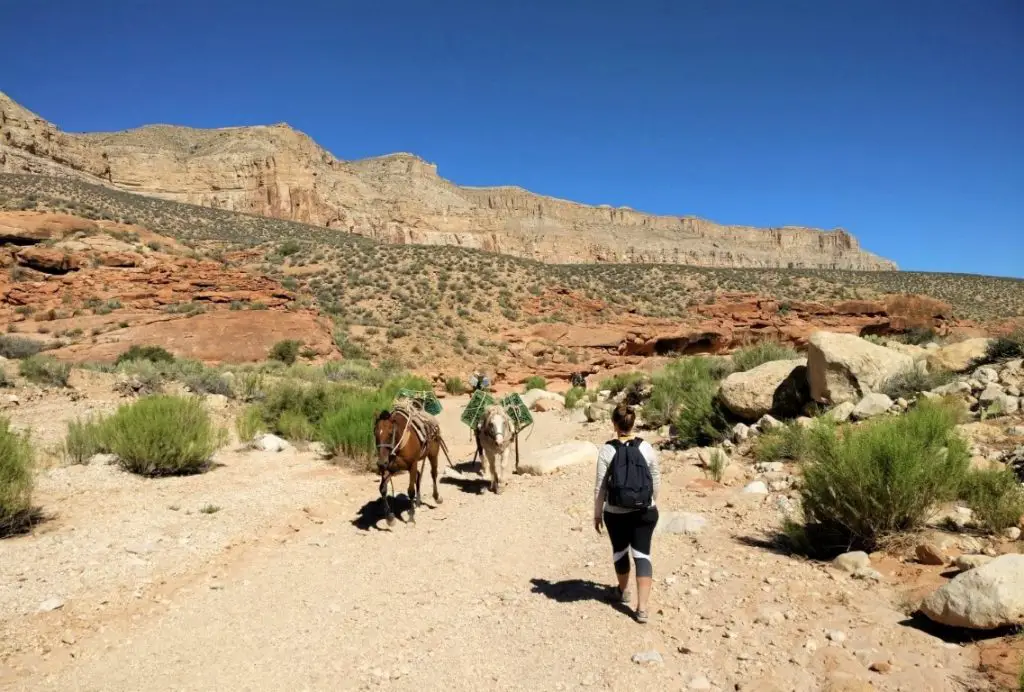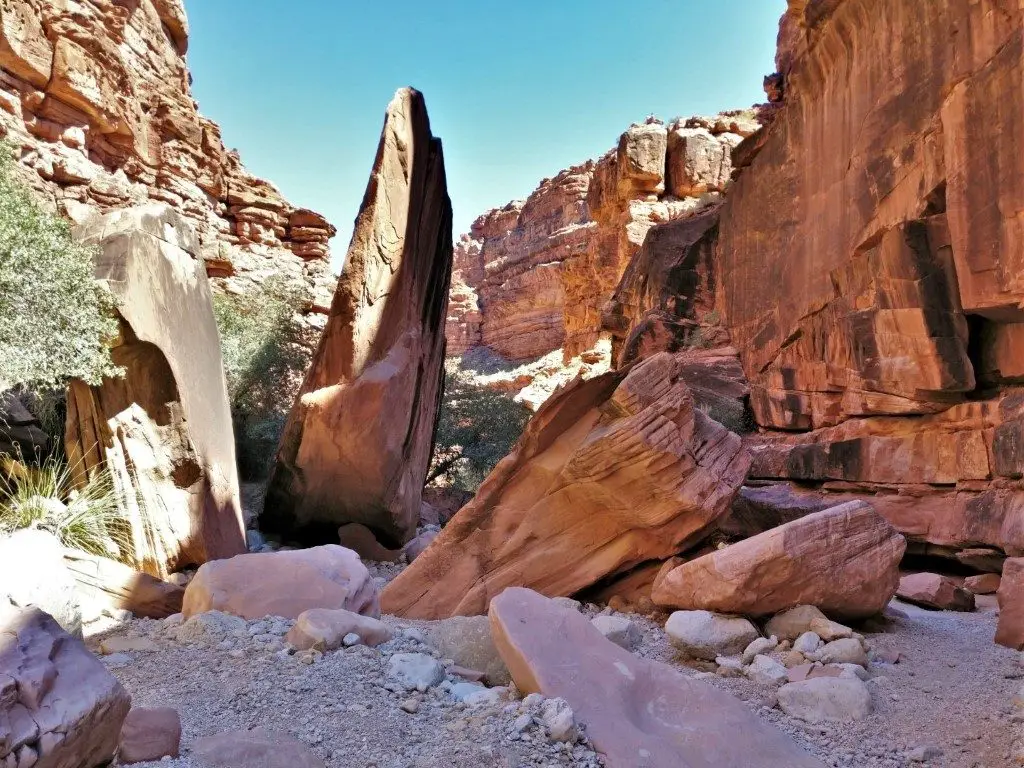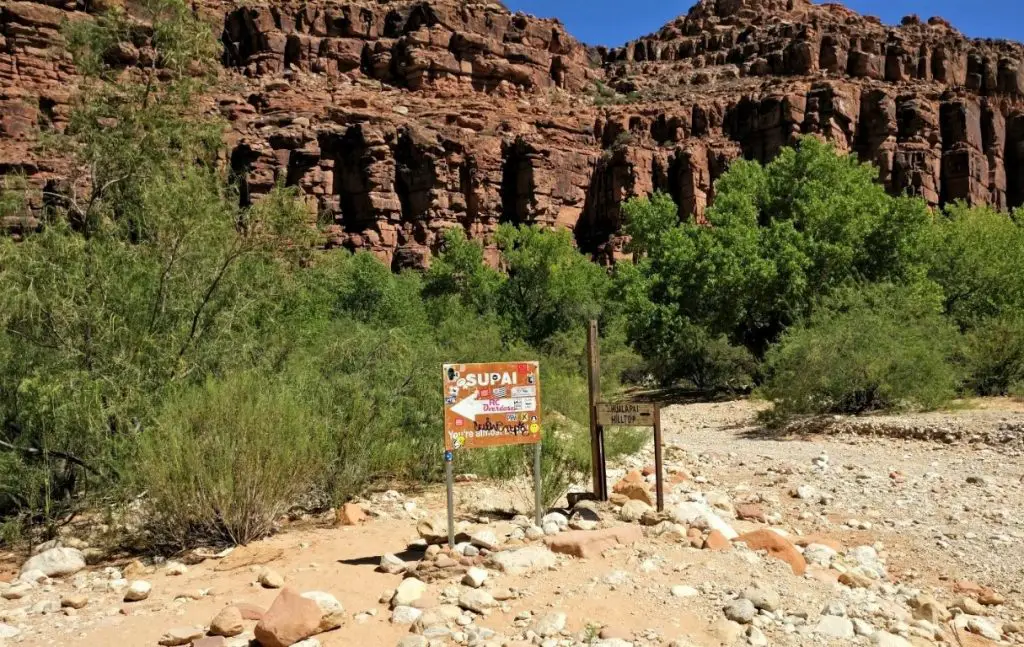 After a total of approx. 8 km you will reach a sign that shows you the way to Supai Village. The "Almost there" on the sign is a lie. From here it is still 5km to the village .
From here the ground changes from rubble to sand. If you have cursed before, there is more to curse from now. Walking on sand is exhausting, we all know that. But: It is slowly getting greener, you can see and feel that the landscape and the climate are changing. And at some point you hear a little brook babbling, which you can see a little later. To be honest, we don't know whether that was the Havasu River or just an extension of it. The Havasu River, which we met later, was definitely larger.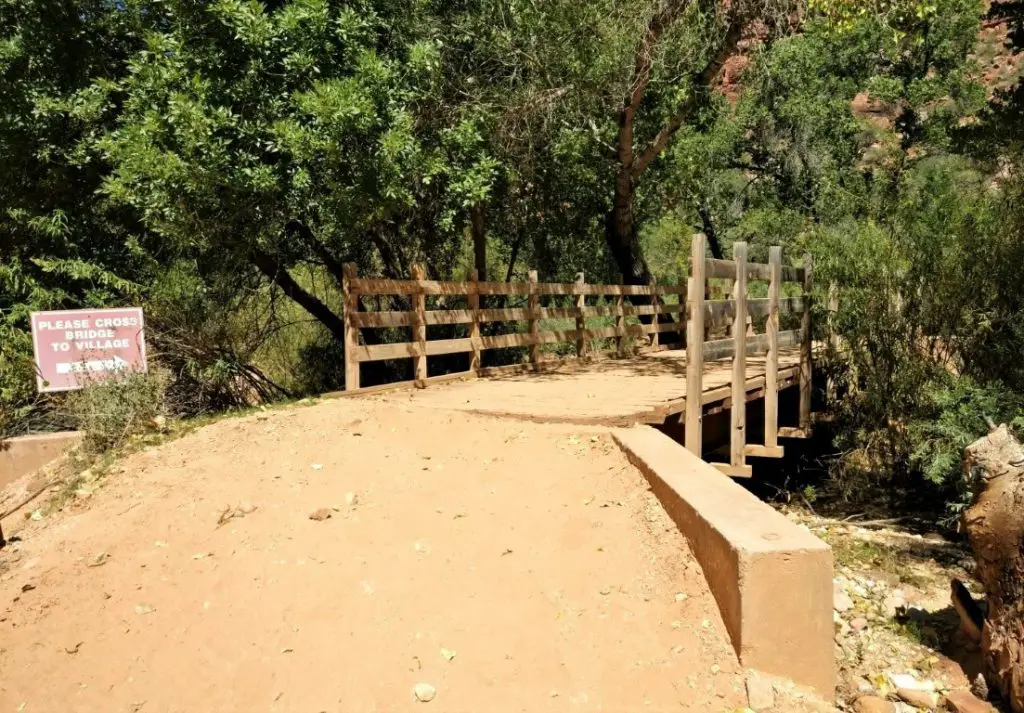 From now on it's not far to Supai Village (ok, that's a lie too). In any case, you will arrive there at some point, exhausted and happy, with a distance of almost 13 km in your bones. Alleluia! In the Supai Village you have to register in the first larger hut on the left. We arrived there after about 3:40 and I claim we were pretty quick.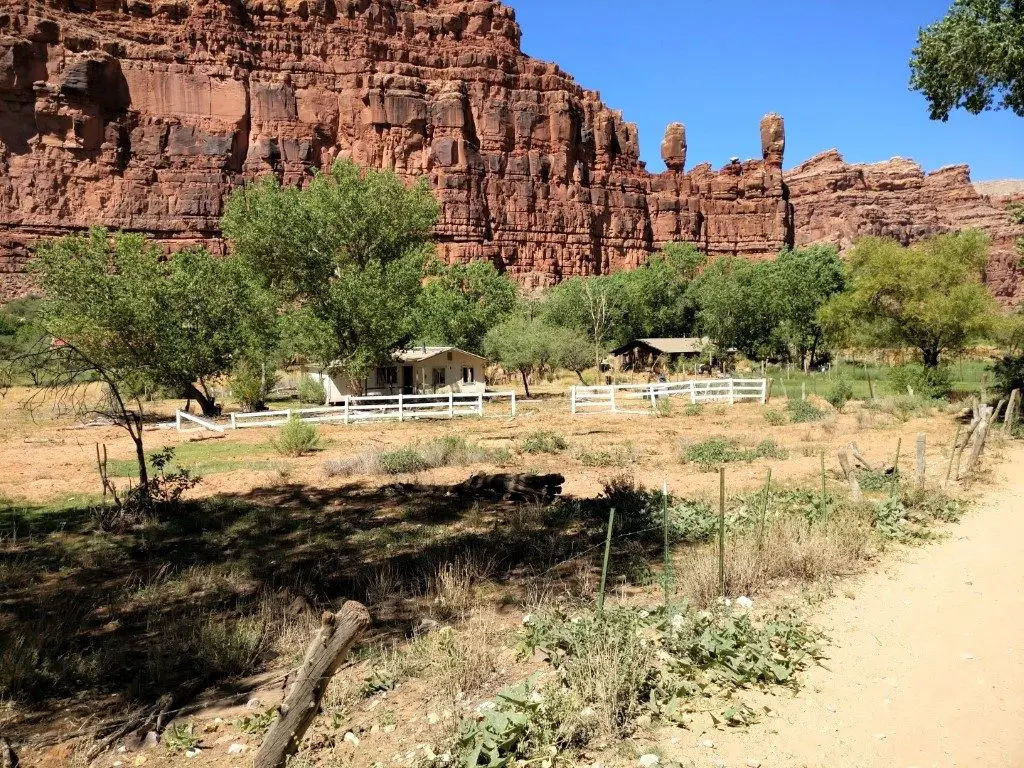 Costs: You have to pay a tourist avoidance premium ("Fee"). We have read various information about the amount in advance (everything from $ 15 to $ 60 was included). We had to pay $ 88 per person . For whatever reason. Unfortunately, there is no simply walking past the hut, you will be checked later on the way to the waterfalls.
From Supai Village to Havasu Falls it is another 3.5 km (approx. 40 min.). On the way you will first encounter the Navajo Falls and if you continue following the now almost thunderous Havasu Creek, you will soon reach this almost surreal place where the turquoise blue river plunges into the depths. You are at the Havasu Falls!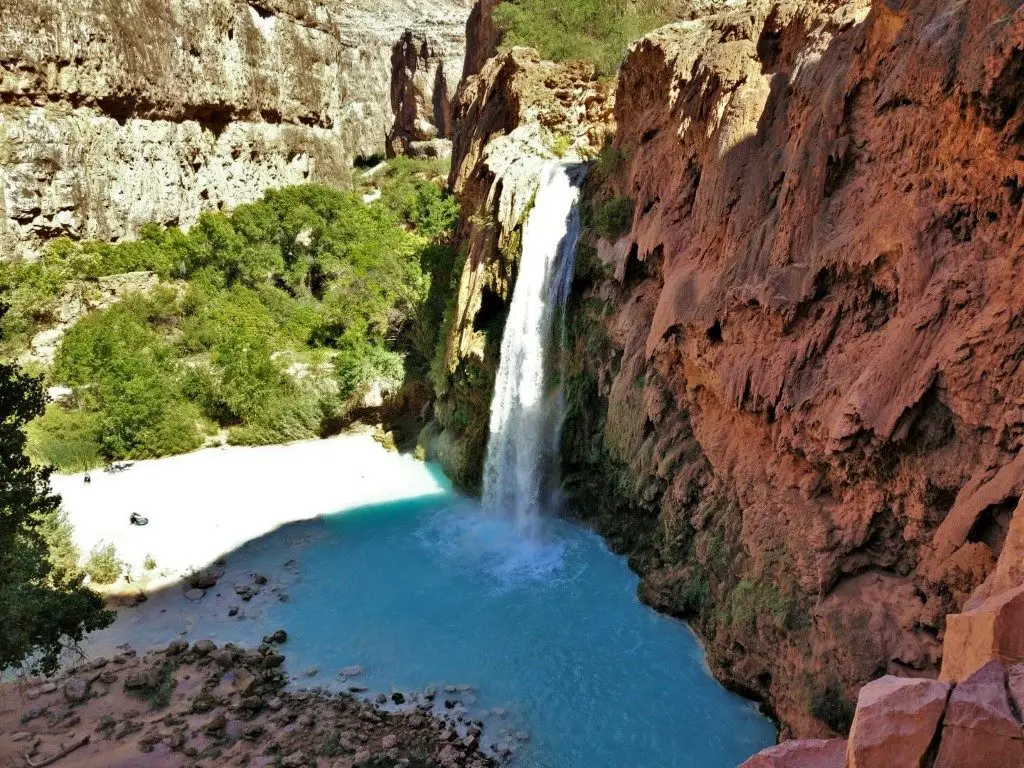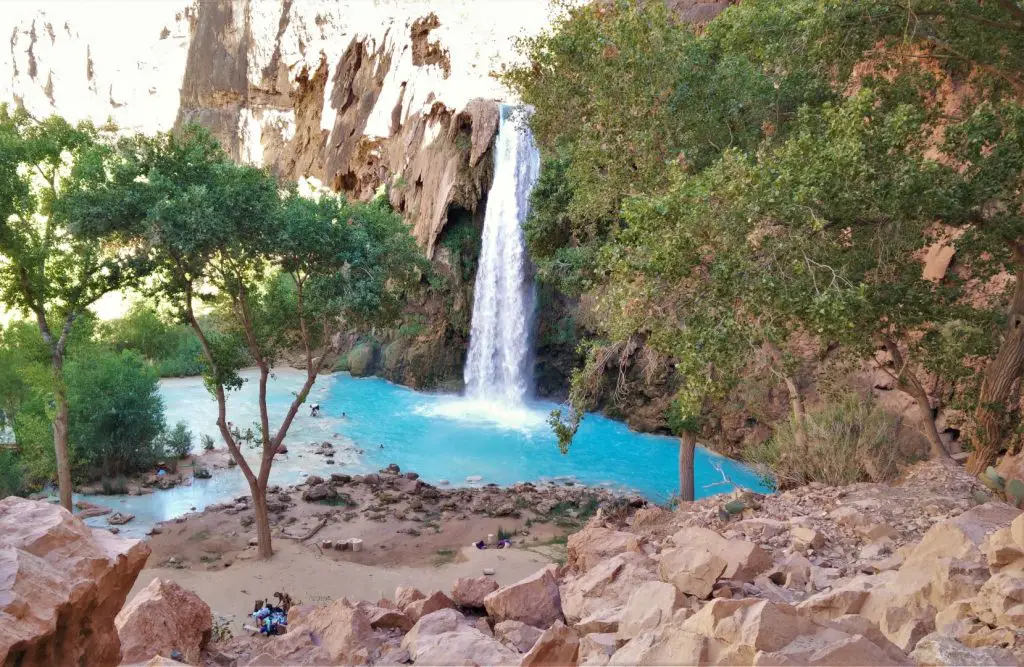 If that doesn't belong on some official Places To See Before You list, then I don't know …
How we survived the Havasu Falls Day Hike
And now comes the point where we've realized we have to seriously go all the way back. Running himself. Fucking 17 km. That was around 4 p.m. We had already been given badges saying "DAY HIKE" when we arrived, but it is well known that hope dies last. She died when we passed the helicopter landing pad in Supai Village on the way back – no helicopter and no one there. Although the last helicopter was not supposed to fly until 5 p.m. … the wind was probably too strong. Since the sunset threatened inevitably at 6:40 p.m., we decided not to waste any more time and started running. As fast as possible. Because we would no doubt get into the dark, and that's no fun in the Grand Canyon.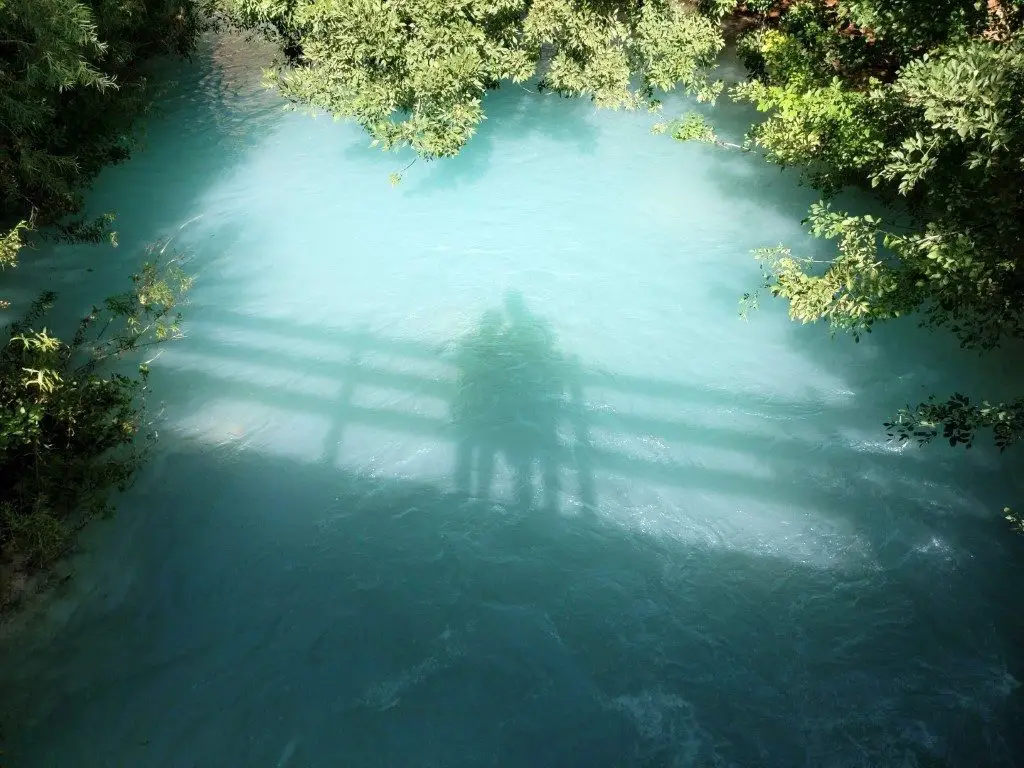 The headlamp *, which we actually took with us out of nonsense "if something is", turned out to be a lifesaver. Without them we would probably have found our way anyway, because there aren't many options, but we probably sprained or broken everything in the process (the hyenas have already rubbed all their paws). If you now think that you can see something halfway in the dark: Not in the Grand Canyon. Dark is not always dark and very few of us are already familiar with such a darkness as here. Without a headlamp you will be lost at the latest on the last part of the route when it goes up again steeply. In addition, there are certainly wild animals in the Grand Canyon, which are undoubtedly better deterred with a headlamp.seen but we have only one horse – which was probably even better. The fear of not getting out of this shit safe was big enough.
If you are sitting in front of your PC rolling your eyes and wondering what exactly was so bad – I would like to briefly describe the pain that will overtake you during a day hike to the Havasu Falls: Have you ever participated in an Iron Man or have you ever run a marathon? Yes? Then you know the pain and the state in which the body puts itself in order to be able to endure the pain. No? Then you have no clue. Really none.
I am certainly not an enthusiastic athlete and certainly not a runner, but that wasn't the reason. Christian is very athletic and regularly takes part in triathlons … I don't want to show off, but in the end we both felt like shit. We would have loved to just cry in pain and despair. It's just a fucking 34km in a single day! This is not a clean asphalt road on which you can maybe pack the route somehow, but the Grand Canyon. 34 km over slippery scree, sand, due to the heat, approx. 1300 meters in altitude. At some point every meter is in every single bone, so much so that your bleeding blisters on your feet are the slightest problem. Because at some point your head doesn't go along with it, you want to give up, but you can't … and the desperation and the uncertainty of how long you can hold out, both physically and mentally, begin to wear you down. It took us more than 5 hours to get back, significantly longer than for the way there.
That sounds very dramatic, so I don't want to ignore the personal circumstances: Unprepared in the darkness of the Grand Canyon to have to run more than twice the expected distance was certainly a particularly stressful situation. If you know what to expect beforehand, if you run such distances regularly and if you are sure that you can do it physically, then you will have fewer problems. Apart from running long distances on a regular basis, there is no way to physically prepare for a day hike to Havasu Falls.
So again: even if we did it – we strongly advise against a Havasu Falls Day Hike! It's no walk in the park!
Apart from the physical exertion, it is also pointless to get this wonderful place over with so quickly. Because there are not only the Havasu Falls, but also the other waterfalls, which are no less spectacular. For this you definitely need a reservation at the Hualapai Lodge * or on the campground, at least for one night. The route is not feasible as a day hike under any circumstances!
Tips for the Havasu Falls Hike
– Please try to get a reservation for at least one night.
– If you are planning a day hike: start early. It will take you a full day to do this. And by complete we mean complete.
– The last option for supplies (refueling, food, drinks) before you drive onto Indian Rd. 18 is in Peach Springs or Seligman. After that there is nothing more!
– Find out more about the climate in the Grand Canyon . The Havasu Trail is on the South Rim. It gets extremely hot here, especially in July and August, while it is still pleasant on the North Rim during these months. We would advise against a hike to Havasu Falls in the middle of summer, May, June and September are perfect.
– Bring enough water! And, please, also sugary drinks, Gatorade or Powerade, you need energy and electrolytes. Too much water flushes the minerals out of your body. By the way, the water from Havasu Creek is drinking water, so you can fill up your water bottles with it. A Gatorade in the shop in Supai Village costs $ 4, and there is overpriced food here too.
– Take nutritious and filling, but light foods with you for the hike. Muesli bars, protein bars, energy bars, bananas, whole grain sandwiches or similar
– Wear the right shoes! It doesn't have to be heavy hiking boots, but they shouldn't have slippery soles and provide good support. A pair of sexy waterproof trekking sandals are perfect, I bought this reasonably tolerable model from Teva * .
– Wear functional clothing, 2-3 layers, it can be chilly in the early morning hours. Put your bathing suit underneath if you are planning a day hike, there is no way to change.
– A headlamp * saves lives! Don't forget to replace batteries.
– Bring blister plasters, waterproof plasters *, sunscreen, a light towel * and mosquito spray * (Nobite! No car, please, the mosquitoes will only laugh about it)
– In principle, you can also book a guided tour to Havasu Falls, the organizers will then take care of the permits. However, the costs are not low.
We really want to keep the information here up to date, because the sparse and sometimes incorrect information about a Havasu Falls Hike almost broke our necks (in a figurative sense). The involuntary Grand Canyon Day Hike was so incredibly tough that I can hardly put it into words. Please don't take this lightly.