The small Mediterranean state of Malta south of Sicily, which consists of the three inhabited islands of Malta, Gozo and Comino , is one of the smallest states in Europe. You might think that there isn't much to discover here, but the opposite is the case: The history of the islands goes back over 6000 years and Malta is still characterized by unique historical architecture, a special mix of British, southern Italian and Arab Culture and varied landscapes with crystal clear beaches and impressive cliffs.
Last but not least, Malta has over 300 days of sunshine a year – reason enough for me to finally fulfill my wish for a Malta vacation . I spent a total of 9 days in Malta and still I have the feeling that there is still so much to discover there and that I absolutely have to come back. In this article I'll tell you the most beautiful highlights and sights in Malta and there are also a few insider tips on top. Here we go!
Malta's capital Valletta
With only approx. 500,000 inhabitants, Malta is one of the smallest countries in Europe, almost 400,000 of the inhabitants live in the metropolitan area of ​​the capital Valletta. That seems like a lot at first, but it is still possible to explore the city center of Valletta with all its sights within a day on foot, because Valletta itself has just under 6000 inhabitants. Valletta is the smallest capital of an EU state and has been a UNESCO World Heritage Site since 1980 due to its cultural wealth.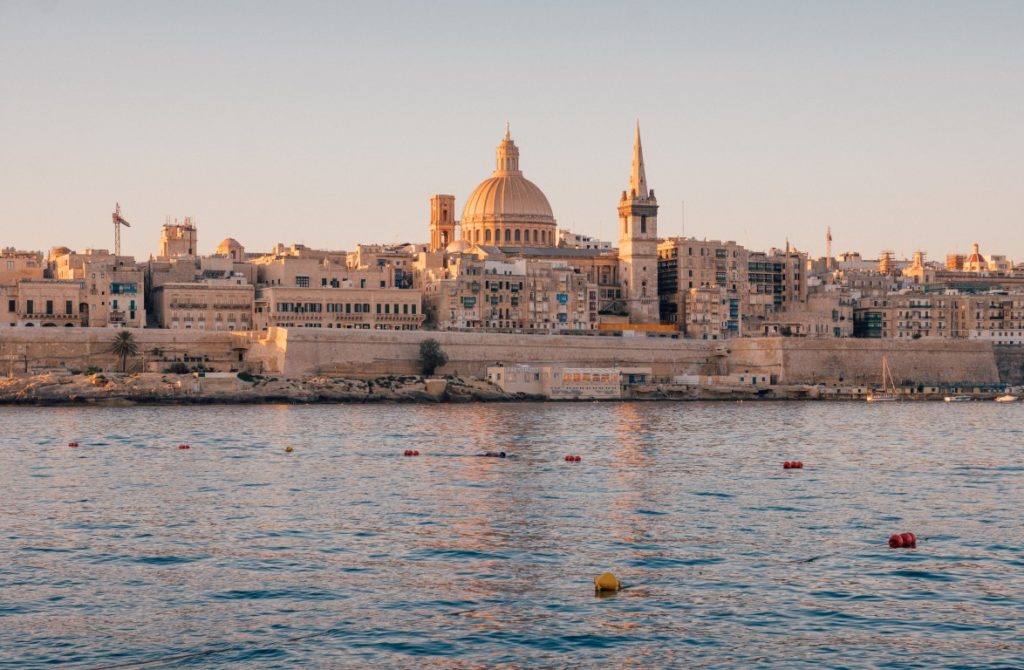 Let yourself drift between the colorful balconies of the old town
The architecture, which immediately catches the eye, is very typical for Malta and especially for Valletta: In the entire old town, historical buildings and houses are lined up, all of which are decorated with colorful doors, balconies and bay windows. The city center is slightly elevated, you have to climb wide stairs again and again and the outward sloping side streets reveal the view of the blue glittering sea. Valletta is surrounded by thick, high city walls and is one of the best historically secured cities in the world. The best thing to do is just let yourself drift through the centuries-old alleys, shoot a million photos and just soak up the atmosphere of this fascinating city – you basically automatically pass Valletta's most important sights.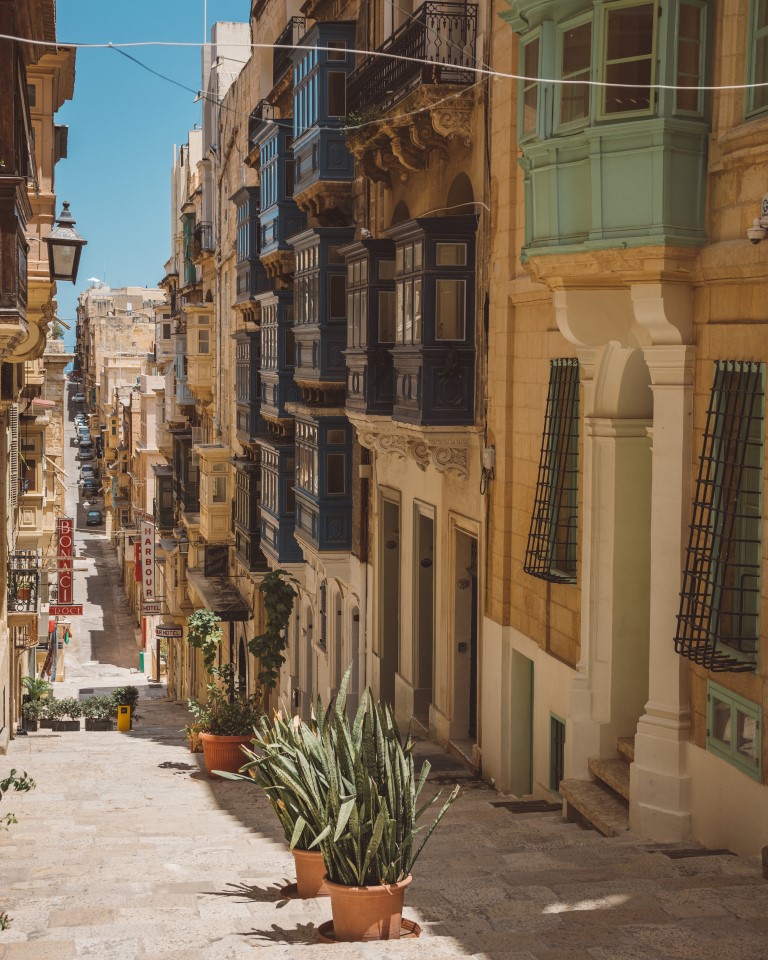 The most beautiful sights of Valletta
If you don't just want to let yourself drift, but also want to go to and visit some sights, you should plan a second day for Valletta. Here are the most interesting spots at a glance:
The Upper Barrakka Gardens
St. John's Co-Cathedral
The Grand Masters Palace
Fort St. Elmo
The Casa Rocco Piccola
The Theatru Manoel
The Carmelite Church
They are all within walking distance of each other in the historic old town of Valletta. The best way to explore Valletta is on a private tour with a local guide * , who can give you valuable background information on all the places.
Here you can find out everything about Valletta's most important and beautiful sights .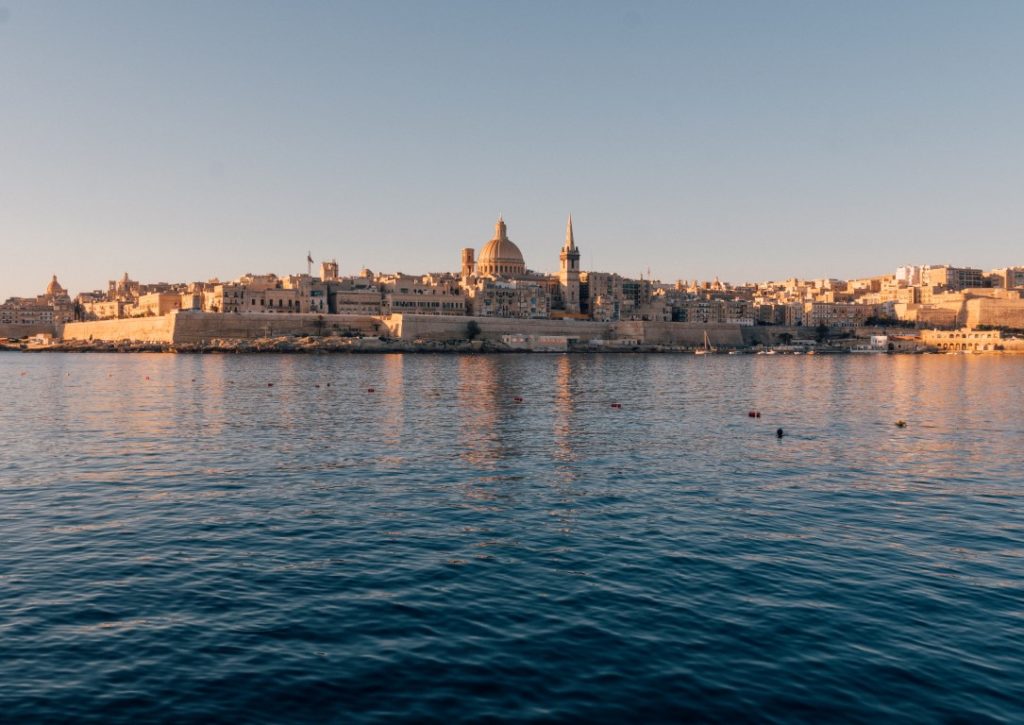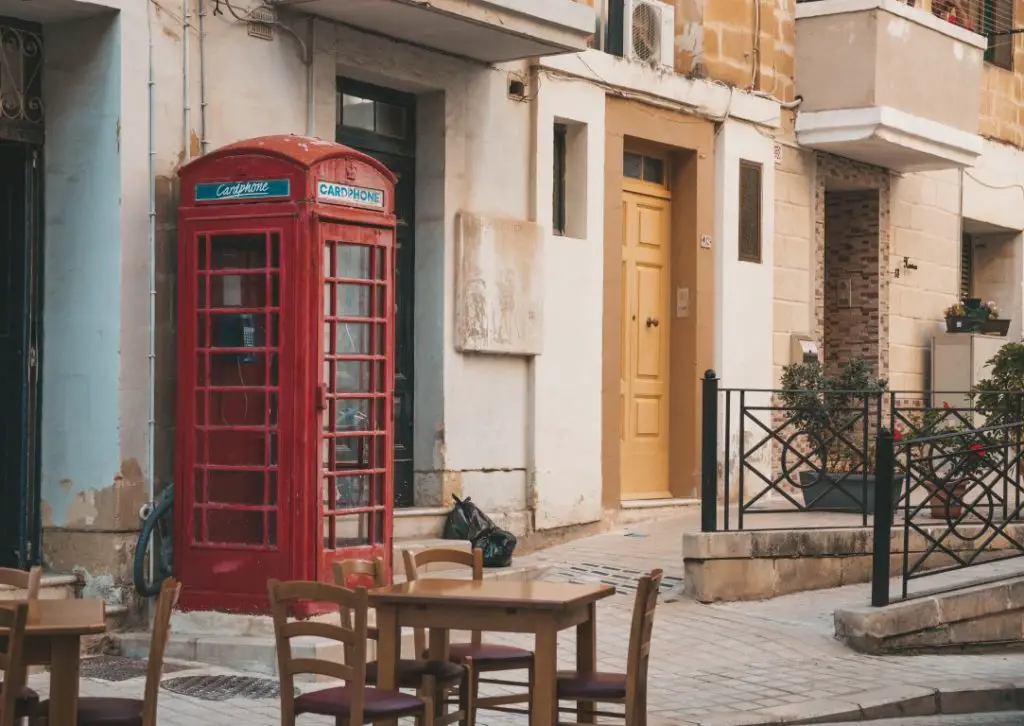 My tip: Parking in Valletta is virtually impossible, so the best way to travel is by bus. If you want to come by car, then park outside of Valletta on the opposite side of the bay in the town of Vittoriosa. If you get there early enough in the morning, you will get a parking lot there at the harbor. From there you just take a water taxi over to Valletta – these are small wooden boats that strongly reminded me of the gondolas in Venice, only with an electric motor. The trip costs just € 2 per person, takes only 5-10 minutes and is an experience in itself that you shouldn't miss.
When you arrive at the port of Valletta, just a 2-minute walk away, an elevator for € 1 per person takes you up to the Upper Barrakka Gardens. There you start your city tour. For the way back you take a water taxi again, it drives back to the same place.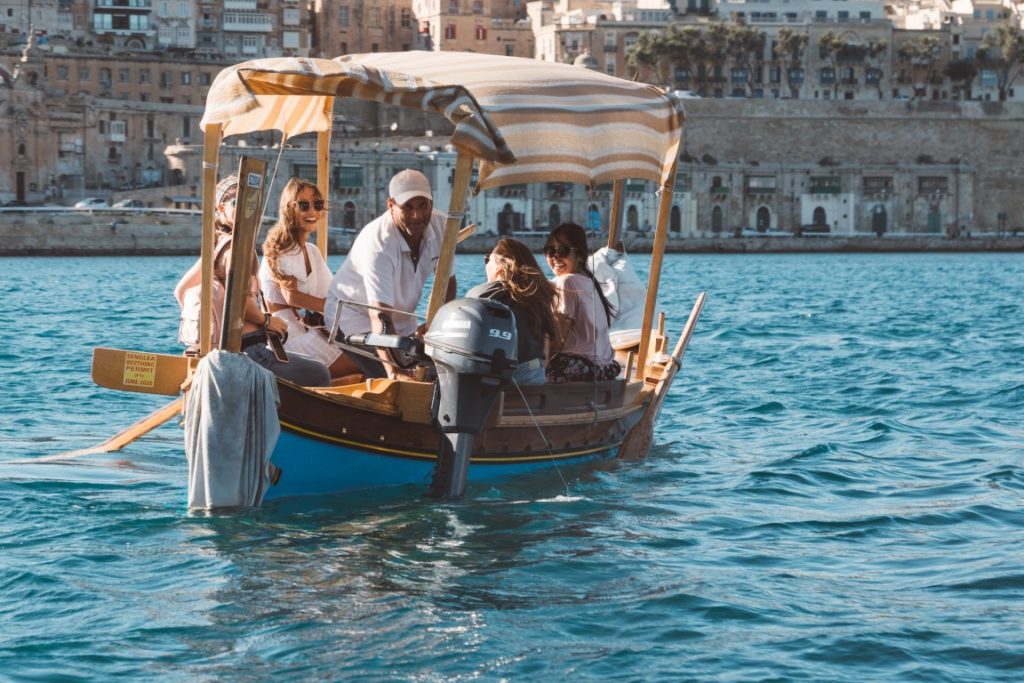 The Three Cities: Vittoriosa, Senglea & Cospicua
The "Three Cities" are the three cities that lie on a headland opposite the southern bay of Valletta: Vittoriosa, Senglea & Cospicua . It's a lot quieter here than in Valletta, everything is less crowded and even more original.
In Senglea it is worth visiting the small Safe Haven Gardens at the top of the city, from there you have a great view of the bay and Valletta with its thick city walls. Vittoriosa was one of my personal highlights in Malta – the picturesque streets with their old houses, which trump each other with colorful doors and pretty flower tendrils, are simply beautiful. We spent hours there drinking coffee and taking photos and couldn't get enough, so now – sorry for that – a little spam pictures: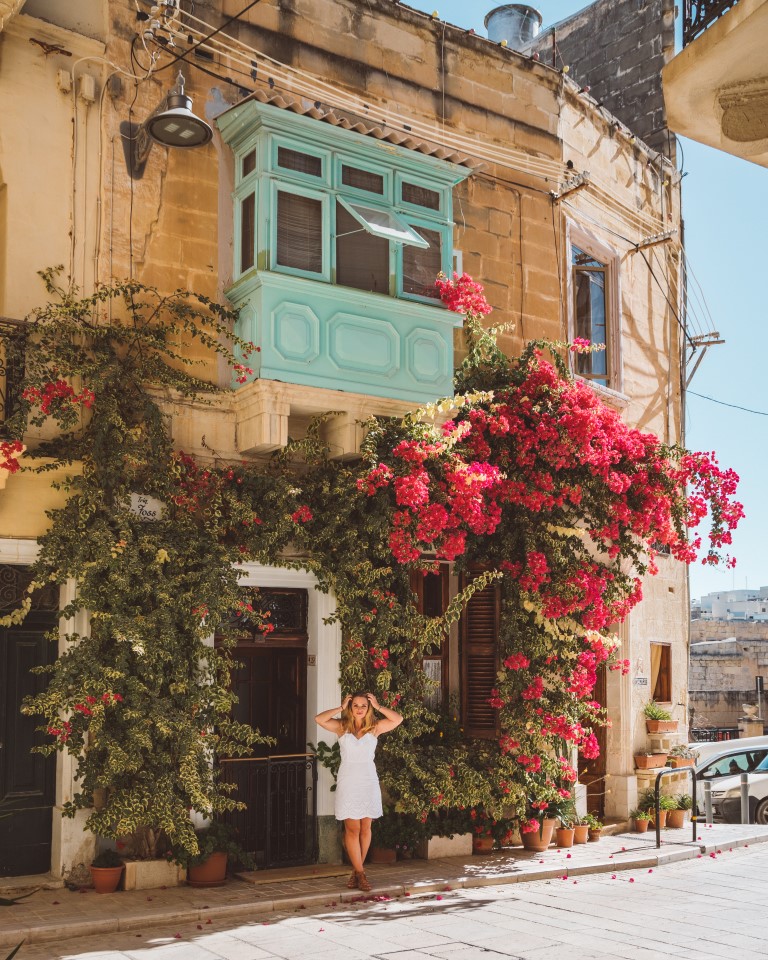 My tip for light photo equipment when traveling

Would you like to take great photos on the go without having to carry too much with you? It doesn't take much for that! The heart of my equipment, which I also used on Malta, are:
With this mini-equipment I shoot 90% of my pictures. You can get a complete overview of my equipment here >>> my photo equipment *
If you would like to learn more about the history of the Three Cities, a guided tour through the three cities * is worthwhile . Alternatively, you can do the whole thing as part of a leisurely harbor tour in a traditional Maltese boat * .
My tip: As mentioned above, a water taxi runs between Vittoriosa and Valletta for only € 2. The drive through the bay is really impressive and the fastest way between Valletta and the Three Cities, so you can easily combine the visit.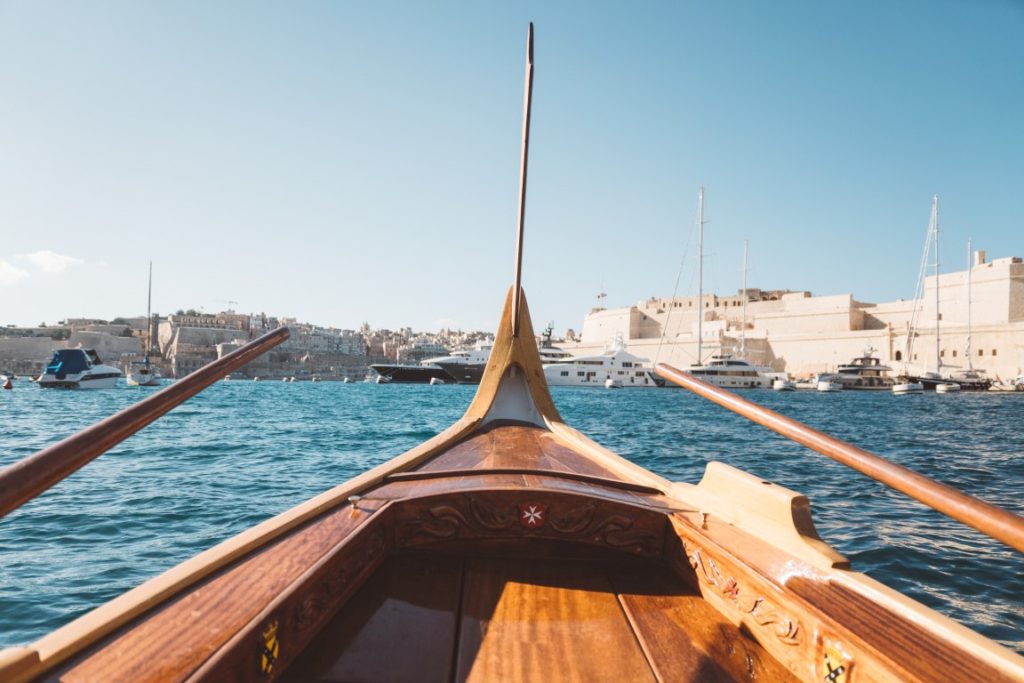 Mdina & Rabat
Another charming town in Malta is Mdina. Although "town" is perhaps a bit misleading, because Mdina is after all the old capital of Malta . After Valletta was named the capital of Malta in the 16th century, the people of Mdina gradually turned their backs and moved to the new capital. Today Mdina has less than 300 inhabitants and time seems to have stood still hundreds of years ago. In Mdina you will see more horse-drawn carriages than cars (the city is car-free, only residents have access) and at least in the evening the labyrinth-like streets are deserted. Therefore Mdina is also called "The Silent City".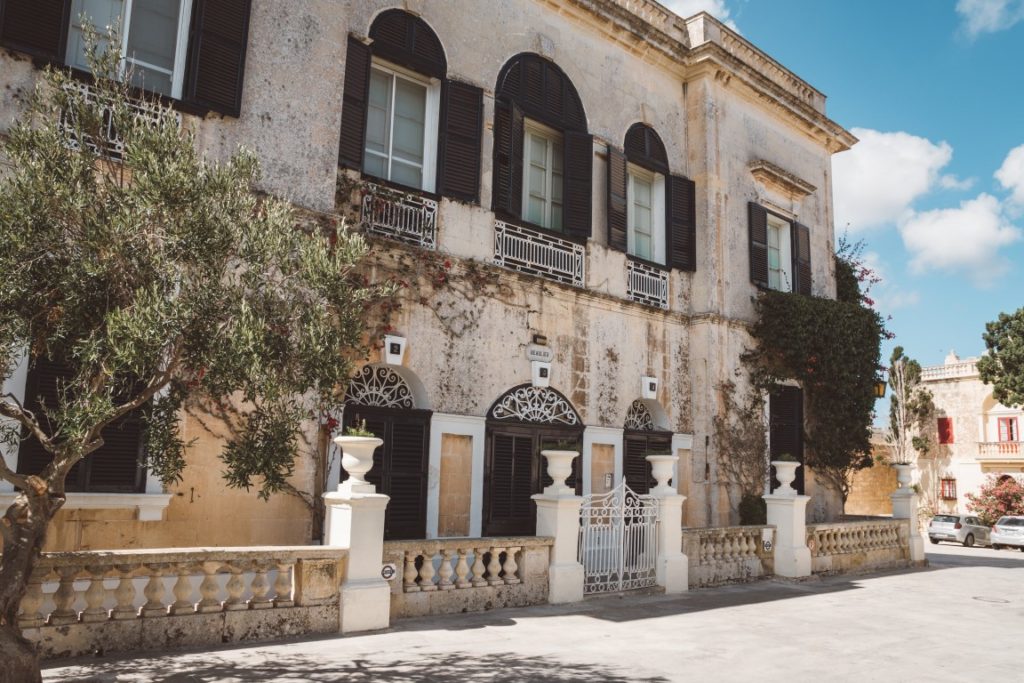 In no other city have I seen so many beautiful photo motifs (the colorful wooden doors! <3) and well-preserved medieval buildings in such a small space. The absolute highlight of Mdina is the imposing city gate, one of the most famous filming locations for Game of Thrones.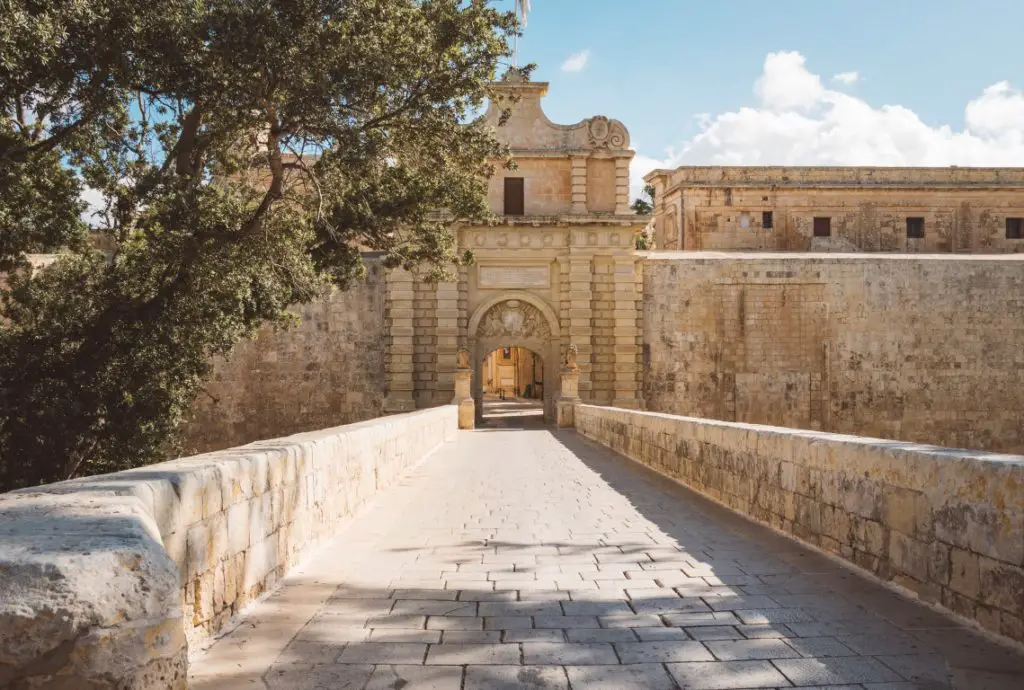 If you'd like to learn more about the history of the city, you can join a guided tour of Mdina * . For me, Mdina is one of the most beautiful places in Malta – an absolute recommendation!
My tip: The Café Fontanella in Mdina is known for the best chocolate cake Malta. There is a large selection of snacks and cakes (there are around 10 different types of chocolate cake alone), which you can enjoy wonderfully relaxed on the roof terrace of the Fontanella with a magnificent view of the island in good weather.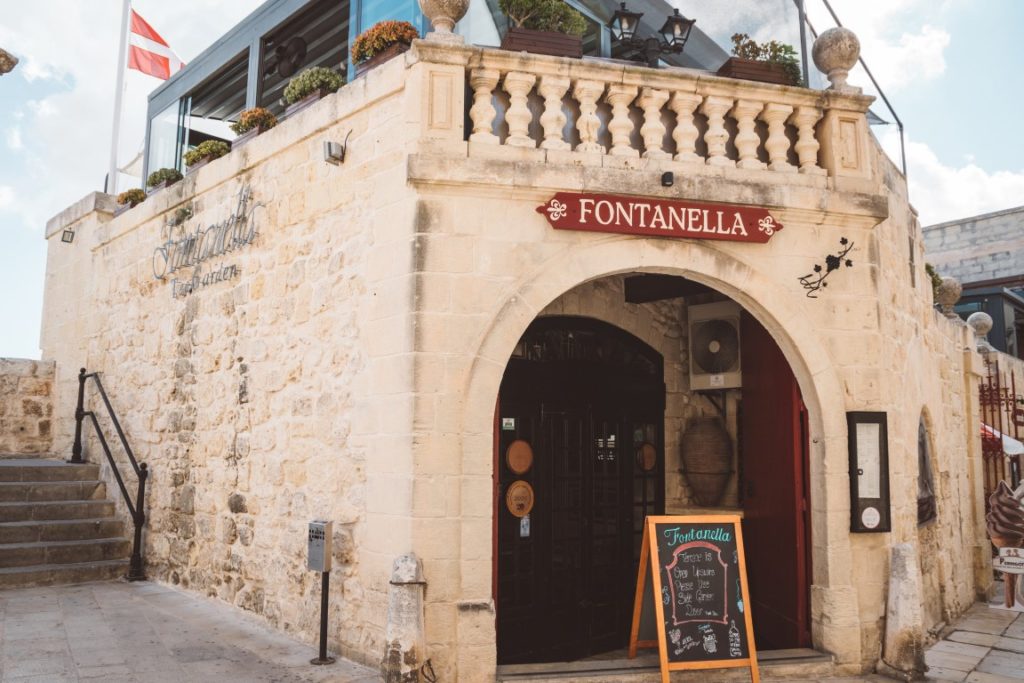 The city of Rabat borders directly on the imposing walls of Mdina . Here it is also worthwhile to stroll a little through the pretty old town streets. There are a few small shops where you can buy souvenirs and, for example, around the collegiate church of St. Paul a handful of cafés and restaurants that looked very inviting.
My tip: Do you want to try a real Maltese specialty, then there is the Is-Serkin super delicious in Rabat Pastizzi . Pastizzi are Maltese dumplings that are filled with chicken, spinach or cheese, for example. Although Is-Serkin doesn't look particularly inviting from the outside, you can get authentic Maltese freshly baked pastizzi straight out of the oven for just 40-50 cents each.
St. Paul's Catacombs
If you are already in Rabat, then you should not miss a visit to one of the most famous sights of Malta: St. Paul's Catacombs . The burial chambers were probably used until the 7th or 8th century and around 20 of them are open to the public today. One of them even exhibits bones. You can visit them for 6 € entry.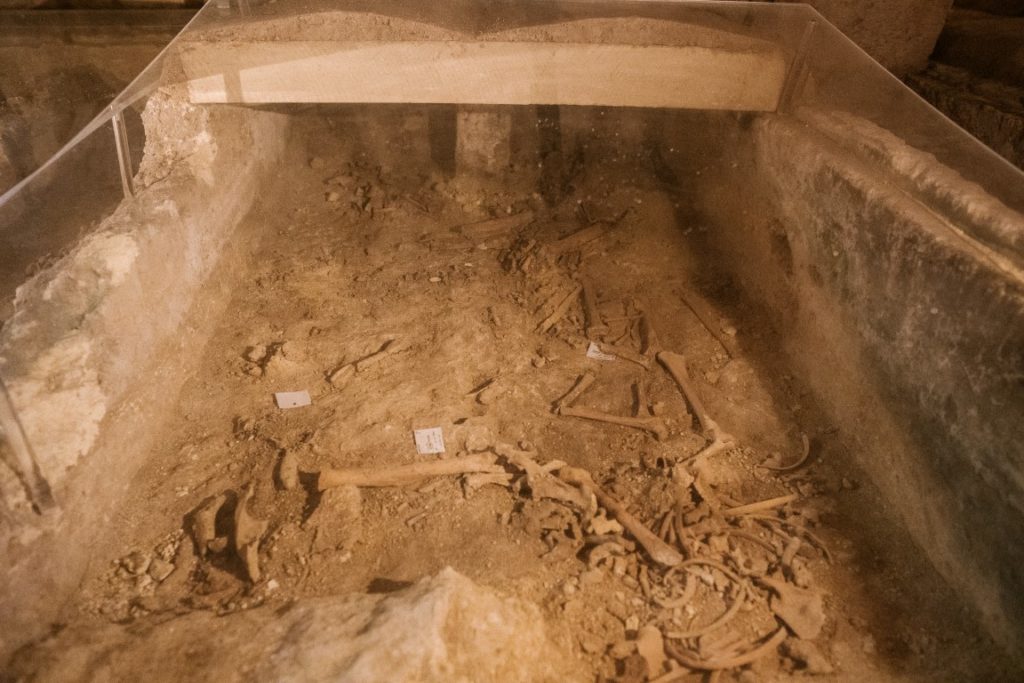 Gozo: A detour to Malta's sister island
The island of Gozo is a small neighboring island north of the main island and also belongs to the Republic of Malta. You can reach them easily with the ferry from Cirkewwa, which runs every 30-60 minutes throughout the day. There is no need to pre-book tickets, you just pay on the way back when you translate from Gozo to Malta. The journey takes about 25 minutes and you can travel on foot or by car. You should plan at least a full day for Gozo – we spent a total of almost three days on the islet to be able to explore everything.
Gozo is much more comfortable than Malta, especially during the week. At the weekend, many locals use Gozo for a little mini vacation, because there is Ramla Bay, the longest sandy beach in Malta. Here is an overview of the most important highlights and sights on Gozo:
The citadel in the capital Victoria
The area around Dwejra with the Blue Hole, the Inland Sea and the former Azure Window, which unfortunately collapsed in 2017
Wied-Il-Mielah (the "new Azure Window")
Wied-Il-Gashri
The salt pans
Ramla Bay with the famous viewpoint in the Tal-Mixta Cave
The temples of Ggantija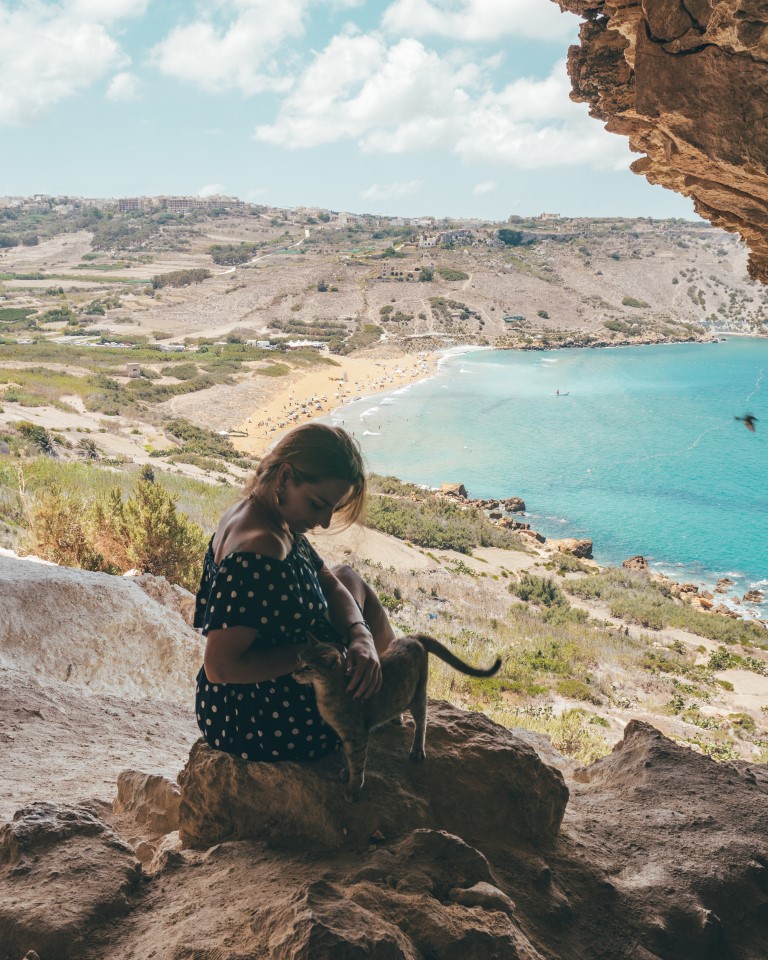 You see, Malta's little sister Gozo has a lot to offer. There are a number of providers with whom you can explore most of these spots as part of a day tour:
If you want to stay 1-2 nights in Gozo, I can warmly recommend Andrew's Airbnb , because there is a pool and Andrew is super nice. I stayed there for two nights. If you are not yet registered with Airbnb, you can get a discount of up to € 25 on your first trip here * .
Comino & the Blue Lagoon
The mini island of Comino is located between Malta and Gozo and is home to a very special highlight that you have probably already seen in countless pictures in connection with Malta: the famous Blue Lagoon . I really don't want to exaggerate, but the water in the blue lagoon is so unbelievably turquoise and clear as I've only seen it in the Caribbean in Aruba and the Bahamas , in Europe a maximum of a few lagoons in Sardinia come close to this spectacle.
The blue lagoon on Comino is therefore quite rightly an absolute top highlight in Malta and if it had been up to me, I would have spent the whole day there. There is one downer, however, that I would not like to withhold from you: The blue lagoon is so famous that it is unfortunately completely overrun. If you are looking for peace and relaxation, you have come to the wrong address. There is only a tiny stretch of beach (but you can lie on the rocks) and thanks to the many stalls and people there is more of a fairground feeling than a holiday feeling. Nevertheless, Comino and the blue lagoon are definitely worth a visit, because the crystal clear turquoise sea alone will put a smile on your face all day long.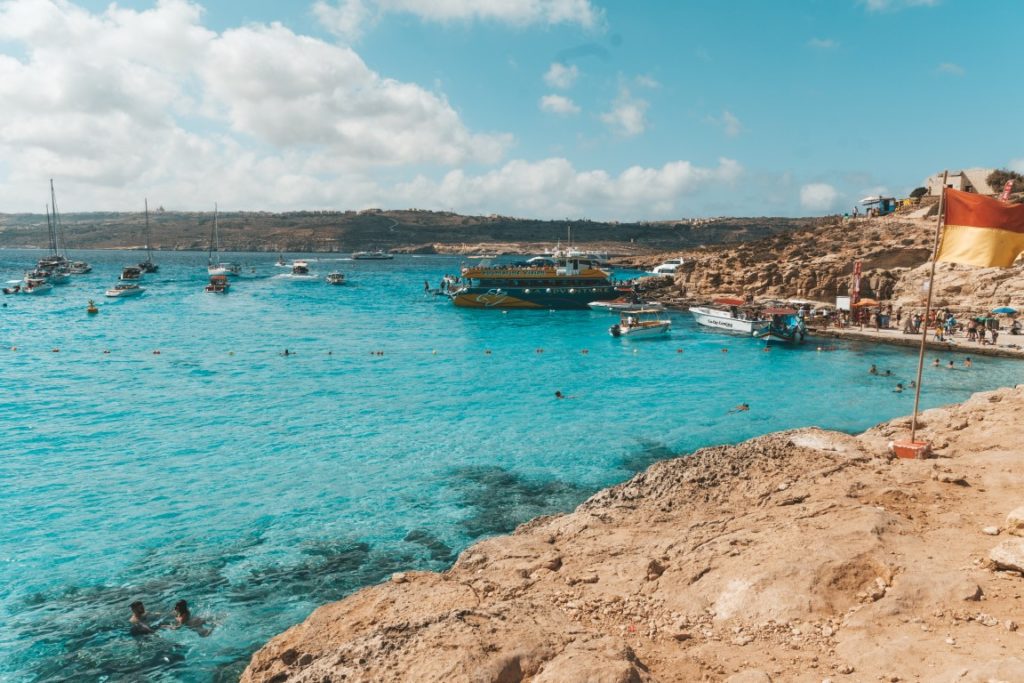 It's best to book a boat tour in advance. The boat tours cost about 25 € for a day trip and you not only drive to the blue lagoon, but also circumnavigate Comino and make various stops at some caves and beautiful snorkeling spots. Here are some recommended tours:
The fishing village of Marsaxlokk
The small fishing village of Marsaxlokk is located in the very south-east of Malta and with its hundreds of colorful wooden boats and old fishermen's houses is an Eldorado for every photographer. Not only do the boats line up on the harbor promenade, but also the restaurants and cafes. Take 2-3 hours to stroll a bit along the promenade and enjoy a cool iced coffee. If you like, you can have a fisherman take you to the nearby St. Peter's Pool.
During the week there is a small market where you can buy all kinds of tourist souvenirs. However, it is more exciting on Sundays, because then the traditional fish market takes place in Marsaxlokk.
St. Peter's Pool (including insider tip)
St. Peter's Pool is just a few minutes' drive from Marsaxlokk. The small bay has long been a major tourist magnet and is considered one of the most beautiful beaches in Malta. Whereby "beach" in Malta is really a matter of definition, because a beach is anything that offers access to the sea and a little space to lie on. The St. Peter's Pool is more of a rock plateau where the sea has eaten a kind of pool into the coast. In any case, the water is wonderfully clear and turquoise blue.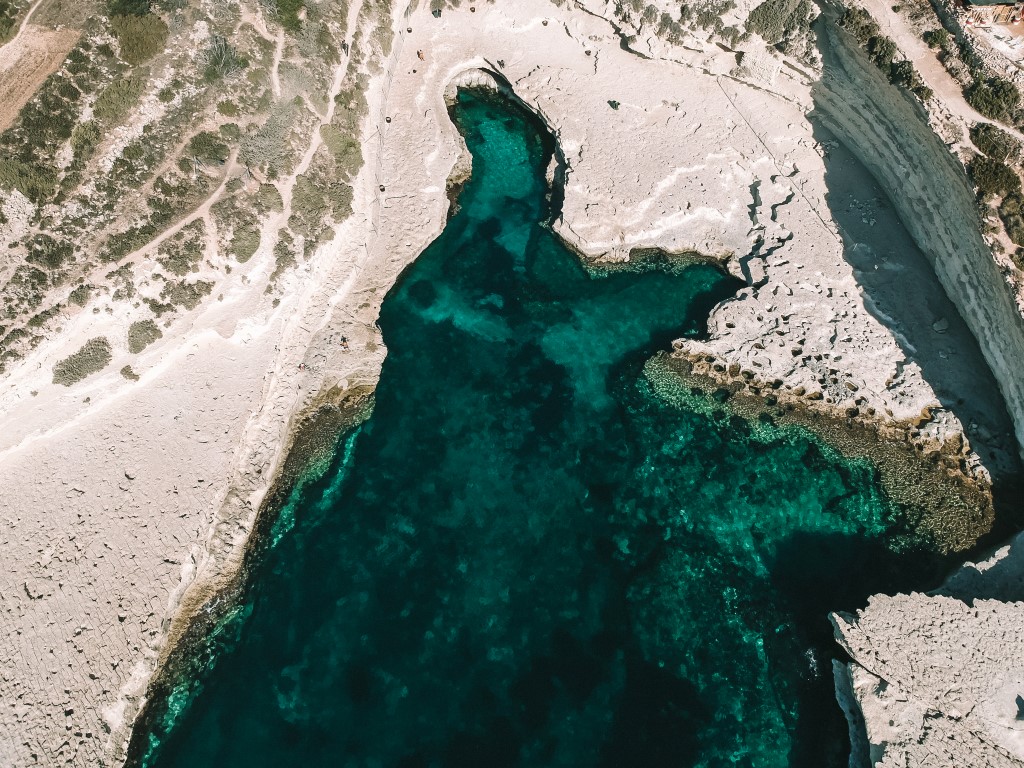 The surrounding plateau consists of light-colored rocks – it looks nice, but also reflects properly in blazing sun and there are no shady spots. We were at St. Peter's Pool in the early hours of the morning and it was so incredibly hot at that time that we ran away very quickly.
My tip: Not far away is Il-Kalanka Bay, which is very similar to St. Peter's Pool. You will hardly find any tourists there, almost only locals. There is a parking lot directly above the bay.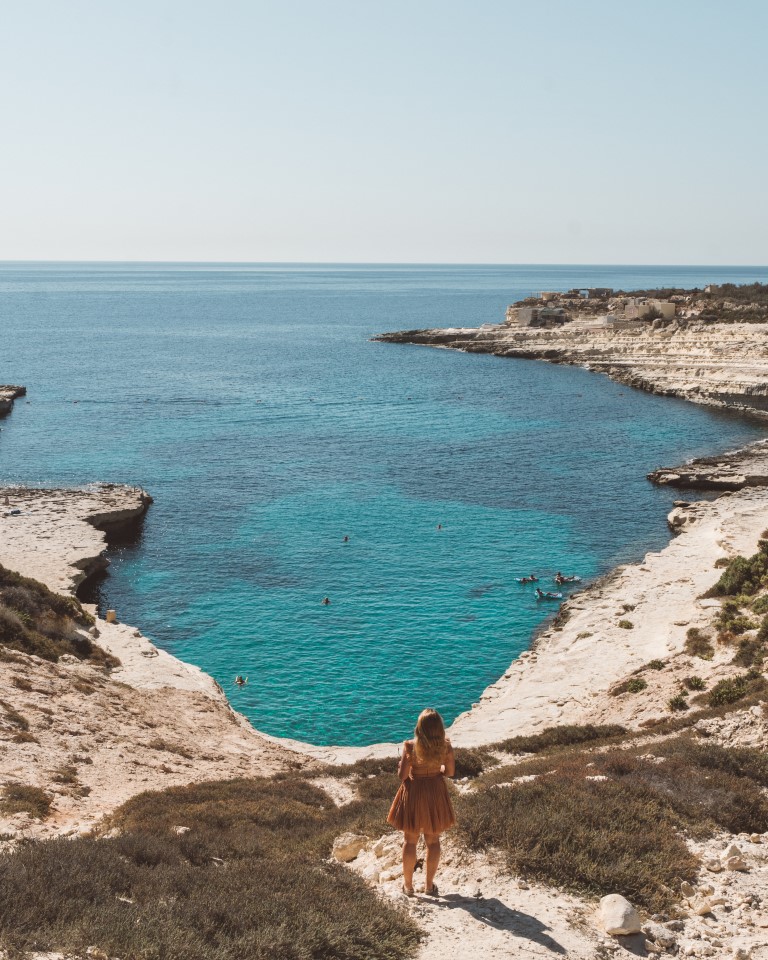 The blue grotto
The Blue Grotto is THE symbol of Malta. On the south-western steep coast of Malta, the sea has carved several caves into the coastline over the millennia, the largest and most impressive of which is the blue grotto with a height of 40m. On the road there is a lookout point, the Blue Grotto Viewpoint (just enter it on Google Maps), from which you have a great view from above of the imposing entrance of the cave.
You can get even closer to the blue grotto, however, because boats from the nearby harbor go into the blue grotto every minute (the way to the harbor is well signposted from the viewpoint). The trip costs € 8 per person and takes about 15-20 minutes, and you will also head to a few other caves.
If you prefer something a little more unusual, you can also book a several-hour kayak tour along the coast, e.g. with MC Adventure (the tours only take place in normal waves for safety reasons, so you should bring a little flexibility for this adventure, as the tours are accordingly must be planned depending on the weather).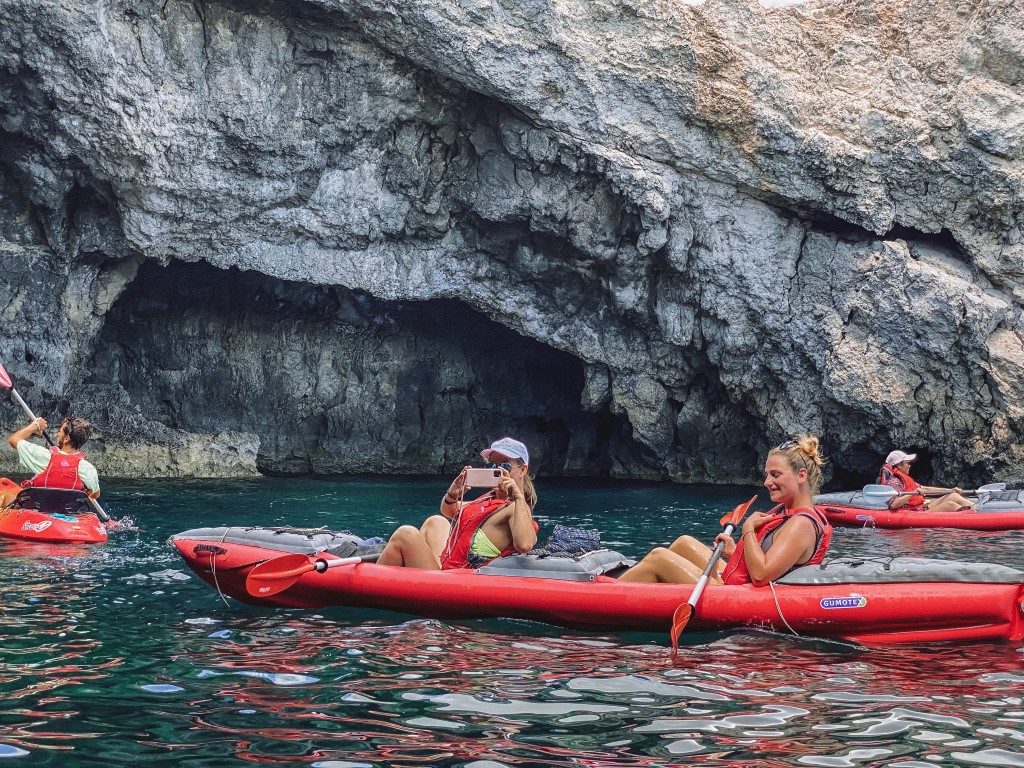 The ruins of Ħaġar Qim and Mnajdra
Very close to the Blue Grotto are the ruins of Ħaġar Qim and Mnajdra, two more than 5000 years old temple complexes. They are among the most important sights in Malta, but since the island is home to many other temples and we have already looked at temple ruins on Gozo, we have left them out here. However, for the sake of completeness, they should not be missing. To protect them from the weather, these temples are under large tarpaulins, which makes taking photos a little more difficult (if that's important to you). Entry costs € 10.
The hypogeum of Ħal-Saflieni
Unfortunately, we also had to skip the hypogeum of flal-Saflieni, because the old burial chamber is only allowed to visit a maximum of 80 people per day as part of a guided tour. As the Hypogeum is one of the main attractions in Malta, tickets are often booked out weeks in advance. Of course, we missed that and the admission price of € 35 (or € 40 for last minute tickets at the box office) is really not a bargain, so we decided to go to St. Paul's Catacombs instead. If you want to visit the Hypogeum, you can book tickets here in advance.
Incidentally, photography is not allowed in the burial chambers.
Force of nature on Malta's west coast: The Dingli Cliffs (including an insider tip for an alternative hike)
The Dingli cliffs are located on Malta's west side and are a particularly impressive section of the cliff. It is best not to drive to the point that marks the Dingli Cliffs on Google Maps, because then you will be directly above the cliffs and unfortunately see very little. You have a better view from the Dingli Viewpoint or, if you walk a little further out onto the headland, from the Dingli Cliffs Panoramic View .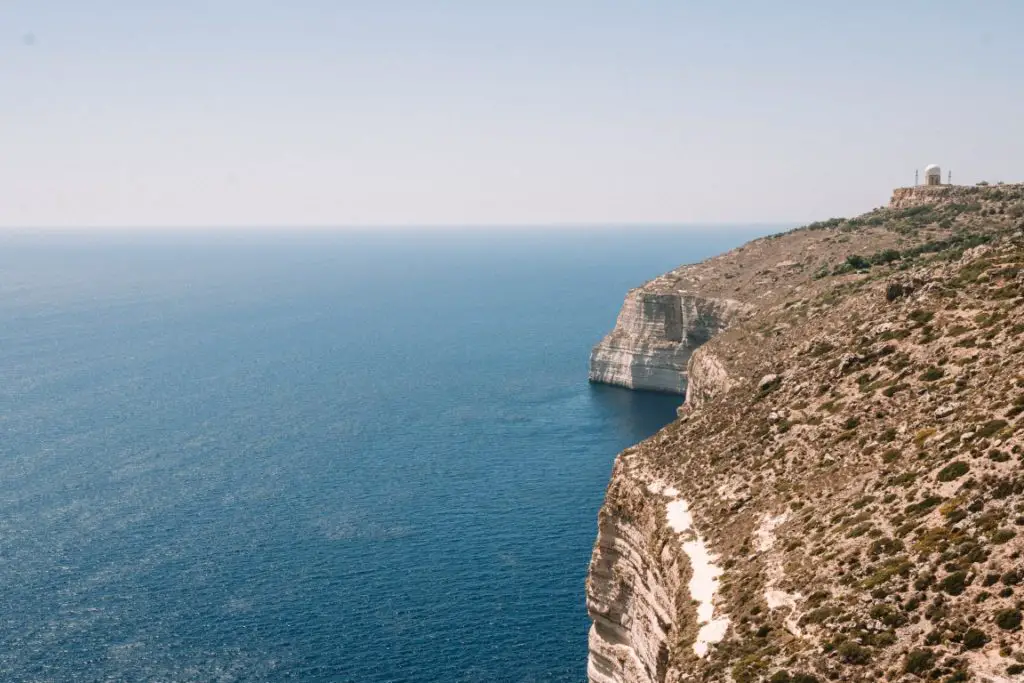 Unfortunately, there is no hiking trail along the rocky coast here, but I have an alternative for you that hardly anyone knows: A little further north there is a kilometer-long hiking trail between Migra I-Ferha and Il-Blata tal-Melh directly along the steep coast. The view from there is gigantic! It is best to start your hike in the early evening hours in Migra I-Ferha (there is a large parking lot there) and take the breathtaking sunset with you (reminder: you are on the west side of the island, i.e. sunset side). You can either walk the entire route or just part of it and then just go back the same way.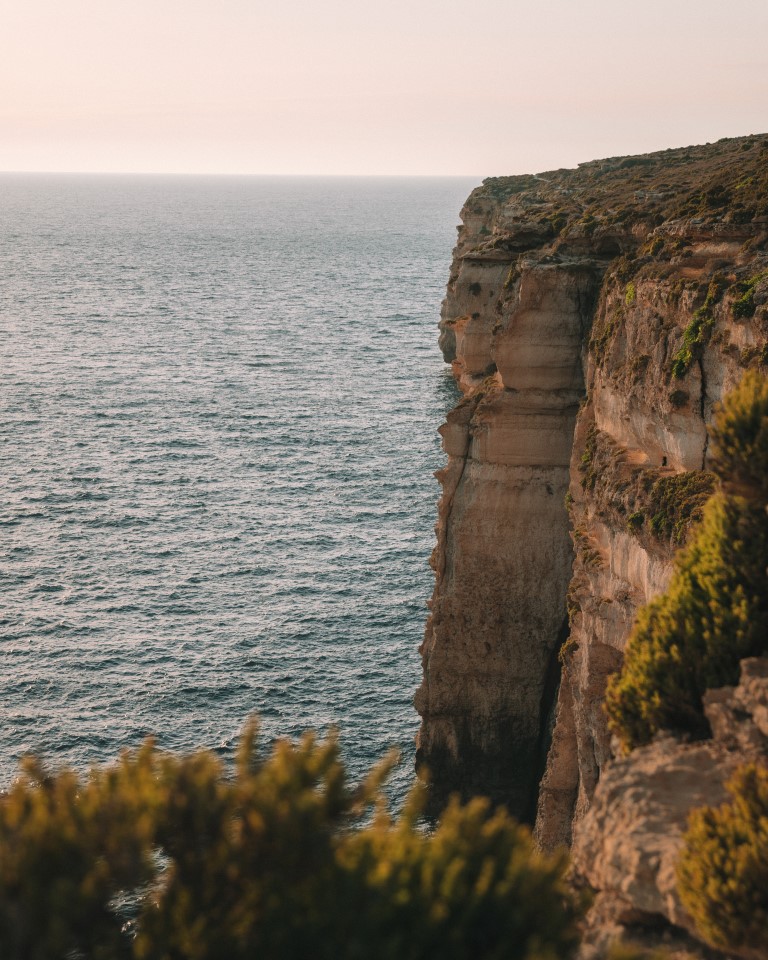 At sunset, high above Malta's golden beaches to the west
For me an absolute chance find and THE highlight of my entire trip to Malta were 4 beaches in the west of the island: Golden Bay, Riviera Beach, Qarraba Bay and Gnenja Bay Beach . The beaches are located in the northwest of the island and are connected to each other by a hiking trail high above the individual bays .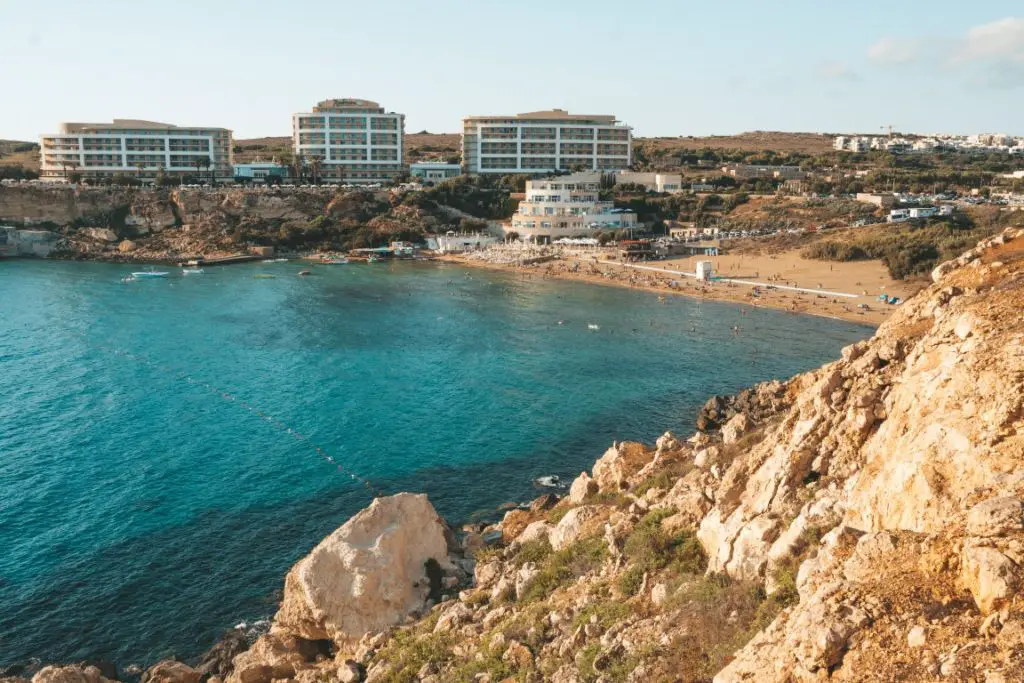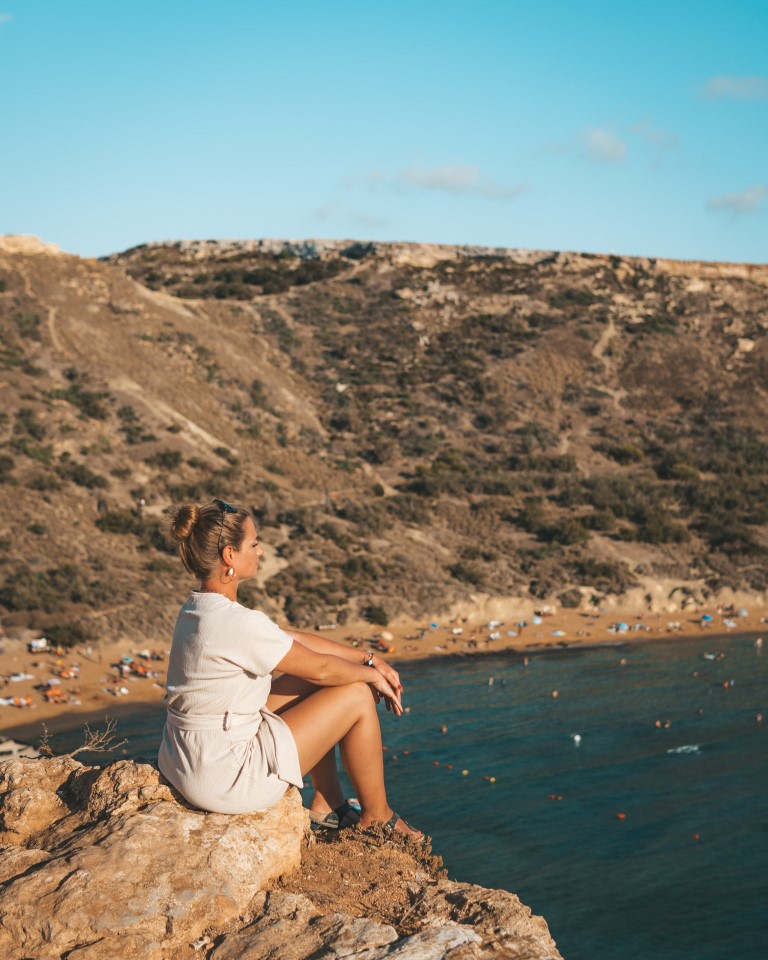 I really didn't know beforehand what to expect and only had a hunch that it could be pretty here at sunset – but the spectacle that we got then really exceeded all expectations. I don't really know how to describe it, so I just let the pictures speak for themselves: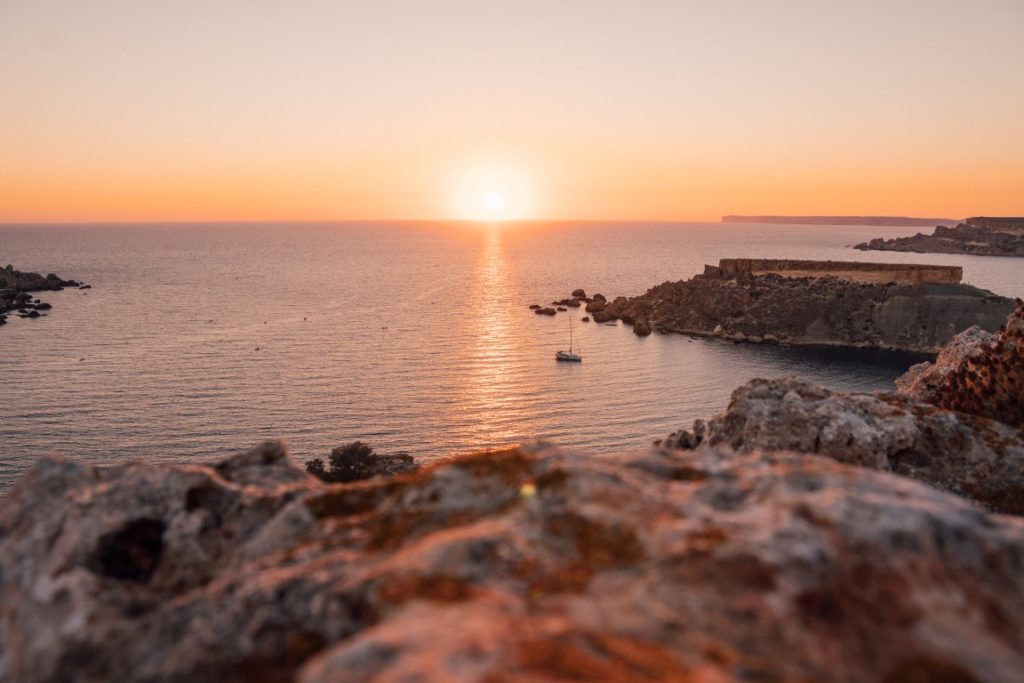 For me, this spot is definitely one of the most scenic in all of Malta and a real recommendation from my heart. Strangely enough, I didn't read anything about it in advance when planning my trip, so it actually still seems to be a kind of insider tip. It's best to start your hike at golden hour, 1-2 hours before sunset and just run as far as you can.
There is a parking lot between Golden Bay and Riviera Beach, where you can park (a grandpa is charged according to the pay-what-you-want principle, we gave him € 2). If you want, you can of course spend a few hours in the sun on the beach beforehand. Golden Bay and Riviera Beach are among the most beautiful and spacious beaches on Malta, so a visit is worth twice as much.
Popeye Village
Less secret, but one of the most famous sights in Malta is the Popeye Village. The setting built in 1979 for the shooting of – you guessed it – the film Popeye is now a small amusement park, which is especially worthwhile for families with children (admission 15 €). For us adults, a short stop above the turquoise blue bay (Anchor Bay), which offers a great view of the colorful film backdrop, is enough. You can also swim in Anchor Bay, which is considered to be one of the most beautiful beaches in Malta (… you know the Maltese definition of "beach").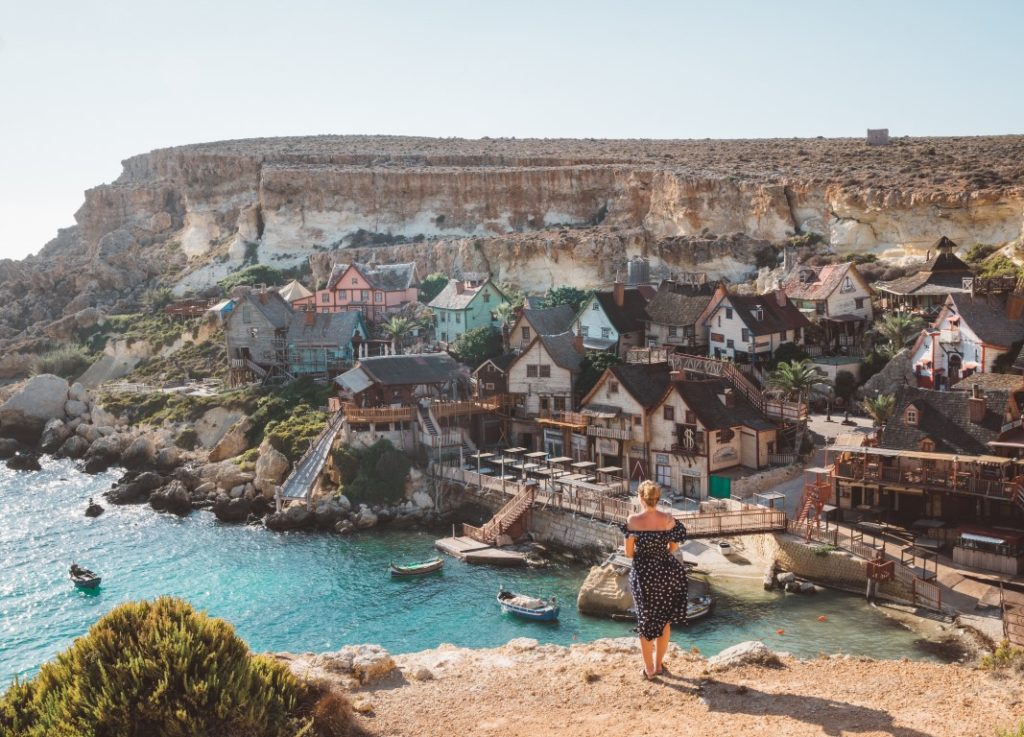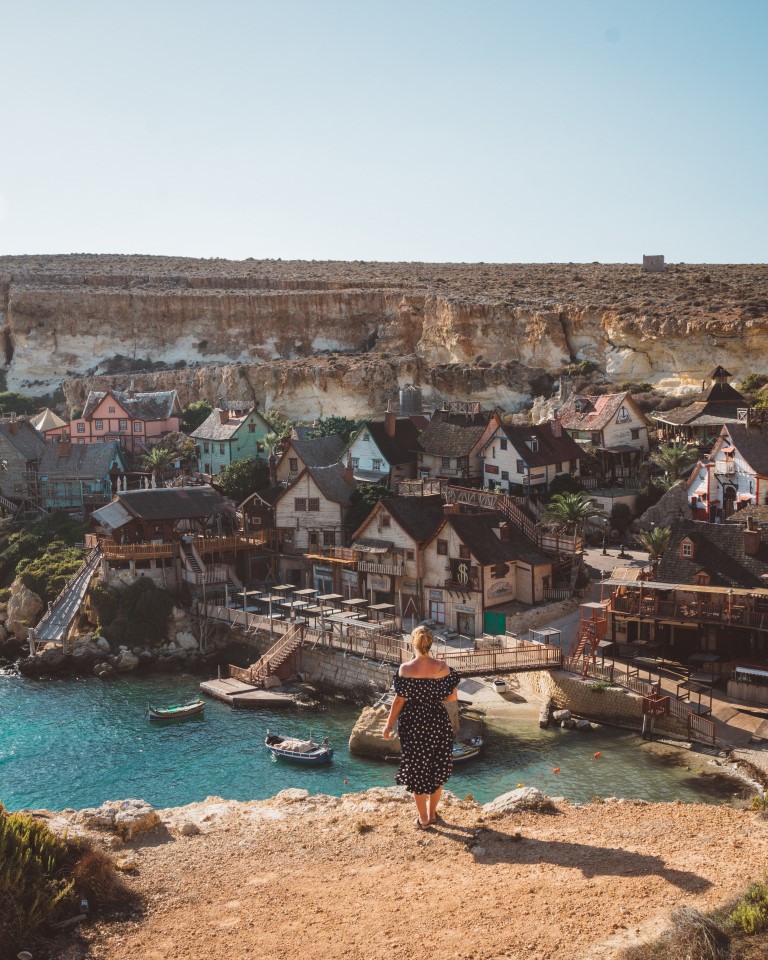 By the way, the Red Tower (St. Agatha's Tower) is nearby , which houses a small museum (which was closed for us, however).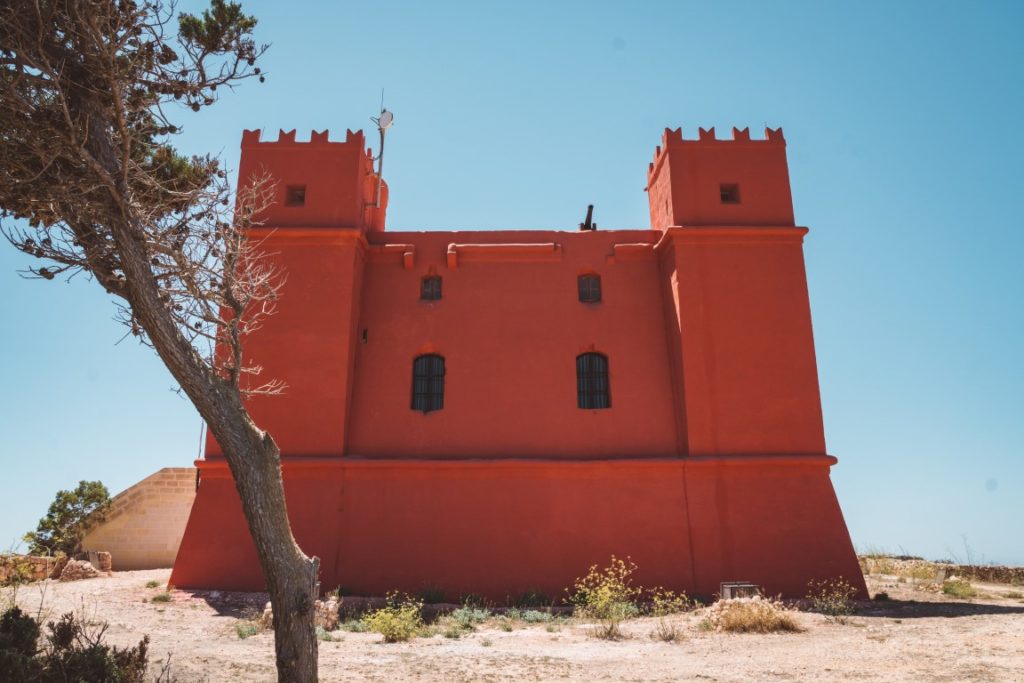 The Coral Lagoon & Malta's northern tip
Another insider tip is the Coral Lagoon in Malta's extreme northeast, also called Devil's Hole by the locals . On the way there you will pass a number of small beaches that are usually quite crowded. Just follow the path to Coral Beach , there you will find a fascinating rocky landscape that is much emptier.
If you follow the cliffs further, you will eventually come across a natural pool . In contrast to St. Peter's Pool, the sea did not eat its way into the rock here, but only dug a small tunnel into the interior of the pool and formed a real hole. The water is, how could it be otherwise, crystal clear and turquoise.
Holidays in Malta: travel tips & practical information
Finally, I would like to give you a few more tangible tips for planning your Malta vacation in a nutshell. For even more information and tips, a classic travel guide is definitely worthwhile.