There are places in this world that everyone has probably heard of before. Places that should be so special and beautiful that it can hardly be described. Those that you have to visit because otherwise you would regret never having seen them on your deathbed. Highway 1 along the California coast is one such place.
Even if we always say that we don't have a bucket list , but just let ourselves drift – the Pacific Coast Highway (or California State Route 1, Cabrillo Highway … Highway 1 has many names) was somehow one of our secret places to see before We Die . Two years ago I would never have thought (and probably neither did Christian) that we would see this place at some point in life, it seemed unreachable. And now we can put a big fat hook on it. We did it. We were in California and did a road trip down the Pacific Coast Highway!
But what exactly makes Highway 1 so special, aren't there twelve million scenic roads in the world? Yes, there is. But they are not California State Route 1, which connects two of the largest metropolises in the world with San Francisco and Los Angeles. They probably also do not lead through the most varied of climatic zones and landscapes, through untouched nature, past wild animals that you otherwise only see in zoos, and through a mega-agglomeration that is second to none.
In this post we will recapitulate a little and take you along our route from San Francisco to Los Angeles, in the hope of being able to pass on a bit of the fascination of Highway 1. We'll tell you the highlights, practical (survival) tips and how your schedule should or could look like.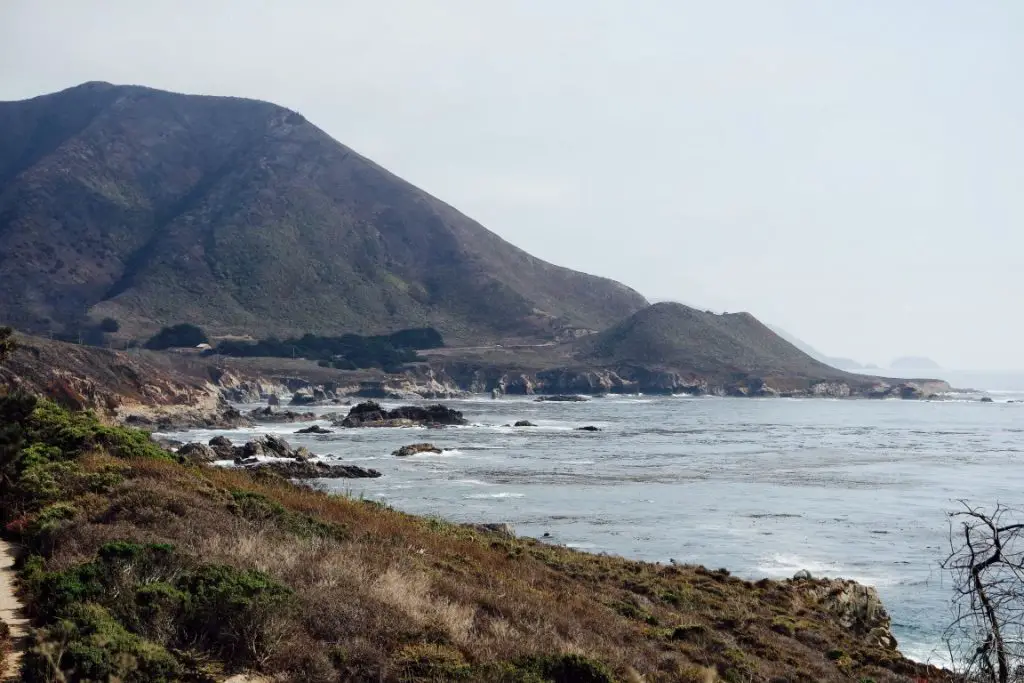 Sights and highlights along Highway 1
San Francisco and the Silicon Valley
As I said, we drove from north to south along Highway 1 along the west coast and in our opinion that is the better way. Why? 1. Is the northern section the more scenic. So you are right in the middle of it right at the beginning and can indulge your being flashed extensively. If you start in the south, you might even be a little disappointed and can't understand what's so great about Highway 1. 2. If you drive around on the outer lane of the road, i.e. directly along the cliffs. The view during the entire journey is incredible.
If you start in San Francisco, then you have probably already seen the city and we would strongly recommend that to you. Don't miss out on San Francisco! The city has a very special vibe, just like the entire Silicon Valley around Santa Cruz, Palo Alto and Stanford University south of San Francisco. So if you are in a similarly freaky mood and are attracted to Silicon Valley , then like to drive through these very unspectacular places or take a look at the Apple Campus in Cupertino. From here the world is ruled, maybe you can feel it 😉
Monterey and Monterey Aquarium
The next stop is Monterey. Only a small town in itself, but with the Monterey Bay Aquarium you can see one of the largest aquariums in the world. The famous whale watching tours also start from here . The best time for whale watching in Monterey Bay is the winter months between December and April. It is best to book a tour in advance, there are many different providers. Also from Monterey you can reach the famous 17 Mile Drive , a unfortunately chargeable road that takes you 17 miles through the beautiful region around Pebble Beach.
Since we were here in September and also don't particularly like aquariums / zoos, there wasn't much to do for us in Monterey, so we skipped it and only went back on California State Route 1 south of Monterey. And this is where the landscape really gets down to business: After you have reached the beautiful village of Carmel-by-the-Sea(believe us, you don't want to eat or stay the night here, it's one of the most expensive cities in California), the streets suddenly become more curvy, steep cliffs and cliffs open up in front of you, the wind whips your nose, you can Not only see the rough Pacific, but also smell and hear it. All of the pictures you've seen of Highway 1 so far have probably been taken here, on the stretch between Carmel-by-the-Sea and San Simeon.
Tip: From here there is no longer any possibility of catering until San Simeon. Buy provisions for the trip and fill up with fuel.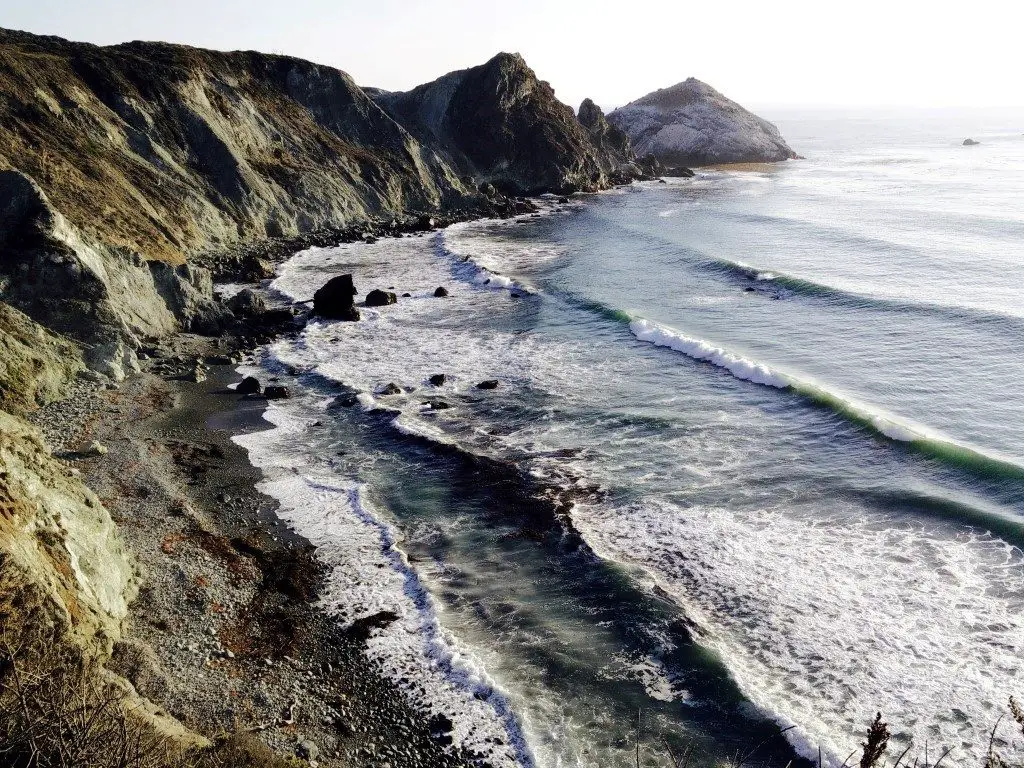 Bixby Bridge
The first real highlight of the route is the Bixby (Creek) Bridge. Even before that, there are always bays and vista points from which you can watch the hustle and bustle of the Pacific along the rocky coast, but at this bay there is a very special photo opportunity with the Bixby Bridge. The reinforced concrete arch bridge was built in 1932 and looks really impressive with its massive, approx. 80m high pillars. To make matters worse, there is also a wonderful little beach under the bridge that you definitely cannot reach. Boo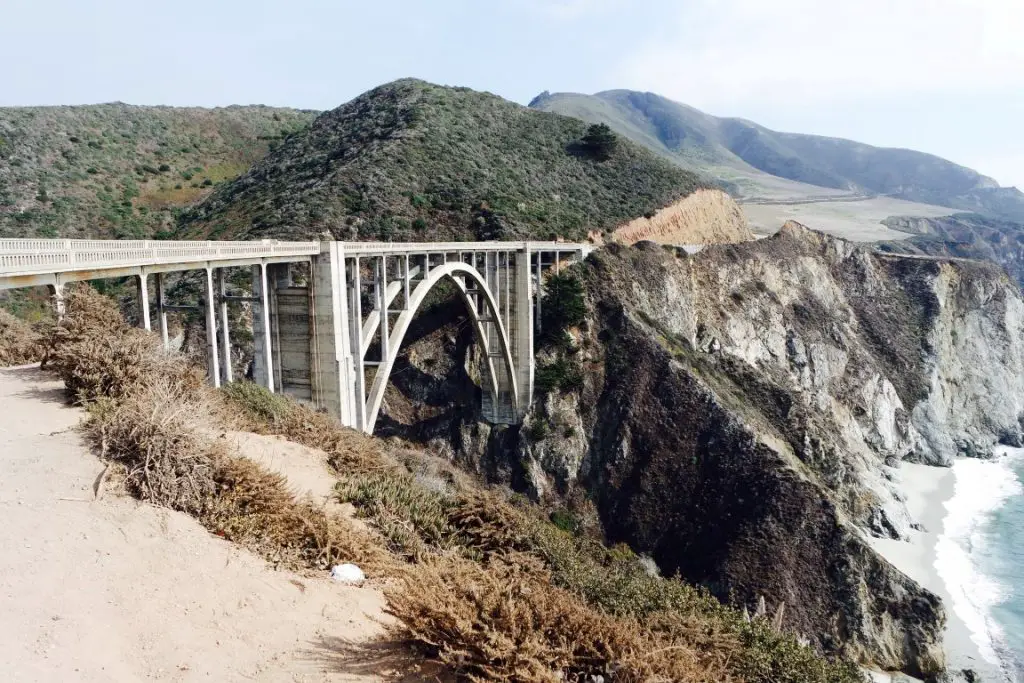 Big Sur and Pfeiffer Beach
You are already at the height of the Bixby Creek Bridge in the Big Sur region, but the "real" Big Sur is yet to come. The landscape changes slowly after the Bixby Bridge, Highway 1 no longer runs directly along the coast and before you know it you find yourself in a scenario that you would expect from Yosemite National Park. The road meanders through a dense forest of meter-high coniferous trees and we are slowly beginning to understand why this region has to fight so much with fires almost every summer. Even when we drive through Big Sur, it is September, it has been burning for months. You don't notice much of it on Highway 1 itself, the road is open. But the entire Big Sur State Park is closed, so hiking is not possible. The famous Pfeiffer Beach can unfortunately only be reached via such a hike. Keep that in mind when you plan, in the summer months you may not be able to do / see a lot due to the fires raging in the hinterland and the state parks.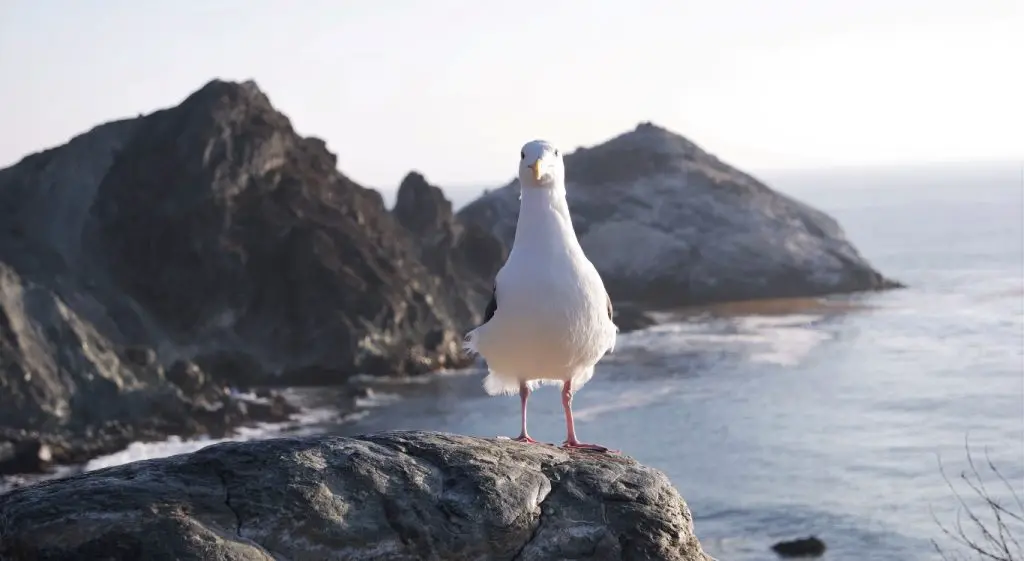 If Big Sur State Park is open and you are planning a hike, there are a few places to stay * here , but they are quite expensive. There is also a small gas station (also very expensive, please do not refuel here if it is not absolutely necessary) and the Nepenthe restaurant , which we did not test ourselves, but which my doctor (!) Recommended to me very enthusiastically when I did her told about the upcoming trip.
McWay Falls / Julia Pfeiffer Burns State Park
This is by far the craziest picture that nature conjures up along California State Route 1. A waterfall falling onto a sandy beach and the whole scenario is surrounded by turquoise blue water and dark cliffs? All right, keep dreaming …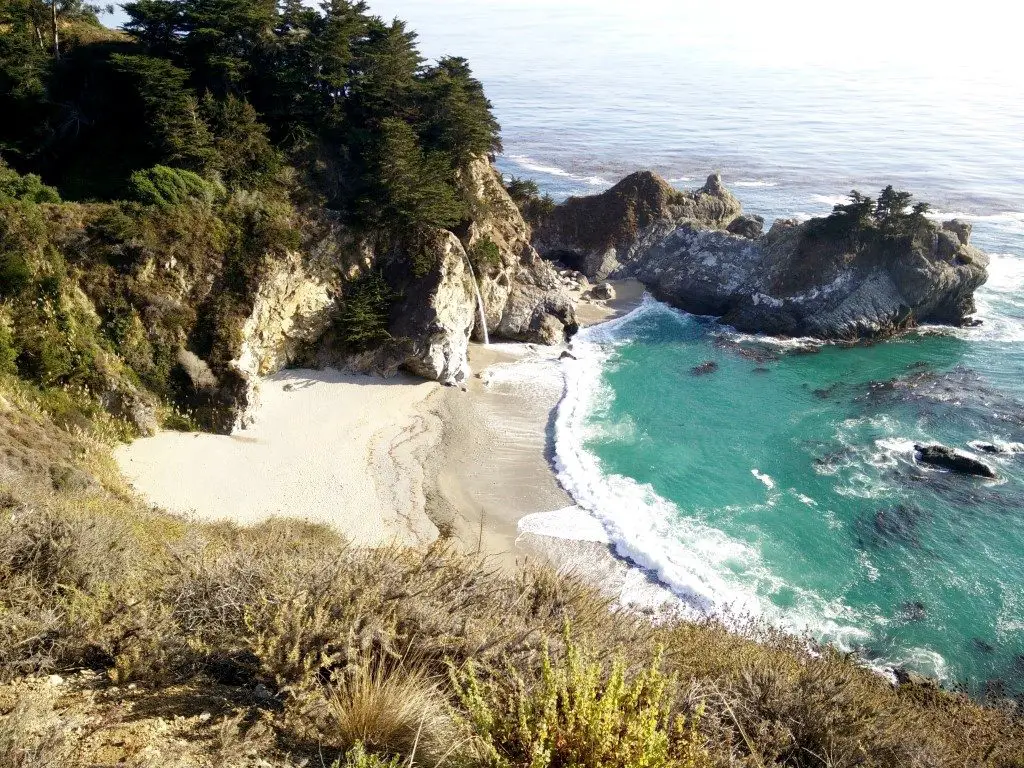 Seeing this place was very, very high on my wish list. Since this picture first haunted any of my feeds (probably Instagram), I've started researching exactly where this crazy place is. Now such a picture is in our own Instagram feed . Bam.
Unfortunately, the beach is closed to the public, it is inaccessible and can only be gazed wistfully from above. There are also some hiking trails through Julia Pfeiffer Burns State Park itself, but they were also closed due to the fires. Normally you can get a little closer to the waterfall along the Waterfall Overlook Trail.
Watch elephant seals (Elephant Seal Vista Point)
In San Francisco you may have already seen the sea lions at Pier 39 , here you can see elephant seals. They're a size bigger, louder and smell a little stronger. Sounds fun? Yes! If you mark the Elephant Seal Vista Point on Google, you will not miss the right place. It is just before San Simeon and you can easily park there. The elephant seals don't mind that so many people look at them, but don't get down to them. The beach belongs to the elephant seals.