the latest, the Amsterdam Red Light District has developed into a real tourist attraction. And so you can even see families with children strolling through the narrow streets in the early evening hours past the red-lit shop windows in which the women offer their services. Sounds strange? Don't worry, the families disappear at a later hour and the quarter is taken over by curious couples, partying tourists, bachelor parties and all sorts of really strange characters.
All of this can be disturbing, especially if you are in Amsterdam or a red light district for the first time. I was no different. For fear of being ripped off or even stolen from somewhere, you often don't do much more than take a quick glance in the shop windows or open doors of the shops, although you may be curious and would like to see more. That's why I'm giving you a little guide by hand and tell you which establishments in the red light district of Amsterdam you can visit without hesitation.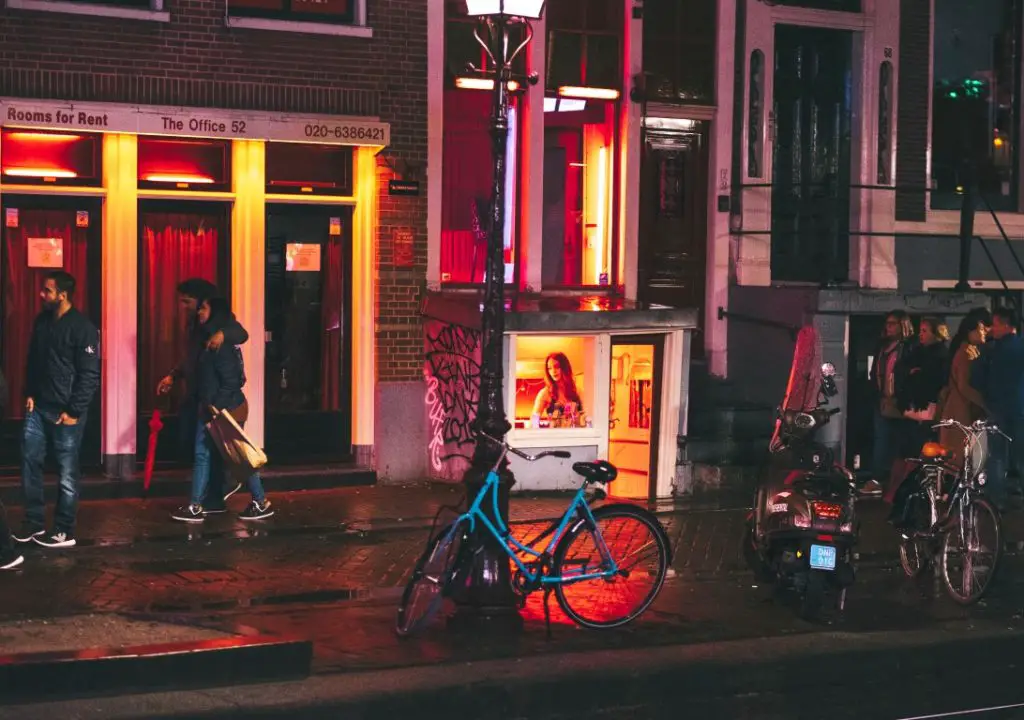 The red light district of Amsterdam
The red light district is seen from the station forecourt of Amsterdam Central Station slightly to the north-west, between Nieuwmarkt (Neumarkt) and De Oude Kerk (Old Church). The center is located on Achterburgwal, there are numerous shops in which there is nothing that is not there. Between the Achterburgwal and the Nieuwmarkt meander the sometimes very narrow streets, in which the ladies loll around behind glowing red windows and thus create a unique image of a red light district worldwide. On Saturday evenings from spring to autumn, thousands of tourists and locals push their way through the narrow streets – prostitution is an attraction in Amsterdam. But if you actually plan a little more than a "window shopping" and want to experience something as a couple or group of friends,
Live shows in Amsterdam's red light district
There are a number of shops in the red light district of Amsterdam where you can watch table dance or live sex shows. Yes, you heard right. As a tourist in particular, you are often misled here and you have to be a little careful with the famous shops when it comes to ticket prices and services. Therefore, at this point, an overview of the known and trustworthy shows:
Theater Casa Rosso (OZ Achterburgwal 106-108)
The most famous live sex show in Amsterdam takes place in the Casa Rosso Theater. ES is the oldest live sex theater in Amsterdam and also the largest, seating up to 180 guests. There is no fixed program and you cannot buy tickets for a certain show – you only find out what the evening will bring when you are inside.
You cannot miss the Casa Rosso in Amsterdam's Red Light District, you can recognize it by the neon pink elephant.
Admission prices: For 45 € or 55 € including two drinks at the box office or via online ticket for 42 € or 52 € you can stay and watch as many shows as you want. If you are traveling as a bachelorette party, the groom or bride receives free entry and can actively be part of the show (true story …). You can find more information here.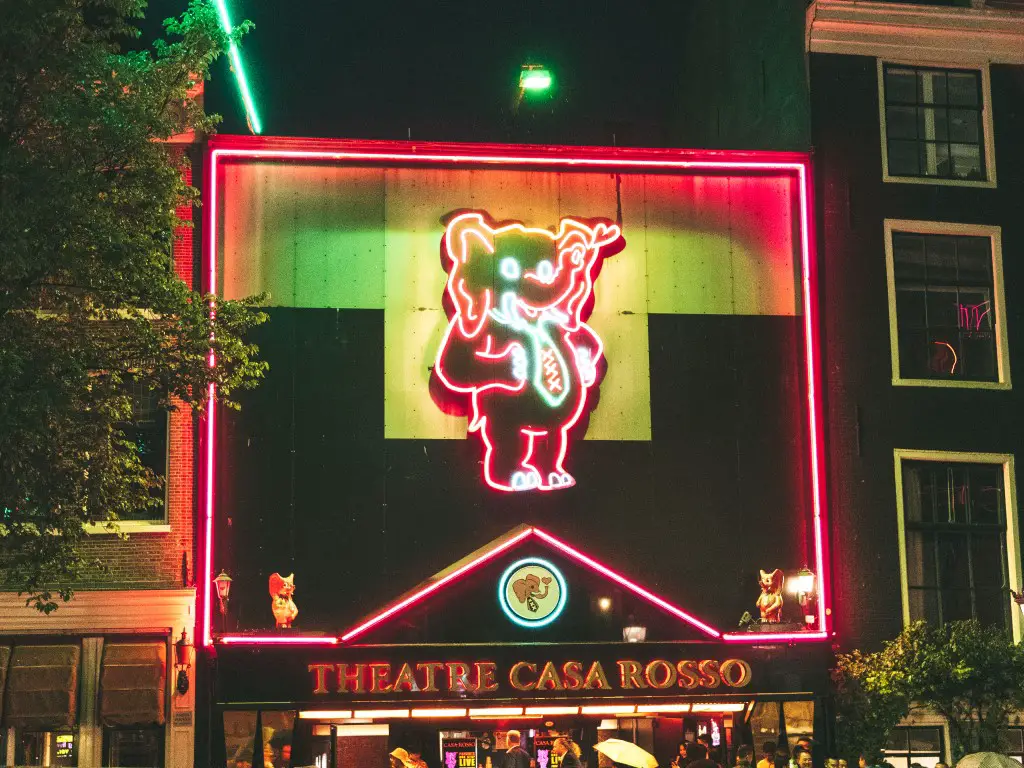 Moulin Rouge Amsterdam (OZ Achterburgwal 5-7)
The Moulin Rouge basically offers the same shows as the Casa Rosso, here too there is a live sex show in addition to strip shows and other performances. Unfortunately, tickets cannot be purchased online in advance. Since I haven't been to the Moulin Rouge myself, I can't comment on the prices, allegedly at around 40 € they are a little lower than in Casa Rosso. The reviews of the Moulin Roge are also worse. You can find more information here.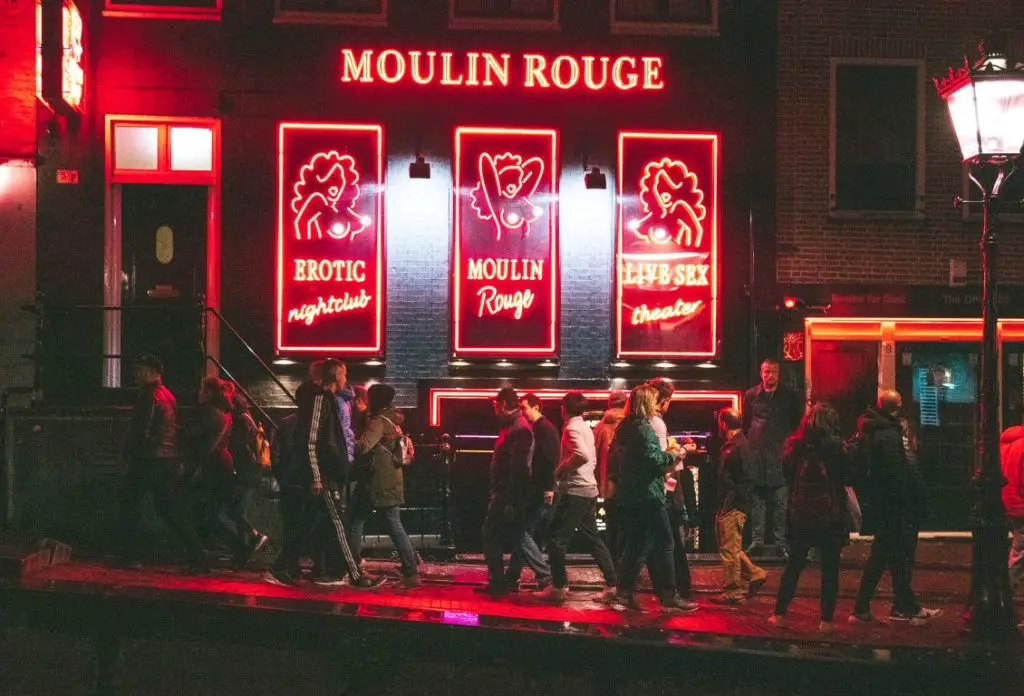 Bananenbar Amsterdam (OZ Achterburgwal 37)
The banana bar doesn't look really inconspicuous from the outside, but it is harmless. No red flashing lights, no ladies and gentlemen in front of the door trying to lure tourists in, no loud and brightly advertised program. If you get lost in the banana bar looking for a few drinks, you are not fundamentally wrong, because there are drinks here. And bananas? There are here too, yes. But not in a cocktail …
The entrance fee is 60 €, you can drink as much as you want for 1 hour. One can only guess what will happen here in this hour. Something with bananas …?: P The Banana Club is a bit more dignified, for € 25 there is a drink and strip shows with no time limit. Private shows cost extra, of course. More information here.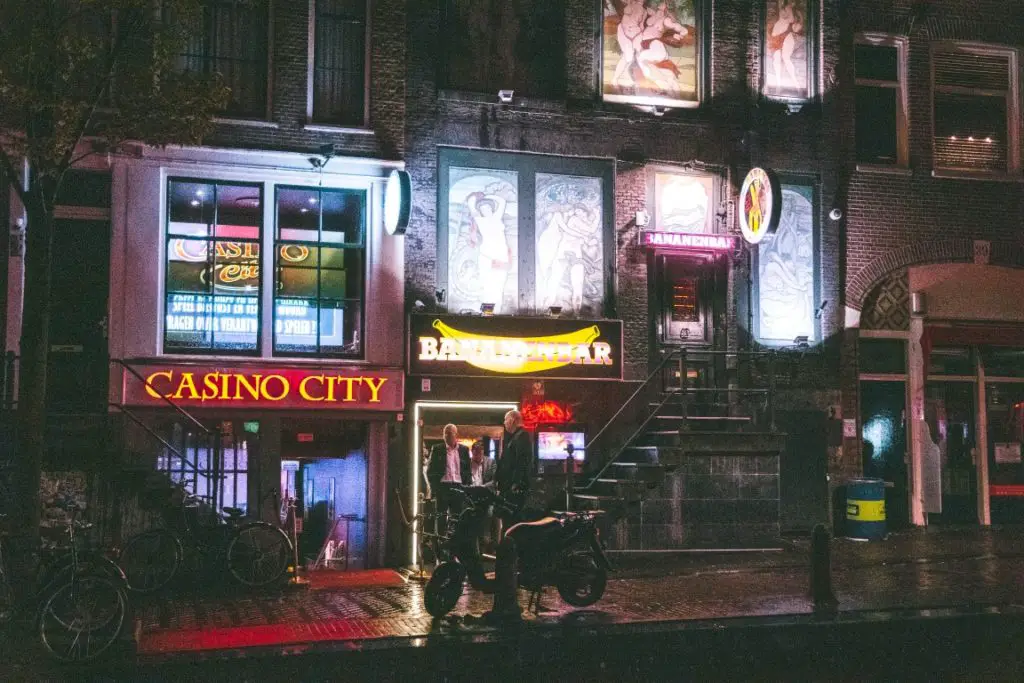 Sex Palace Amsterdam – The last peep show in the Netherlands (OZ Achterburgwal 84)
There used to be six establishments in Amsterdam alone that held peep shows. Today there is exactly one peep show in the whole of Holland and it is located in the Sex Palace in the red light district of Amstardam. But what is such a peep show anyway? Strictly speaking, this is a special form of a strip show or a strip club, in which a woman can be seen stripping from the cabins. For a certain period of time, usually a few minutes, you can look through a peephole for a fee. And that already explains why peep shows have slowly but surely died out in the age of the Internet – you can watch in a protected atmosphere and do whatever you want to do for free from home.
Nevertheless, the peep show is something of a classic among sex shows and those who want to experience a little nostalgia should dare to go to the Sex Palace. For 2 € there is 2 minutes of viewing time.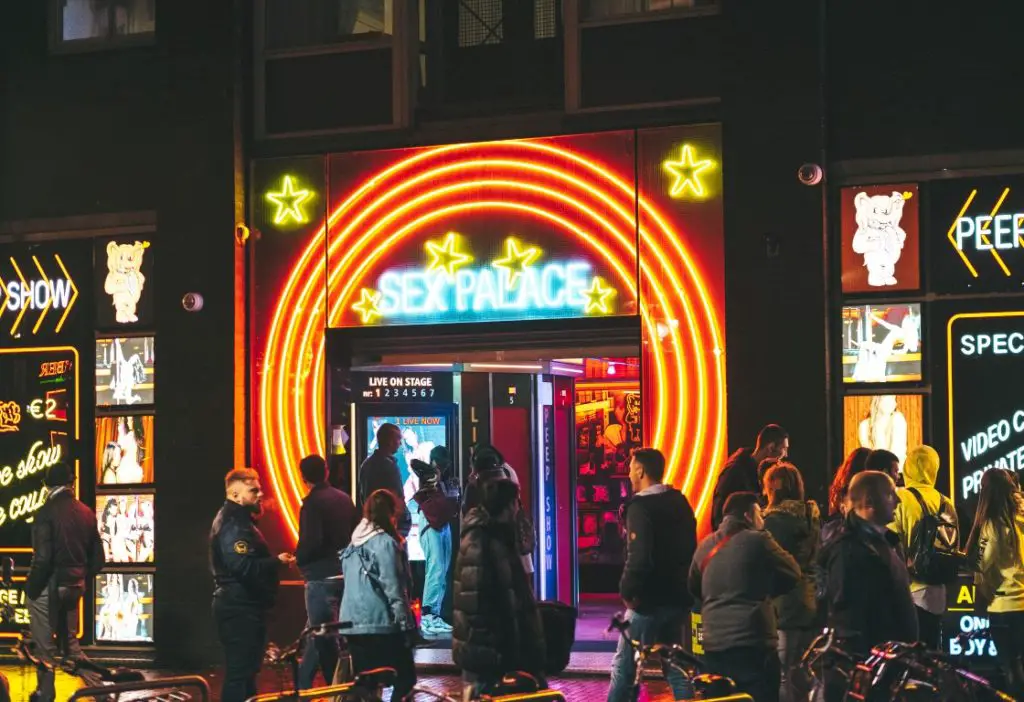 Red Light Secrets Museum – The oldest prostitution museum in Amsterdam
If all of this is a little too extreme for you, you can first find a gentle introduction to the history of prostitution in the prostitution museum Red Light Secrets. The museum is located in the middle of the red light district and guides you through the otherwise hidden world of Amsterdam's prostitution history with stories from Inga, a former prostitute. Everything is very lively, from replicas of a brothel room to typical work clothing from the different centuries, even sitting in the window is part of the program.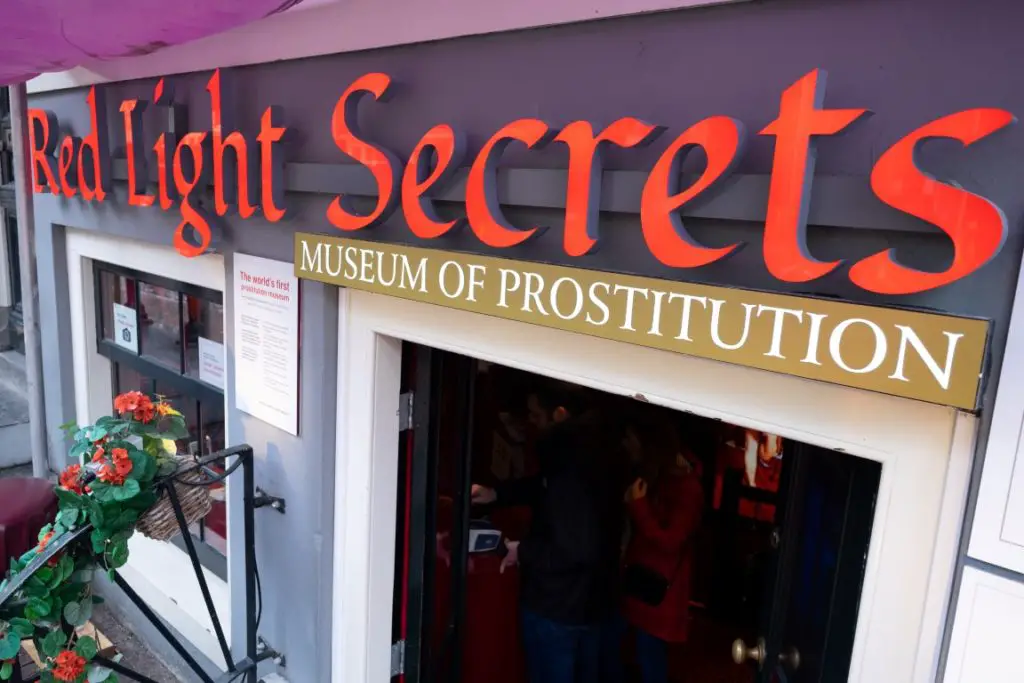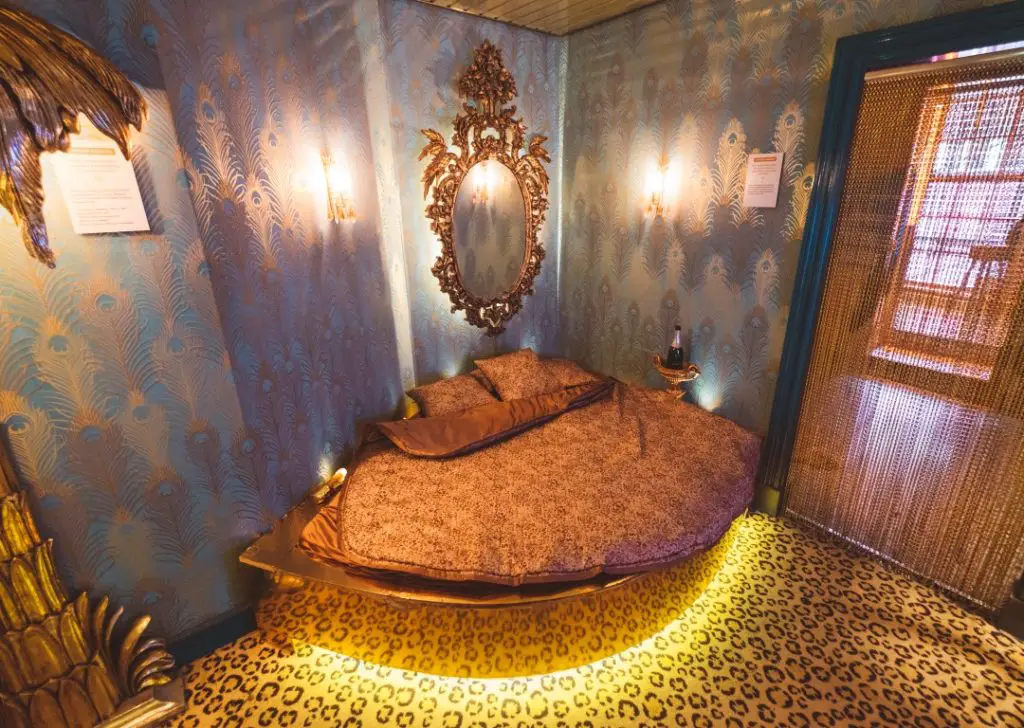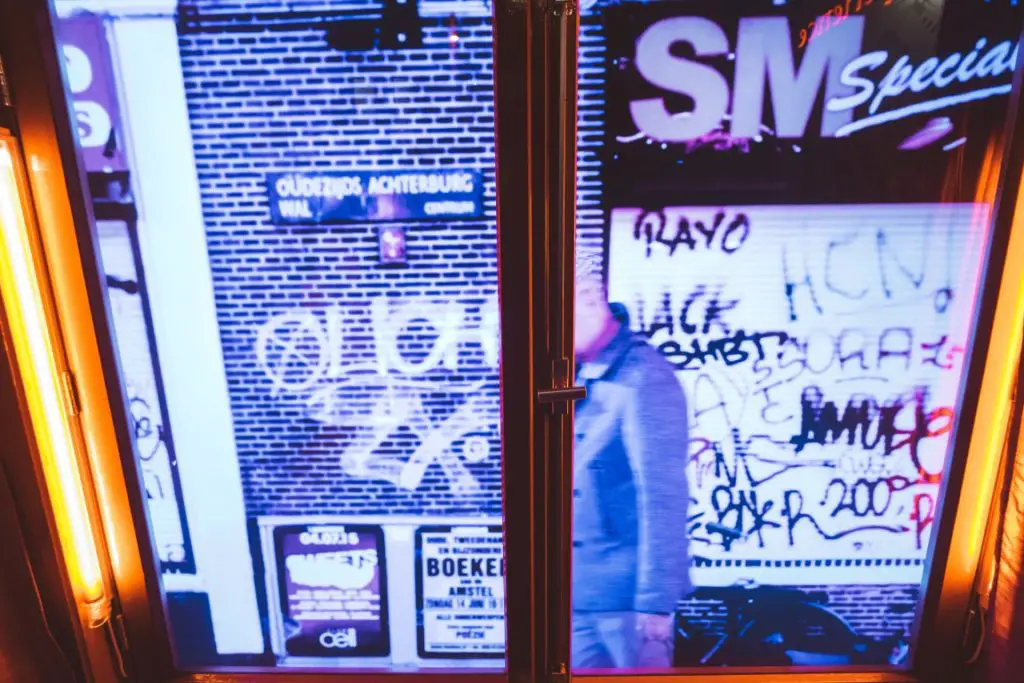 Incidentally, I found the 'Wall of Confessions' at the end of the museum tour particularly impressive: Here, visitors anonymously wrote their most blatant sex confessions. But see for yourself …
Tours through the red light district
If you want to find out more about the red light district that goes beyond the historical part or you just don't feel comfortable without a guide, then a guided tour with a local is recommended. Unfortunately, I was unable to do a tour myself due to lack of time, but I have selected some exciting tours with very good reviews: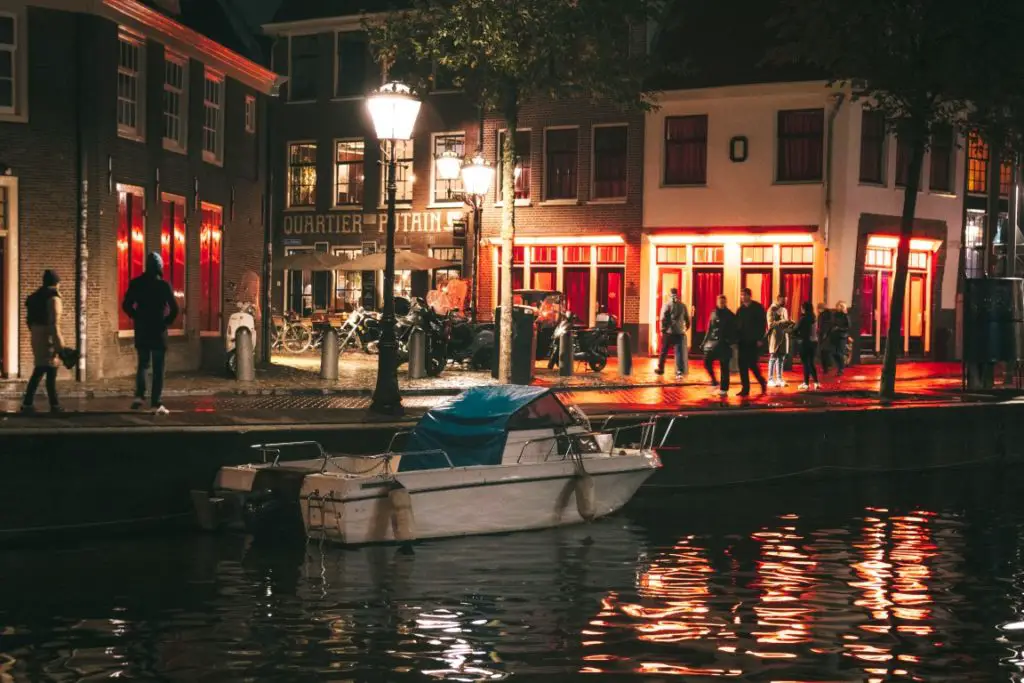 Rules of conduct for the red light district
In the red light district of Amsterdam there are a few rules that every visitor should adhere to (not least for their own good).
1. No photos or videos of the prostitutes! Not in the windows, not anywhere else. We saw some Asians who probably ignored it out of ignorance – that was stressful. The ladies first make themselves known by knocking loudly on the window, if that doesn't help, they come out and make sure that the recordings are deleted again. So stick to this rule. It also has something to do with respect for women.
2. It can get very crowded in the narrow streets between the shop windows and bars. So full that you are pushed through the alleys, crowded together. Pickpockets use these situations in particular, so store your belongings safely and take good care of them.
3. Don't buy anything from street vendors . Nothing to smoke, no other substances. To smoke, go to the coffee shops, preferably a well-frequented, lively shop instead of a dark, dingy-looking one on some side street. This may cost a little more, but you are on the safe side when it comes to quality.
4. In general, most tourists are subject to a fallacy when it comes to smoking: You can legally buy weed etc. in coffee shops in the Netherlands, but open consumption on the street is just as prohibited as it is in Germany! In Amsterdam the police usually turn a blind eye to this, but you don't have to provoke it. If you want to smoke, just go to a coffee shop .
5. Always move in the alleys in the red light district in pairs . The pickpockets and other dark figures target women and men who are no longer in control of their senses and their musculoskeletal system due to too violent partying. If you lose your group and sit down alone in a corner to breathe, you will quickly get visitors.
Frightened? Admittedly, that might sound a bit daunting for one or the other. But if you stick to the rules, then you can experience extraordinary evenings and nights in the red light district of Amsterdam as few other places in the world without having to live with long-term effects such as stolen valuables.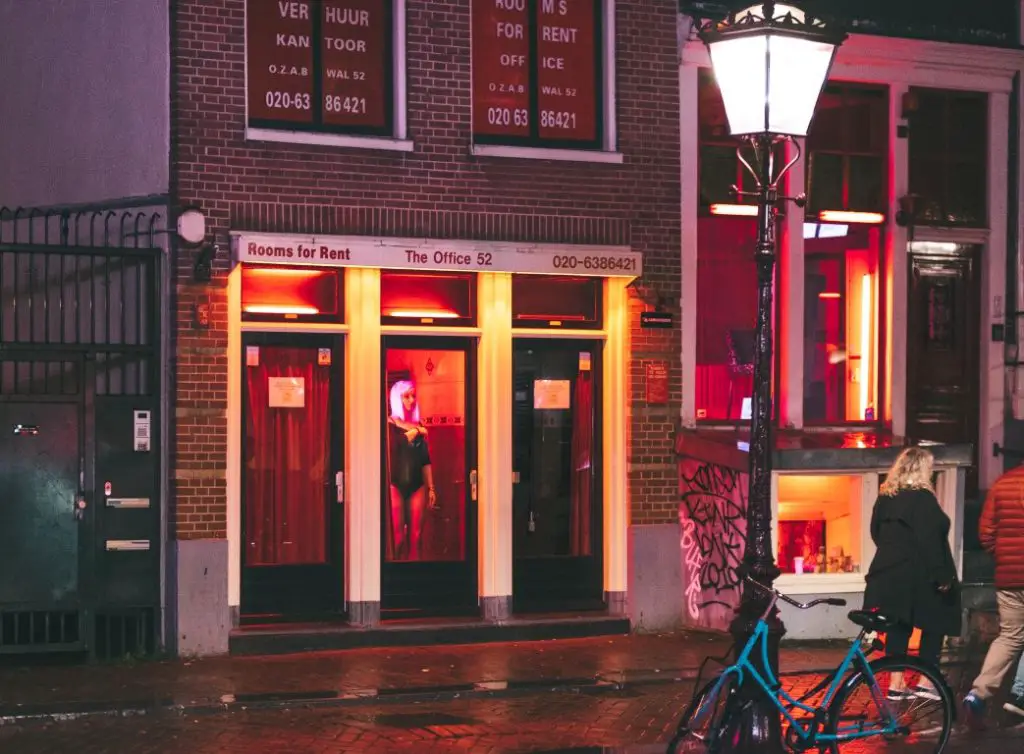 A few thoughts on prostitution
With the legalization of prostitution in the Netherlands, the Amsterdam red light district has lost its once dingy image over the years. Amsterdam itself advertises its open approach to drug use, sex and prostitution. The shop window miles have become a real tourist attraction "for the whole family", which of course belittles the topic itself. It is therefore important for me to say that I do not want to thinklessly advertise the Amsterdam red light district as a "must see". What happens here is and remains prostitution. If you were to ask women whether they are doing this job voluntarily, the answer would be almost 100% "yes". And of course there is hardly any pimping there and the women are there voluntarily – as voluntarily as you can be there, if you come from a country where you can hardly survive with a normal job. Everyone should think in advance about their position on this topic.