What first comes to mind when you think of Jamaica? Bob Marley, reggae, rum and white dream beaches? Bingo … not that wrong at all. Jamaica has a lot more to offer than just that. You can really experience everything here – from a relaxed beach holiday to an absolute adventure holiday where you have action every day. Jamaica is green, full of primeval forest, jungle, waterfalls and pretty awesome food that every foodie gets their money's worth.
Now it is that Jamaica is one of the Caribbean islands that is pretty much taken up by American package tourism. So you can find a lot of luxury resorts here and it is sometimes not easy to find out which highlights and sights you really have to experience in Jamaica due to the oversupply of tourist entertainment. And above all: which of them can you explore on your own and how? Since I was backpacking Jamaica for two weeks with my local sister (she has been living on the island for several years), you should be curious which sights I or we can definitely recommend to you without reservation.
First of all, there are basically three corners of Jamaica that you should have on your screen: Negril, Montego Bay / Ocho Rios and Port Antonio . These areas are well developed for tourism and there are either one or the other highlight to discover on site or they are a good starting point for excursions. What exactly you can experience where, you will find out if you read on (if you just want a little Jamaica inspiration first, then take a look at my 40 most beautiful pictures from Jamaica ).
With this there are some tips for you at hand, for example, the prices and the organization of the transport to the different places. Here we go!
Pack my equipment for Jamaica & definitely
My camera: 

Sony Alpha 6500 *

Two lenses: 

an all-round

 lens from Sigma * (perfect for traveling and affordable, it is connected to the Sony 6 series together with an 

adapter *

 ) and a 

30mm fixed focal length from Sigma *

GoPro underwater camera *

 and a matching

 dome for half-half recordings *

Waterproof and waterproof trekking sandals *

 for waterfall action

Waterproof 

sunscreen without microplastics with a mineral filter *

 (for the sake of the environment and the sea)

Nobite mosquito spray *

 (the best!)
Attractions in and around Negril
While planning your Jamaica vacation you have probably already come across Negril. Negril is located on the west coast of Jamaica and is next to Montego Bay the largest tourist area on the island. The inclined individual tourist may now turn up their noses, but I can assure you that everyone will get their money's worth in Negril, whether backpackers with a small budget or luxury vacationers with a larger budget.
Seven Mile Beach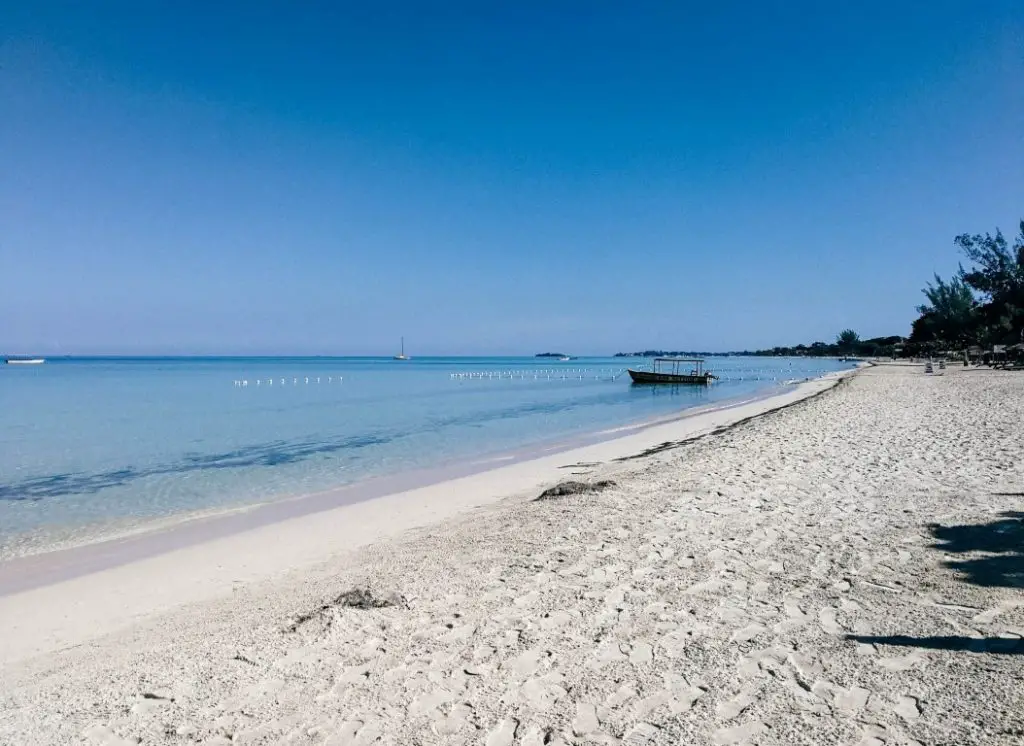 In Negril, you definitely won't be able to avoid THE beach in Jamaica, the famous Seven Mile Beach. With its seven miles, the beach is the longest continuous beach on the island and from luxury hotels to small guesthouses right on the beach, everyone of you is guaranteed to find an accommodation that they like. I lived in a small hut in the Yellow Bird Sea * right on the beach, almost with my feet out of bed in the sand (almost 😉). The whole complex is really magical if you don't care for luxury hotels.
At Seven Mile Beach you can plant your beach towel wherever you want, because most of the beach is open to the public – which is unfortunately absolutely not common in Jamaica, as I should learn later. If you don't want to just sizzle in the sun all day, there is enough to do here: snorkeling, glass bottom boating and lots of other excursions. There is also an abundance of delicious food and colorful beach bars.
My tip:
 Pay a little attention to the prices in Negril. It is quite expensive right on the beach, if you want to eat cheaper, then go to the street that is behind the beach and the hotels. Or just ask a Jamaican where you can find good food at a reasonable price (don't worry, you don't have to actively talk to anyone about it … they'll talk to you every 2 minutes anyway. So just in case you need anything – coconut, cola, sugar cane, one) Trip somewhere, something to smoke – they will organize it for you: p).
The sunsets on Seven Mile Beach are legendary, by the way, don't miss it!
Cliff jumping at Rick's Café
The world famous Rick's Café in Negril should be on every Jamaica bucket list. The prices are a little higher, as is the case at well-known spots. But you can also watch the cliff divers for hours, who plunge into the Caribbean Sea from a height of over 20 meters, or you can try it yourself if you don't have your pants full. The sunsets are of course also legendary here (and priced into the cocktails 😉).
How to get to Rick's Café
 : From Negril, it's best to take a taxi or a private driver. This is the cheapest, but be sure to ask about the price beforehand. You can find more information about 
Rick's Café here
 .
St. Elizabeth: YS Falls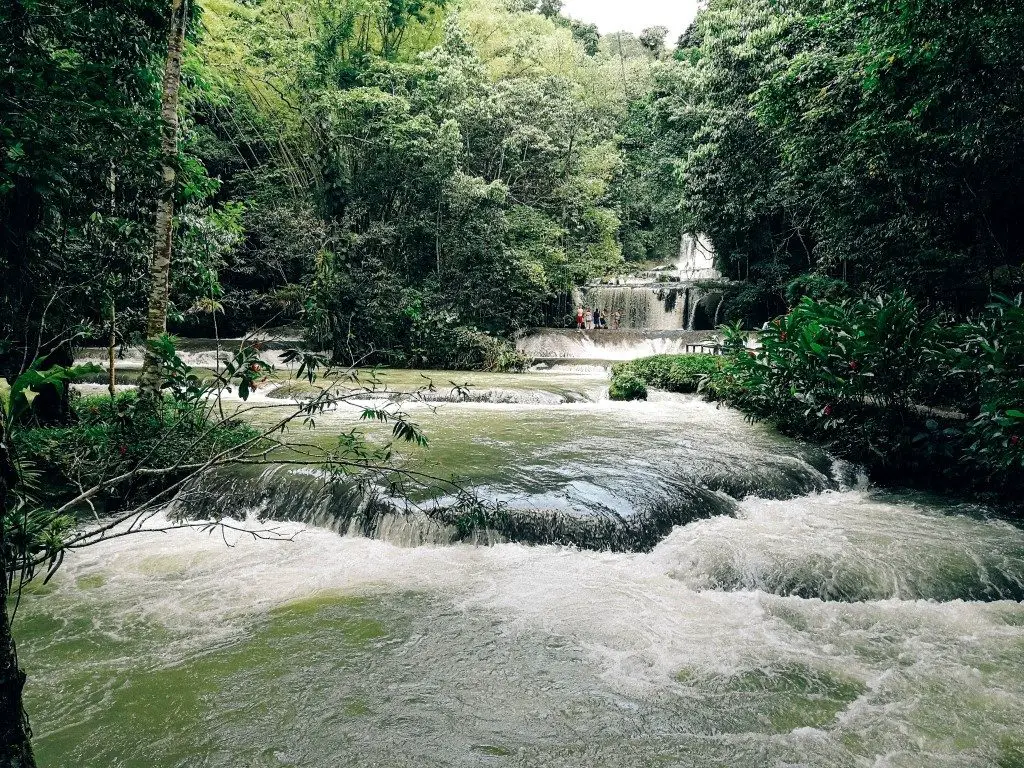 I already indicated it: Jamaica is the land of waterfalls. There are countless inland waters on the island, which, unlike on other Caribbean islands such as the Bahamas or Aruba, ensure blooming flora and fauna. The YS Falls are among the most beautiful waterfalls on the island, but unfortunately they are a bit inconvenient inland. On the one hand, this has the advantage that it is not nearly as crowded as, for example, Dunn's River Falls, where hordes of cruise tourists are literally dispatched every day, and on the other hand, the cost of a trip to the YS Falls is quite high.
But you can also spend the whole day bobbing around to your heart's content and the whole area is also ideal for children. From calm bathing to ziplining to daring jumping around in the waterfalls, everything is possible here.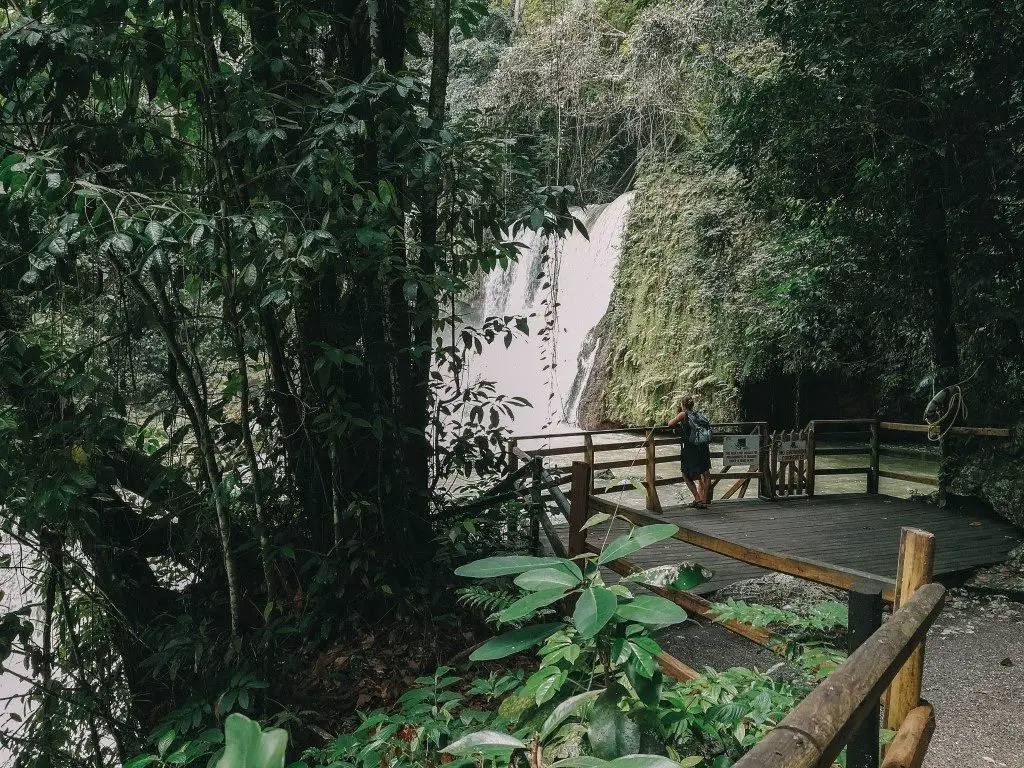 We have organized a private driver for our excursion to the YS Falls, who took us from Falmouth (which is between Montego Bay and Ocho Rios in the north of Jamaica) to the waterfalls in the southwest. We paid 120 USD for the complete trip for two. Honestly, it didn't work out that well, because our driver drove stoned like a madman (near-death experience!) And in the end we had a lot of stress with him because of the money.
Hence my recommendation: There are also organized bus trips to the YS Falls . From Montego Bay, Ocho Rios and Negril, it is no problem to find a tour to the YS Falls. Since the drive from Negril is the most relaxed and shortest due to the road conditions, I would recommend that you drive from Negril. I can only guess how high the costs are. I talked to other tourists who paid around USD 100 per person for an organized day tour to the YS Falls from Negril . The journey takes about 2.5 hours (one way).
In addition there is the entrance price of approx . You can find more information about the YS Falls here .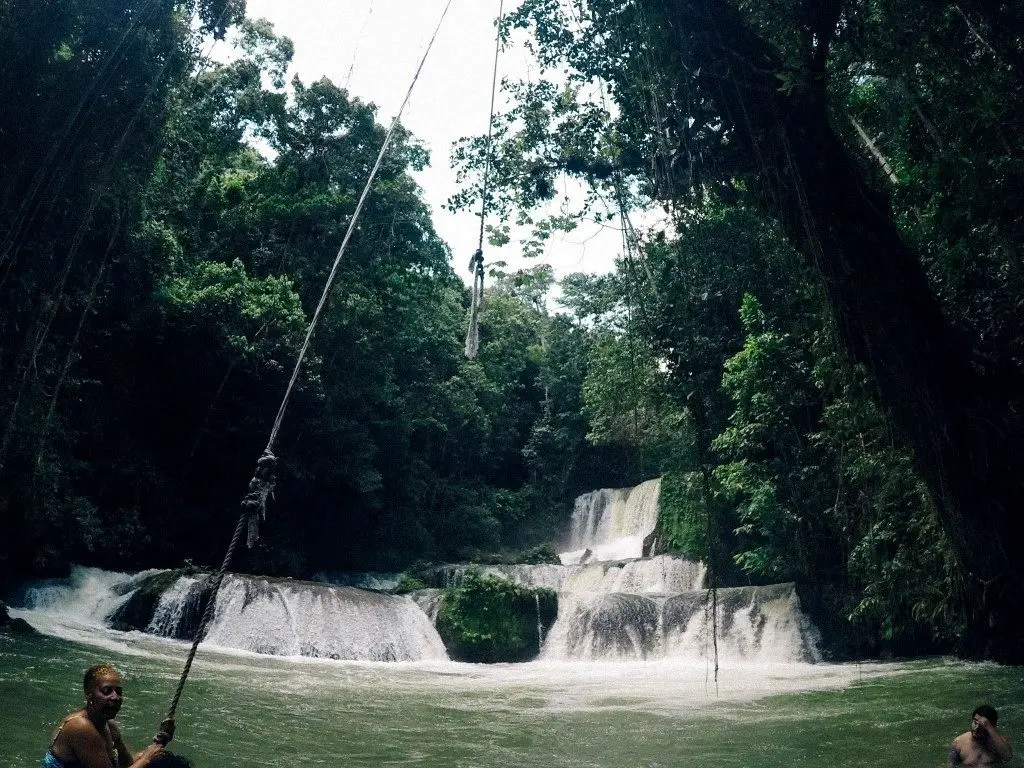 Mayfield Falls
And waterfalls again. The Mayfield Falls are also best reached from Negril on an organized day tour , so I'll list them here as well. They are less inland and a little closer to Negril than the YS Falls. I haven't visited Mayfied Falls myself, but my sister knows it and loved it too. The cascades of the falls are lower than the YS Falls, overall, Mayfield Falls is a quieter and less action-packed experience than the YS Falls. Whether or not you have to see both waterfalls depends on your personal schedule and budget.
Montego Bay and Ocho Rios Area
The next corner of Jamaica that should definitely be on your list is the Montego Bay and Ocho Rios area. The tourist center of the island is located here, so the range of things to do is accordingly large. The city of Montego Bay itself is a bit "difficult" … there are actually only large hotel complexes, most of which are designed in such a way that they completely obstruct the beach and the view of it. I have looked in vain for public beaches and a view of the Caribbean blue sea. Outside of the hotel complexes, there is not much to discover for tourists in Mobay and it is probably not completely harmless, which is why we decided not to stay in Montego Bay directly, but in Ocho Rios and Falmouth to explore the area.
In Ocho Rios we stayed in the Reggae Hostel * (highly recommended!), In Falmouth (which is between Montego Bay and Ocho Rios) in the G&R Guesthouse *  (the guesthouse itself was ok, unfortunately the owner was our crazy driver who took us to the YS Falls, which we had quite a bit of trouble with, so only a limited recommendation for accommodation).
Falmouth: Luminous Lagoon Glistening Waters
If you've been wondering what the hell to do in this dump called Falmouth, here's the answer: marvel at one of the world's weirdest natural spectacles. In the lagoon near Falmouth, river water from the adjacent Martha Brae River and sea water meet, and tiny microorganisms live in this adventurous mix. When set in motion, they glow blue in the dark. Yes, blue … read that right. So you go swimming and it just glows blue around you.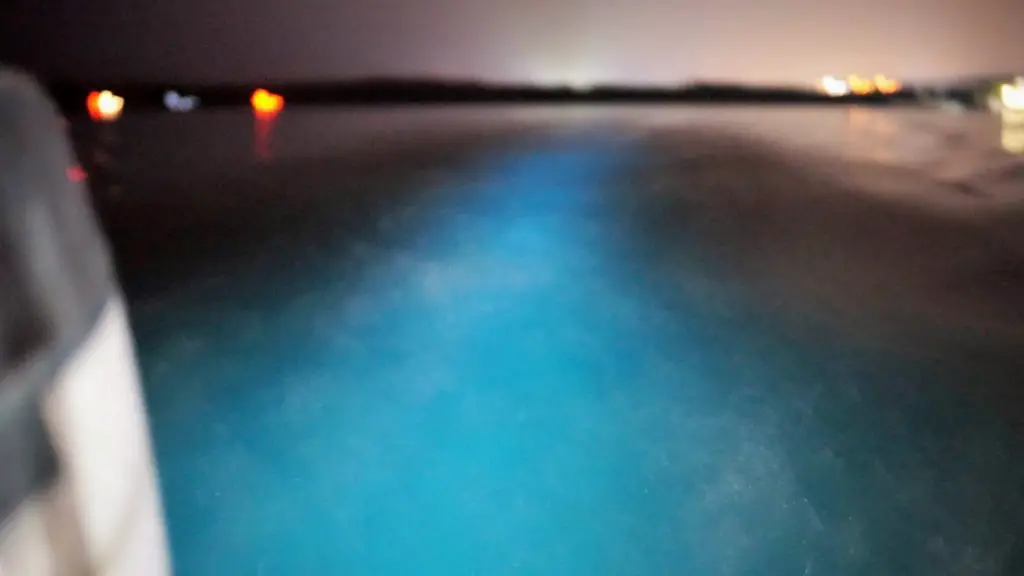 Unfortunately, my camera was a bit overwhelmed, so I only have this bad photo for you, but just watch this short video. Crazy Shit, right?
As far as I know, this phenomenon can only be seen in four places around the world, so if I were you I would definitely not miss the Luminous Lagoon in Jamaica.
The boat tour into the lagoon is unfortunately quite short, it only takes 40-45 minutes . All tour providers charge the same price for this, namely 25 USD (if you book the whole thing including transport from Mobay or Ocho Rios, it will of course cost more). I found this to be too expensive for the short tour, but in Jamaica as a tourist you are unfortunately milked pretty much everywhere, thanks to the big wallets of the Americans.
>>> Here you can book a tour to the Luminous Lagoon from Montego Bay *
The Glistening Waters Hotel * is right in Falmouth on the lagoon . In my opinion it is too expensive for the facilities and location, but just take a look and decide for yourself.
Note:
 The water in the Luminous Lagoon is brackish, which means that when you swim, your feet come into contact with warm mud on the bottom. If you are uncomfortable with that, then it is better not to go into the water.
Rafting on the Martha Brae River
If you've ever been to Falmouth and would like to do something else here, you can go rafting on the Martha Brae River. Attention: The adventure level of rafting here is more like a "coffee trip", it is much more a leisurely paddle on a bamboo raft through the jungle. This is wonderful too, but you should be aware beforehand that rafting in Jamaica is not what we mean by rafting.
>>> Book the rafting tour on the Martha Brae River here * 
Dunn's River Falls
There it is … THE highlight of Jamaica. The famous Dunn's River Falls in Ocho Rios are the most famous waterfalls in Jamaica and the place that probably receives the most tourists. I can neither give a clear recommendation nor a recommendation here – you just have to consider whether you want to accept mass tourism in order to be able to remove the Dunn's River Falls from your bucket list.
My tip for Dunn's River Falls:
 arrive as early as possible to avoid the tourist crowds on the cruise ships. The best and cheapest way to get there is from Ocho Rios with a private driver or taxi, which also gives you the flexibility to be there very early.
The 
entrance fee is 25 USD
 , more information can be found 
here.
If you don't have the opportunity to organize the visit yourself, you can also book a guided tour in advance:
Guided tour with pick-up e.g. in Negril *

Guided tour with pick-up at various cruise ports *
We actually saved the Dunn's River Falls, but for the sake of completeness they shouldn't be missing here.
Insider tip Irie Blue Hole
I admit it – the Blue Hole is no longer such a real insider tip. It's only a few kilometers up the hill above Ocho Rios, but it wasn't overcrowded and therefore a clear recommendation for me. The Blue Hole is basically a nice little place with waterfalls and bright blue natural pools, in which you can happily jump around. You'd think there are tons of them in Jamaica, but the Blue Hole was kind of special.
How to get to the Blue Hole : Grab a public taxi (Route Taxi) in Ocho Rios, preferably at the central bus station, the ride to the Blue Hole costs around 2 USD per person. If someone of you wants significantly more, then it is not a public taxi and / or someone tries to rip you off. There's no need to book an organized tour if you're already in Ocho Rios!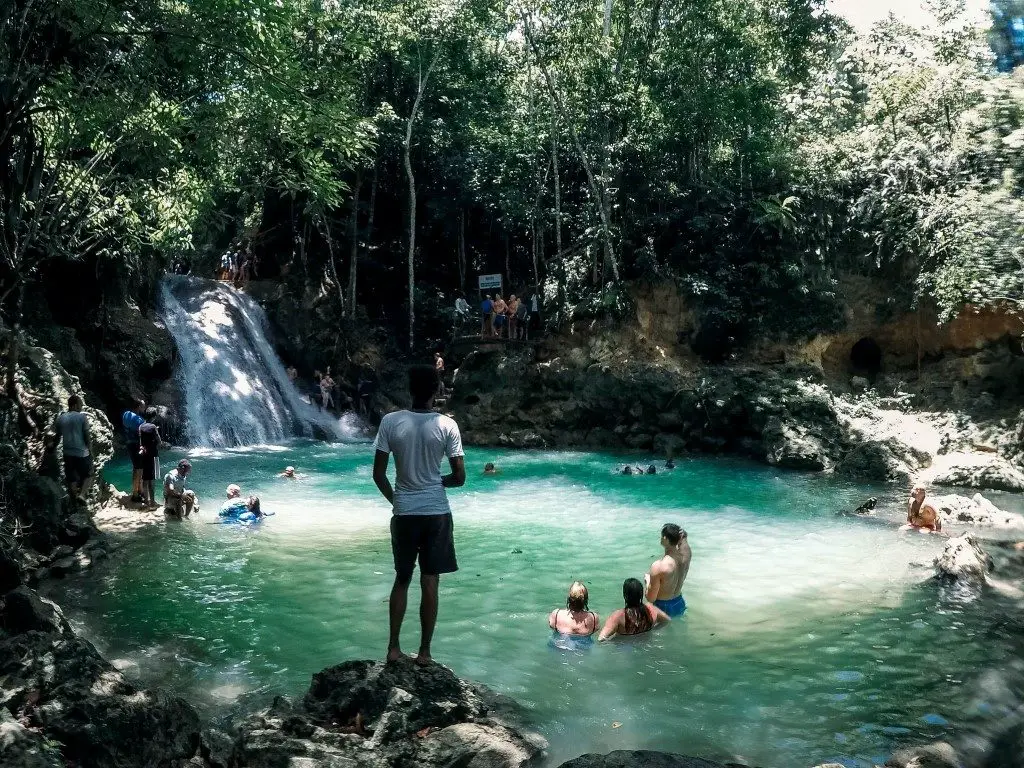 The Blue Hole itself costs around 15 USD entry , you can either move around there independently or you can take a guide. The guide is free (but is happy about a tip, we gave him another 15 USD) and will definitely help you to make funny water jumping pictures and videos.
My recommendations for water activities in Jamaica:
A waterproof phone case *

A GoPro *

 

(the GoPro Hero 5, for example, is already waterproof and no longer needs an extra housing)

A waterproof backpack * (these things are worth gold!)
Small microfiber towel, quick drying *

Stable, waterproof shoes *
Other tourist fun: ziplining, bobsledding and swimming with dolphins
Since Ocho Rios is the tourist center of Jamaica, all sorts of fun nonsense is really provided here, from ziplining to feeding hummingbirds to bobsledding in the Jamaican rainforest. It is best to have a look at Rainforest Adventures , there you can book all kinds of things and there are, for example, packages together with the Dunn's River Falls. Personally, I found this type of fun to be moderately exciting and too expensive, so I didn't do any of it. Swimming with dolphins in Dolphin Cove is also very popular in Ocho Rios . For the sake of completeness I want to list this attraction here, but I definitely reject the whole thing. Even if it all looks kind of nice and animal-friendly in the pictures, because the dolphins are not cooped up in a pool, but swim in the sea – you should be aware that they cannot move freely here either, but rather that they are from The area delimited to the open sea is too small. Whether you want to support something like this is up to you. I don't.
Attractions in and around Port Antonio (Portland)
The third region, which is mentioned in the popular Jamaica travel guides as another tourist spot of the island, is the city of Port Antonio in the state of Portland in the east of Jamaica and the region around Port Antonio. If you've been to Negril, Mobay and Ocho Rios so far, then you've probably noticed the full broadside of Caribbean package tourism: Huge hotel complexes, private beaches shielded by high walls and fences, someone everywhere wants to sell you something, the tourist spots are full of pale Americans who trudge awkwardly through waterfalls and somehow everything feels a bit too expensive.
Doesn't that sound so awesome? Well … then off to Portland with you! The world is still halfway okay here, because comparatively few tourists end up here. Package tourists in particular are almost only found as day-trippers and that made the whole region feel much more pleasant, relaxed and original for me. Here you can find Jamaica just as you imagine it: almost only black people on the streets, chicken that is grilled in smoking bins everywhere in the open, loud music on every corner, cars that have stopped by 20 times TÜV had come and colorful stalls with everything your heart desires (well, mostly fruit or sweat towels. How … you don't have a sweat towel yet …? You're on Jamaica – you need a rug !!)
The Blue Mountains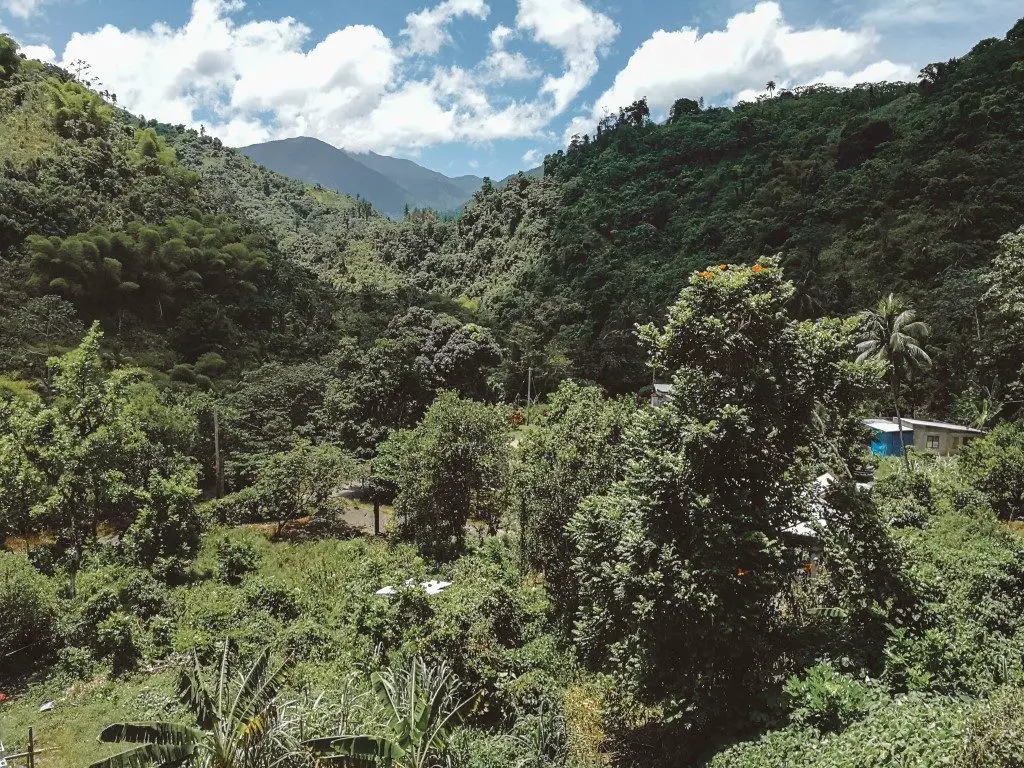 What you will definitely need a sweat for is for a hike through the Blue Mountains. The Blue Mountains are a mountain region in the east of Jamaica, the foothills of which stretch down to the capital Kingston. The highest mountain is the Blue Mountain Peak with a height of over 2000m. The famous Blue Mountain Coffee, one of the most expensive types of coffee in the world, is grown on the lower slopes. The hike to the summit of the Blue Mountains takes you over an approx. 7 mile long trail and is traditionally completed at night in the dark. Why? Because the sunrise on the highest point of Jamaica above the roofs of the jungle is indescribable. When the sky is clear, you can allegedly even see as far as Cuba.
Unfortunately, I didn't have the time to hike up Blue Mountain Peak, but my sister did it some time ago. Here you can read her report on the hike to Blue Mountain Peak .
Rafting on the Rio Grande
A rafting tour on the bamboo raft over the Rio Grande in Portland is just as easy as rafting on the Martha Brae River, which I have already written about above. The difference at this point is the landscape that surrounds you: the Rio Grande is more expansive, larger and in some places a little faster, while at the Martha Brae River you sometimes sail through turquoise-green water and feel like you're in the rainforest. The tour over the Rio Grande also takes longer overall, depending on where you are coming from you should plan half a day to a full day for this excursion.
The rafting tour costs around 100 USD if you look for a guide on site. If you book a tour with a round trip to your hotel, it will be more expensive. I would like to recommend a provider to you, but none of the many providers has made it onto the Internet. As I said, the clocks tick a little slower in Portland 🙂 Hence my tip: If you want to raft on the Rio Grande, talk to someone somewhere about it (your host in the hotel, someone on the beach, someone you are with someone else Excursion or similar) We will definitely help you!
Finally dream beaches: Frenchman's Cove Beach, San San Beach and Winnifred Beach
I have to admit that I missed one thing in Jamaica compared to other Caribbean islands such as Aruba , St. Maarten or the Bahamas : beaches. No joke. Gleaming white dream beachesWith butter-soft sand, crystal clear water that lets you look down to the ground, colorful fish … The Caribbean – where are you? It's hard to believe, but such beaches are more of a rarity than the standard in Jamaica. Why is that? Well, the hottest beaches are occupied by huge hotel complexes. As a non-hotel guest you can neither use it nor catch a glimpse of it. Not only for individual tourists like me, but especially for the locals, that's pretty stupid. Jamaica is the first Caribbean island on which I have experienced this in this form – on many other islands the privatization of beaches by the government is explicitly NOT permitted. Not so in Jamaica, the public beaches are really rare there.
Accordingly, I found the most beautiful beaches in Portland, away from the tourist crowds. You should definitely not miss Winnifred Beach. It is completely public, free of charge (there is someone at the entrance who you can give a few dollars to, which will keep the beach clean) and can be reached cheaply by route taxi (public taxi) from Port Antonio. There you will finally find turquoise blue sea and white sandy beach, just as you would expect on a Caribbean island.
Frenchman's Cove is not free, but absolutely worth the money . It is basically a small, park-like complex with a beach and an attached hotel. For about 10 USD you have access to what is in my opinion the most beautiful beach in Jamaica with the most beautiful green jungle river ever flowing into the sea and you can use free wifi to your heart's content. A dream, seriously. Please look at the pictures …
Arrival: By route taxi from Port Antonio. Frenchman's Cove is on the same stretch as Winnifred Beach.
Very close to Winnifred Beach and Frenchman's Cove Beach is a third beach that you should also check out: San San Beach . The entrance fee is about 5 USD and you can also get there by public taxi (same route as Winnifred and Frenchman's). But there is a trick how you can save yourself the 5 USD … Keyword Blue Lagoon 😉
The blue lagoon
Do you know the movie "The Blue Lagoon" from 1980 with Brooke Shields? Yes? Alright … The film was set right here, in the blue lagoon of Port Antonio, Jamaica. I think that's enough to explain why this place should be seen. Personally, the lagoon fascinated and scared me in equal measure: the water is really beautiful turquoise, but it changes color. Sometimes the water is clear, sometimes you can't see 50cm far. Sometimes it's cold, sometimes it's warm. Why? Because salty sea water and warm fresh water from underground springs mix in the lagoon. Nobody knows exactly how deep the lagoon really is, rumor has it that it is about 65 meters at the deepest point. This also means that nobody really knows which critters live in here and where. What fresh water concentration is still okay for a barracuda or other predatory fish, for example, ie how far does it penetrate into the lagoon and does it even do so? In any case, the locals have respect for what could be in the lagoon. So did I.
How can you best explore the lagoon? There are three options: by boat with a guide (approx. 30 USD), by rafting on the bamboo raft with a guide (approx. 70 USD) or by kayak without a guide (approx. 30 USD).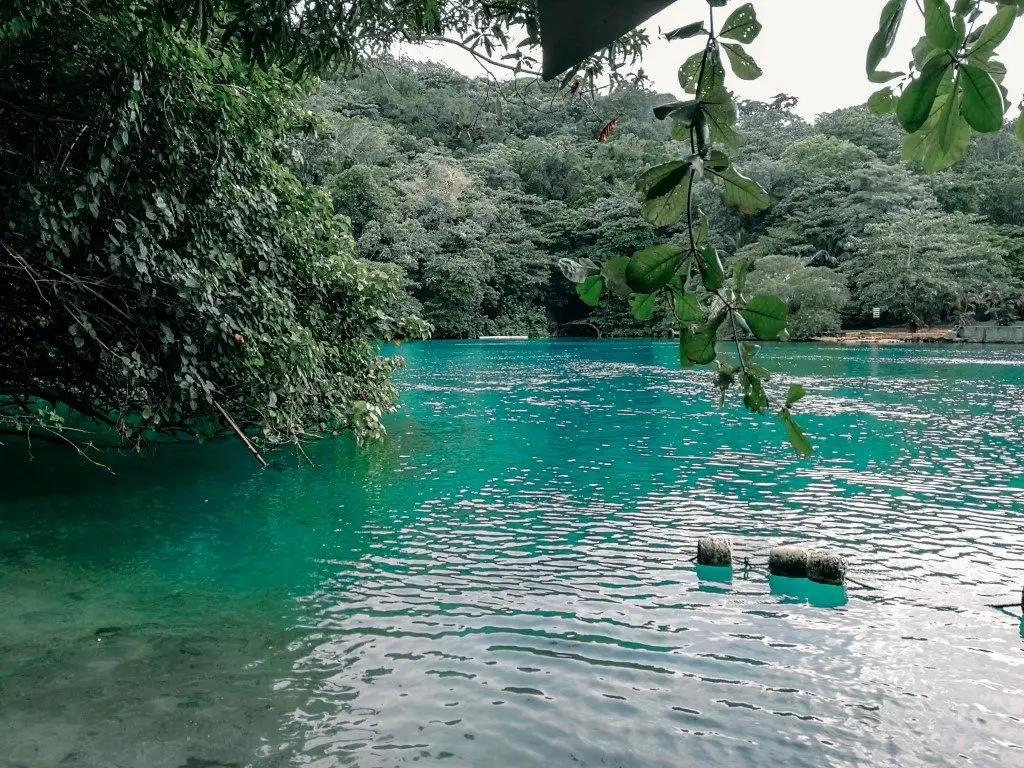 We chose the kayak for reasons of cost and adventure . While the boat or raft is limited in time, you can paddle around with the kayak as long as you want. Ha! We also went kayak out to sea and drove to a remote island called Monkey Island . Don't worry, you won't meet monkeys there, mostly not even other people. And to come back to the above-mentioned San San Beach : Ahem …. even there you can easily get there by kayak from the lagoon. Ka-ching! Saved $ 5 and seen so many cool things in one fell swoop.
The blue lagoon was really one of the highlights in Jamaica for me.
Reach Falls
Waterfalls, waterfalls, waterfalls … ..if you haven't made it to some yet, but Portland is perhaps the last stop on your Jamaica trip, then with the Reach Falls you have the opportunity to experience the impressive nature of Jamaica again. Reach Falls is a long way east of Port Antonio and it will take a moment to get there by public taxi. But the Reach Falls are an oasis of calm, hardly any tourists come here anymore. At around 10 USD they are also comparatively cheap.
My tip:
 If you have to decide, visit the Irie Blue Hole or the YS Falls. There is more to discover there 🙂
And what about Kingston? – Impressions and highlights from two weeks in Jamaica on your own
Did you notice something? This list is missing a place that is otherwise never missing on the popular Jamaica bucket lists: Kingston, the capital of Jamaica. The simple reason for this is that I was not in Kingston, on the advice of my sister, who, as I said, lives in Jamaica and whose judgment I trust. From a tourist point of view, except for the Bob Marley Museum and the neighboring city of Spanish Town, Kingston is not necessarily worth seeing and, moreover, should be enjoyed with caution. Crime is not without it and as a white man, preferably with a fat camera in hand in Kingston… .joa. You can do it, but you can also leave it alone.
For Kingston and Spanish Town I would definitely recommend that you only do the whole thing in the company of a local guide. Unfortunately, I have not found any tours that can be booked in advance on the internet, that seems to be a more complicated matter.
The Bob Marley Museum, on the other hand, is of course specially prepared for tourists. Theoretically, the entrance fee is only 25 USD but don't forget that you have to get away somehow. If you now need a rental car or the like. thinks …. naaa. You don't want to drive a car in Jamaica. Trust me.
The same applies here: Including transport costs, you are back at around 100 USD for a visit to the museum. I have selected a provider for you who will pick you up from anywhere on the island as part of an organized tour and bring you to Kingston and the Bob Marley Museum:
And how is my impression of Jamaica? What is it like to travel there as an individual tourist who would like to see more of the island than the hotel's own beach? How do you get by when you want to see and do a lot in Jamaica, but don't have an endless budget?
In one word: COM-PLI-DECORATED. But the good news: it works. You only have to know how. For this reason, there will be a detailed article bulging with my travel tips for Jamaica on your own in the next few weeks – in the hope that this will contribute a little to the fact that more people dare to go beyond a package tour to Jamaica. Because it is so worthwhile to explore this wonderful Caribbean island 🙂